Hey, Coach! Do You Have the Teaching Materials You Need to Help Clients Navigate Their Midlife Crisis?
You will soon thanks to Wordfeeder's First Ever Canva Ebook Template with Private Label Rights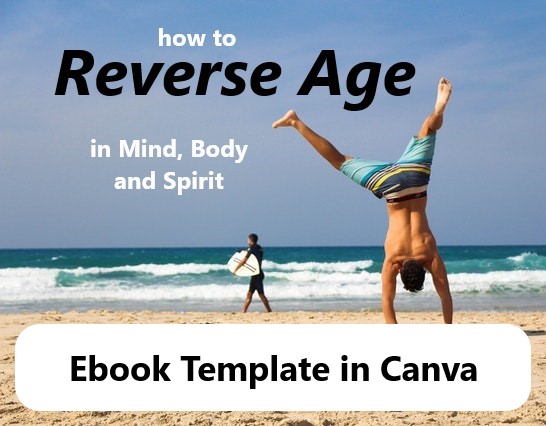 The Topic of this PLR Ebook is "How to Reverse Age in Body, Mind and Spirit" and it's Aimed at Your Midlife Crisis Clients!
44 Pages of Self Help Content for You to Brand and Sell or Share with Your Life Coaching Audience
Life Coaches and Self Help Experts: The Numbers Speak Volumes About Why This Material is IN DEMAND with Your Coaching-Ready Audience of Learners: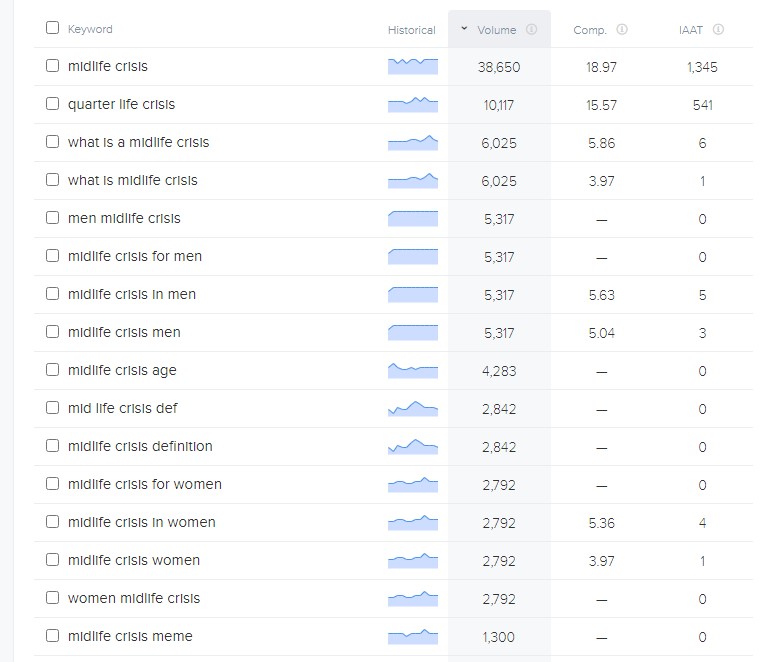 38,650 searches on the phrase "midlife crisis" alone

2,792 searches on "midlife crisis in women"

6,025 searches on "what is a midlife crisis"

4,283 searches on "midlife crisis age"
Get ready to sell them an ebook in as quick as a few short hours instead of many long months!
Presenting "Reverse-Age in Mind, Body and Spirit" Brandable Canva Ebook Template - 44 pages total
Are you in need of really excellent quality ebook that you can present to your coaching audience? No more spending hours hunched at your computer waiting for the words to come. No more tearing your hair out trying to master the harrowing intricacies of digital product creation.
Wordfeeder has your next email launch right here! It's a HOT topic with the middle aged crowd.
Why Target Middle Aged People?

They've got problems. Things are changing, their bodies, their relationships, their minds... and they don't know what to do about it. You can help them face The Crisis and overcome personal challenges

They've got time. Their kids flew the coop, they're bored of their partner and they're up late Googling their midlife crisis issues! For real.

They've got money! Young people are less likely to invest in a coach because of finances. But middle agers are likely well established financially. Take a survey of your readership if you like! You'll probably discover that at least 80% of your audience is in their late 30s to late 50s. (Let me know what you learn about this, I'm curious!)
Set this up to sell in less than a day! This is a Canva Ebook Template containing 44 pages of Self Help Advice for Your Readers to Benefit from
Reverse-Age in Mind, Body and Spirit PLR - Canva Ebook Template - 44 pages total
Self help experts and life coaches, this ebook content on the riveting topic of Reverse Aging in Mind, Body and Spirit is all ready for you to brand and sell! It will take less than a day to set this up as an ebook for your clients and followers to order online.
This digital product is Wordfeeder's first ever complete ebook package - ebook formatting design, cover art and written content is inputted already into this Canva template.
Customize with your company details and contact info. Add upsells to your coaching packages!
All this needs now is a few small tweaks of your customization - like your company name, contact info, any upsells you want to offer, and brief bio to share at the end!
Please note, you'll need a Canva account in order to log in and customize this ebook with your own company branding and details.
If you don't have one, you'll be able to create an account instantly once you order the product and click the link to download from Canva. Their basic membership is free!
How to use this ebook content/Canva template with private label rights:
After your order goes through, check your email. You'll receive an email which contains the file link. Click the link which will open the document in Canva. You get to edit the copy, add images if you like, input some company details and change the copy any way you like!
When done making your changes to the Canva template, download your edited draft back to your computer and save the file as a PDF. The PDF version of the ebook is what your customers will receive.
Log into your chosen digital selling platform. Create a new product and name it, set a price and fill out other ordering info. Upload the PDF file of this ebook.
Get the buy button code or link to order, to pop into your sales page. That's what you'll share with your readers.
Create a terrific sales page, and link to it from all your online hangouts and your website. Talk up your new ebook that you're offing. Start seeing the orders come in. You're good to go, and you get to help people live better while creating profits. Woo hoo!
NO NEED to Design this Ebook from Scratch
The work's already been done. You can brand your ebook with your company name in mere minutes of downloading this done-for-you Canva template. Make your final tweaks and upload your ebook to any of the following platforms (or another of your choice):

e-junkie.com

Gumroad
If you use any of the below companies to host your website or e-commerce store, you should be able to sell digital products from there, including ebooks:

Shopify

Teachable

Squarespace

Wix.com
Ebook Topic: How to Reverse Age in Mind, Body and Spirit


This content works for the following audiences:

Self Help

Life Coaching

Wellness

Self Care

Anti-Aging
Who in your self-help audience might need this information?
Married and single people facing the "midlife crisis"
Empty nesters who need some direction on what to do with their newfound free time
Middle-aged people who are ready for a fresh perspective and who want to retain their youthfulness
People in their 40s and 50s interested in preserving their health and longevity
Middle agers who may be thinking about launching a business or making a career change
Anyone who finds value in maintaining a youthful, energetic approach to living
Download this complete, 44-page self help ebook right now and set up to sell as soon as today!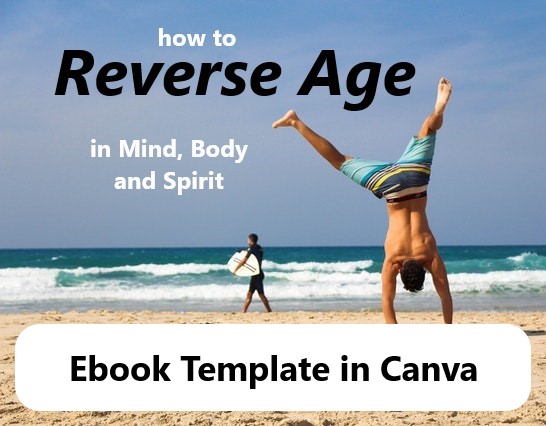 Here's what you'll receive after your order goes through:
Canva-ready ebook template– with the article content already placed so you can simply add your branding and set it up to sell! The Canva link will arrive in your email inbox!
Ebook cover art – 3 versions to choose from. If you want to swap out the one that's featured in the Canva template, you can do that!
(Here's a screen shot of the 3 ebook covers you'll receive... awesome!)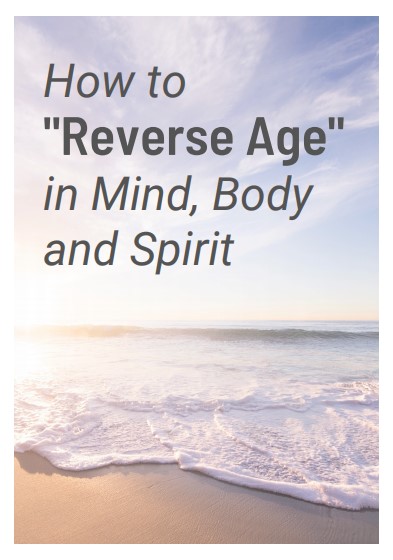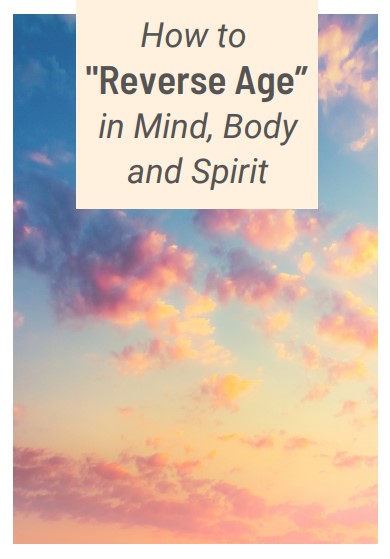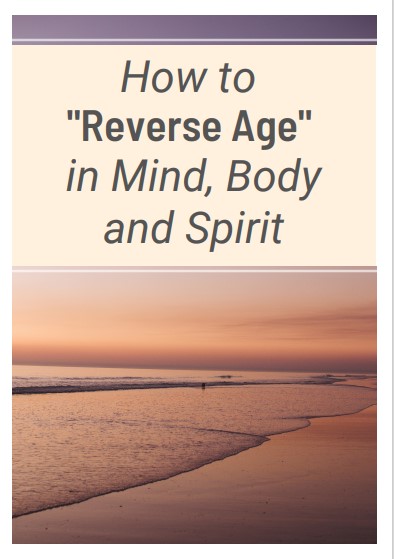 Space to add your own company branding and upsells (It's in the back of the ebook) - here's a screen shot: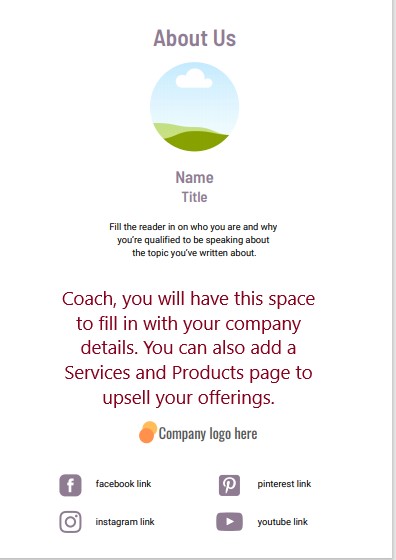 As your content writer who created this ebook for you to sell as your own, I've included the following:
Word or text document of 15 high quality articles covering the topic of Reverse Aging in Mind, Body and Spirit
Here's a screen shot of one of the articles as it appears in the ebook presentation: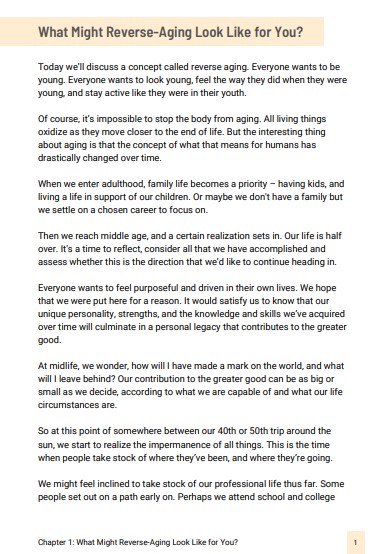 You'll also receive the written content already inputted into the Canva ebook template and Jim has styled it for you.
You can add your own special touches... or just brand it and launch!
There's really not much at all for you to do other than add branding and company mentions. You'll be able to finesse the ebook content if you really would love to add your own special touches.
Oh! And an upsell of one or more of your coaching packages, or links to other digital products that you offer, such as ebooks and courses, would be a very smart and appreciated thing to include!
Here's some more info about the 15 included articles. If you'd prefer not to purchase the Canva template, you can STILL grab these articles ala carte and make your own digital product using this content as the basis of your creation.
BRAND NEW! Life Coaching and Self Help PLR Articles to Make a Course or Ebook
Article Topic: Reverse-Aging in Body, Mind and Spirit
One of your goals as a life coach or self-help mentor should be presenting fresh ideas in a unique and engaging way that captivates your audience of self help readers. I have just the content to help you achieve your publishing goals. This package of 15 PLR articles contains approximately 12K words and would work perfectly as an ebook or course.
Here's a list of articles that are included in this ebook template. Word count is 12K, and this is a total of 44 pages. A respectable, high quality product you can offer with pride!
Titles include:
1. What Might Reverse-Aging Look Like for You?
2. Youthful Vigor, Wonder, Curiosity and Delight at the Heart of Reverse-Aging
3. How Does Your Outlook Affect Activity Levels as You Age?
4. Why Would You Want to Seem Younger?
5. Young at Heart does NOT Mean Immature
6. You Can Still be Wise and Careful While Embracing a Youthful Outlook
7. What Exercises Help Your Body Stay Limber as You Age?
8. What Foods Can You Eat to Help You "Reverse Age?"
9. What is the Midlife Crisis Really About?
10. Activities to Keep Your Mind Active
11. What to Think About so You Can Stay Mentally Flexible
12. Want the Vigor of Youth? Get a Healthy Lifestyle
13. Want to Reverse-Age? Kick the Bad Habits that Are Aging You Prematurely
14. Yoga for Youthfulness, Inner Peace and Joy
15. 6 Healthy Practices to Increase Youthful Feelings and Appearance
Here's a screen shot of one of the articles (this was the content, as yet unstyled. It's styled in the Canva ebook template)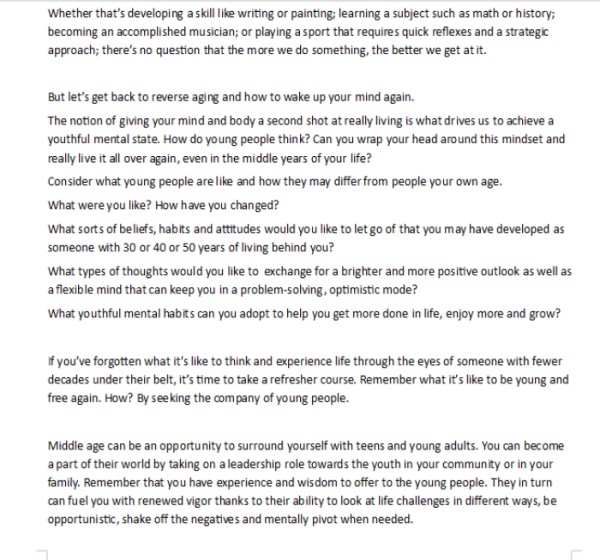 Order your copy of our first-ever Canva ebook template now!
Save thousands of hours and dollars that you would have spent having this custom created for you by writing and design professionals.
Regularly $57
Now $37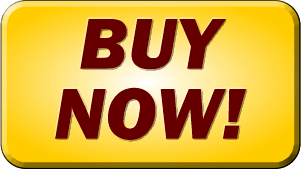 "Buy now" opens up to a new checkout window so you won't lose this page.
Don't forget your coupon code AGELESS, to get this at the discounted price listed above!
Free PLR Articles Just for Being a Member
Did you know that we have a ton of FREE PLR content that I add to on a regular basis? Once you check out via PayPal, you'll be able to log into your Wordfeeder member account to access this plus ALL the extra free online marketing tips I throw in just for being on my list. Simply go to the top menu and look under FREE PLR to see a list of awesome content to download right now!