Missed Today's Email? Here's all the HOT Offers on PLR from Wordfeeder & Friends!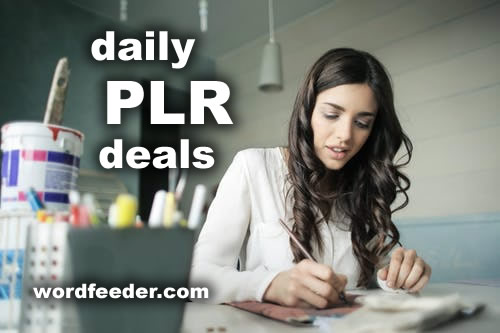 This page is being posted OCTOBER 13, 2021. Please check individual offers in case expired by the time you see this! Thanks and happy content shopping. :)
Hi, all! I've got a whole bunch of reminders here if you like content deals and learning how to make the big moolah in your online biz. Here are the details. You can put our content to use selling courses, ebooks, marketing your business via your blog, social media, email newsletters and more.
In case you missed it, we have 3 new content releases for the PLR Monthly Membership

NEW October PLR Monthly Releases - NOW LIVE, log in and grab these for instant download.
Our PLR monthly memberships offer the following brand-new content packs, plus you also get back released content from January through now. An incredible value on done-for-you content that you can publish in your own business, sell or share as your own. Make ebooks, courses, blog posts, social posts and client projects from this content. Add your own special touches... PLR is yours to edit however you like!
If you decide to order ala carte instead of get the monthly membership, enjoy $20 off with coupon code OCTPLR2021. Applies to the following:



What Else? Online Business Coach Cindy Bidar has a special 50% off sale happening on some of her best business tools and courses.
Go here to see what she's listed at half price, one day only, something new every day from Oct. 12 to the 21st!


Thanks for taking a few moments to see what's up with Wordfeeder and my content producing friends. Let me know what you have going on, maybe I can promote or push out the word about YOU and what you do! I have lots of blogs... email me!
Dina at Wordfeeder PLR