Updated for 2021: "Wise Woman's Way" Stay-Home Survival Guide for Fall and Winter - More than 13,500 words
The Ultimate Planning, Prepping and Home Organization Crash Course for Back-to-Virtual OR Hybrid School, Work-from-Home, and Too Much Togetherness All Rolled into One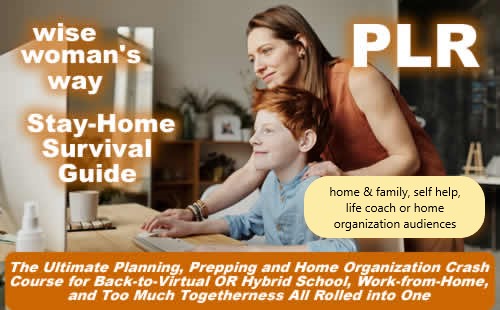 This content has universal appeal - applies to ANY audience: self help, home and family, life coaching, home organization, mental health & more
Hi there, Dina from Wordfeeder here. Nobody, and I mean NOBODY, wants to relive the hot mess situation that was spring 2020 in the grips of the Coronavirus pandemic. Unfortunately, here we are starting the 2021-22 school year, with fears that that the very same situation will be upon us.
Struggling to balance teaching our kids at home with working our jobs from a remote location... OR worrying about where the money is coming from. Trying to prevent our children from morphing into miniature desocialized computer zombies. Wishing we could clone ourselves in the desperate need to get it all done and do it right BUT we're faced with roadblocks at EVERY turn and in EVERY aspect of life as we know it. Missing our distanced loved ones... worrying about disease... frantically trying to keep up with the seemingly impossible disinfecting routines...
Summer of 2020 seems like heaven in comparison, doesn't it?
And yet, the chaos could happen all over again if we don't get our STUFF together and our heads on straight, so we can plan ahead in preparation for dodging a train-wreck scenario this coming fall and winter.
Our lives don't have to be chaos and confusion. In fact...
We can embrace a prepping and planning mindset-- so that instead of feeling out of control, we'll be able to navigate difficult times with grace, peace and ease...
and maybe even come out on the other side knowing how to live better, be happier and love more... thanks to critical life skills that we mastered during a challenging time in history.
Can we do it? I think we can. I have faith in humanity, in you and in me and in the people who stick around to read what you have to offer in the way of advice and coping skills.
If your readership is made up of struggling mamas trying to get a handle on life in these crazy times... I've got you. I've got your back with this content. Together we can pry people away from the circular arguments happening online, on text and in their own heads... and put them back on the straight path to happiness, survival, success and ease in living.
I know what these ladies are living right now because I'm here doing it too. But trust me when I say that it's ALL in your attitude and approach.
And that's why I'm creating this Phase 2 Quarantine Survival Pack of done-for-you content.
It's the Wise Woman's Way.
Do you know what it is to be a wise woman? I'll bet your grandma and great-grandmas did. They survived trying times and were better for it. This is happening to us now in modern society. But through this content, I'm arming you with the information you need to position yourself as a leader and influencer.
This is basically a guide of how families can overhaul their lives to cope with what could potentially be our new existence. We'll be combining the prepper mindset with mindful living, powered by technology.
Are you ready to teach your people how to transcend the challenges in their lives and emerge stronger, better, kinder, more prepared, and yes, WISER women for it?
Will we all end up teaching our kids at home for good? Let's hope not, but in the wake of the last two years, we can't really take anything for granted anymore, can we.
But one thing I can tell you from personal experience AND from watching people who have it together... is that if the families of the world do a quick overhaul of their home lives, we can minimize the potential damage that could happen this fall and winter.
We might even dramatically improve how we live so that we can know the gifts of simplicity in everyday life, planning, budgeting, cooperation, understanding, organization, preparedness, purposeful living and much more.
Can you imagine if ultimately everyone comes out on the other side of this happier and healthier? This "Wise Woman's Way" must-have content is here. (There's a ton of potential to spin this in different ways... could be survival PLR, home and virtual school/office organization PLR, simple living... all in the name of keeping our sanity in tact and streamlining our lives in a changing world.)
Get ready for Wordfeeder's Ultimate Back-to-Virtual OR Hybrid School Survival Guide PLR... released in 2020, updated for what may come this year.
This high quality content will provide what is currently missing and sorely needed in the lives of your readers:
A take-charge approach to living that will help them get on track with organizational, stocking and prepping for the coming months. Did you know that back in colonial times, November was dedicated to candlemaking? This is the kind of advance-planning mindset that we'll need to get through phase 2 of coronavirus... only we'll be applying it to the facets of modern life as we know it.
A clear-cut purpose and direction. Have you noticed how many people are arguing the semantics of mask-wearing on the internet? This whole business of splitting and double-splitting hairs over the type of mask, when to wear, and so many more details that everyone keeps arguing is having a powerful effect over society. The effect has nothing to do with masks OR germs. It's actually distracting everyone from their much bigger and more important goals, which is helping their own families survive and thrive. You'll be supplying this missing, lost direction in people's lives by sharing this clear-cut set of suggestions and advice.
Encouragement and motivation. Learned helplessness does NOT have to be the way for your readers. Think about the ripple effect of your people feeling powerless in their own lives due to all of the confusion this pandemic has caused. They're becoming like shelter animals who don't recognize their freedom when the caged door opens and the big moment arrives. But YOU don't have to let people drop off into a passive and depressed mentality. Encouragement, ideas, motivation, solutions... ALL will be provided in abundance in heavy doses with our upcoming survival guide for restructuring your life FAST to make the new way of life the good and better way.
Reminders to embrace simplicity. We'll cover how to reorganize our home space to have ONLY the essentials within easy reach... how to give each other space in less space. How to cut corners, reduce trips to the store, make better use of what we have, embrace a saving mindset, stockpile necessary supplies, eliminate what we don't need, streamline everything and maximize use of space... so we can breathe a sigh of relief as we all FINALLY learn to coexist with a newfound pleasure and delight in living.
We'll be covering some important, key aspects of living embraced by those who have come before us and discovered the better way.
Make into an ebook, blog posts, social sharing posts, organizational challenge, more!
Prewritten Ebook Content to Publish as Your Own!
If you've not yet heard about how private label rights content is the secret to success with your online life coaching business, let me be the one to break the news.
Each month, I release another package of terrific, original, prewritten articles - 15 total every 2 weeks - for our Life Coach Monthly membership. You can do with this content just about anything you like - including edit it, add your own thoughts, change titles (please do that), and sell or share it as ebooks, blog and social posts, newsletter content and more.
The topic for this month is timed well with the summer of quarantine... everyone's mentally jumping ahead to school and frankly it's got many moms in a panic. How will we cope if we're forced to juggle working at home with virtual school from home?
The "Wise Woman's Way Stay-Home Survival Guide" and Ultimate Back to Virtual School Crash Course Focuses on Home Reorganization, Space Saving Tips, Mindfulness, Pantry Prepping, Smart Tech and much more.
Here are a few reasons to pick up these done-for-you articles to sell or share as an ebook, email challenge or other...
Are you using the internet for its greatest purpose -- to connect with the minds and hearts of others in our universal quest for happiness?
Wordfeeder is pleased and proud to bring you the very best in private label rights content. I'm Dina, and my writer friends and I work hard every day creating high quality articles designed to uplift, encourage, teach, support and guide.
YOU can be all of those things and more to the people who need your wisdom. It's easy and affordable to take the content that we create for you, add your own good thoughts, and make it your own to share or sell.
Use this content to create a 15-Day Email or Social Media Challenge, make an ebook download, share on your blog, or anything else you may think of!
Once ordered, you receive private label rights to publish this as your own. You can sell this content as an ebook, course, email series or workshop, or give away as an opt-in gift to get more subscribers on your list.
Will your blog be getting clicks, signups and sales this year?
It definitely will with this high quality PLR positive pysch content on your side. These ideas will be greatly welcomed by your subscribers, clients, fans and followers.
Use this to make and sell an ebook.
More than 13,500 words at an incredible value! Want to use these to create a little cash flow? Add some images and branding to this document, turn into a PDF and sell it as an ebook OR an email autoresponder series "15 day challenge". The more people on your list, the more you profit.
Use this as an opt-in gift to Get more people to sign up and join your membership.
What's in this pack of 15 Articles?

Make into an ebook, blog posts, social sharing posts, organizational challenge, more!
Mask Detail for School-Aged Kids
Social Distancing at School Best Practices to Teach Kids
Home Organization is Key for Moms of School-Age Kids During Quarantine
How Will Decluttering Help You Survive Partial or Total Home Schooling?
Tackle Home Organization in Prep for Hybrid or Virtual School
Streamline Your Approach to Making, Serving & Cleaning Up after Meals During Your Virtual or Hybrid Home Schooling Year
Take Control of Tech, Space Out Screen Time, Save Your Sanity
Set Grocery Shopping Goals During Quarantine
Limit Screen Time During Virtual School
5 Tips for Teaching Kids to Stop the Spread of Germs
Stock Your Cleaning and Disinfecting Supplies for the Coming Winter
It Takes a Village to Survive During a Pandemic
Common Sense Practices for Families to Prevent the Spread of Germs
The Feng Shui of Quarantine: Space-Saving and Sanity-Saving Suggestions for Your Stay-at-Home Lifestyle
Mutual Respect Goes a Long Way for Surviving Extreme Togetherness Under One Roof
These articles are being sold as PLR - Private Label Rights Content.
That means that you get to edit, change, brand, and publish them under your own name in the following ways:

As a 15-Day Email Challenge sent out by autoresponder. Email challenges are HOT right now, and they're so easy to sell via your website.

As blog posts or website articles. Posting a series on a single topic that you cover for a full month is a great way to get targeted readers. Share links to your blog on social as well!

As articles shared on social media. If you host a group online, it helps to post information your readers want and need. Post your articles there with a link back to your blog.

As an ebook that you share to grow your list. An opt-in gift is a common way to get more people interested in you and what you do.

As PDF ebooks that you sell under your own brand name.

As a PDF course sent via email or hosted privately in an online conference room or private social media group such as Facebook

As an email course or an email series of tips. This content includes 15 articles that you can space out to go automatically via email at a time interval of your choosing.

As Pins. An eye-catching infographic and compelling lead-in brings them from Pinterest to your blog where they can learn more and sign up for your list!

As PowerPoint presentations - slide by slide, file delivered via link in an email.

As video slide shows. One short blurb or tip per slide, set to music, with images, works great.

As video tutorials - featuring you as the teacher, speaking about a topic. You can share the videos publicly to get known in your field. And you can also offer an upgrade option for people who may want a more in-depth learning experience.

The PLR articles that you receive from Wordfeeder will help you accomplish the above publishing goals and more!
Here's a screen shot sample: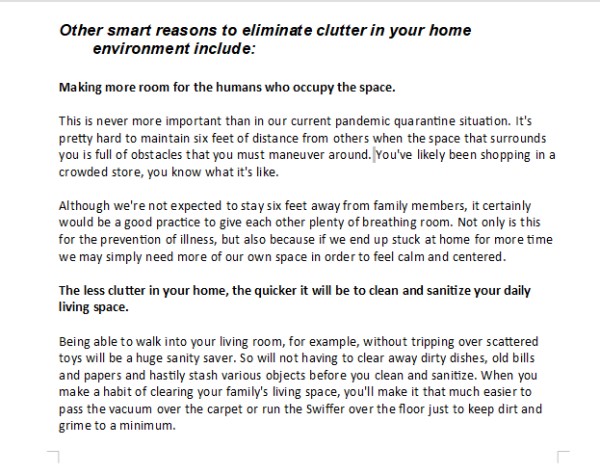 Another screen shot of the writing...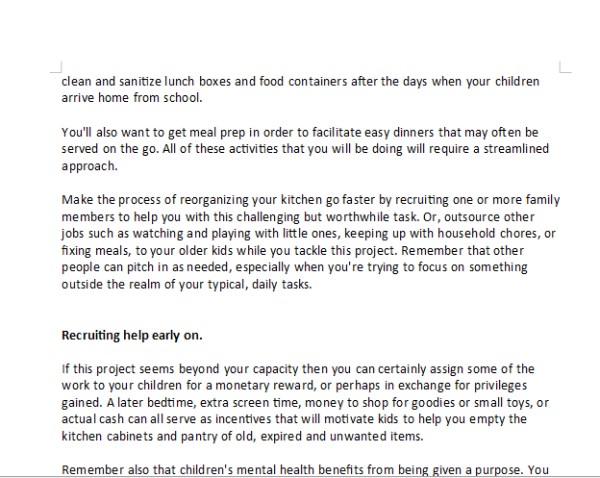 Screen Shot 3: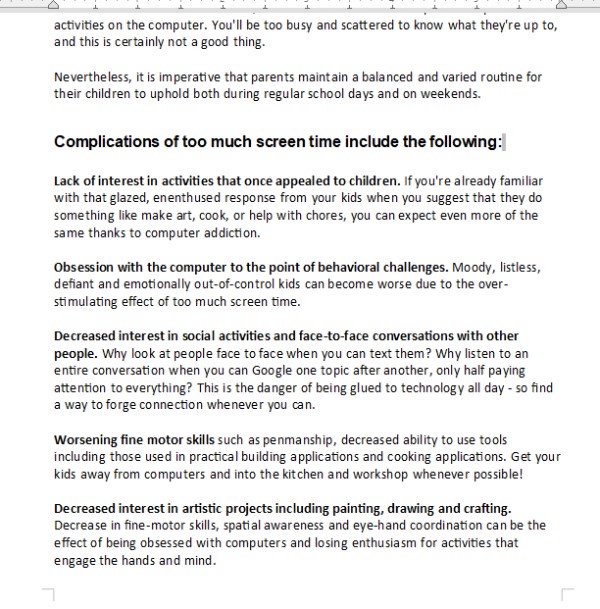 Screen Shot 4: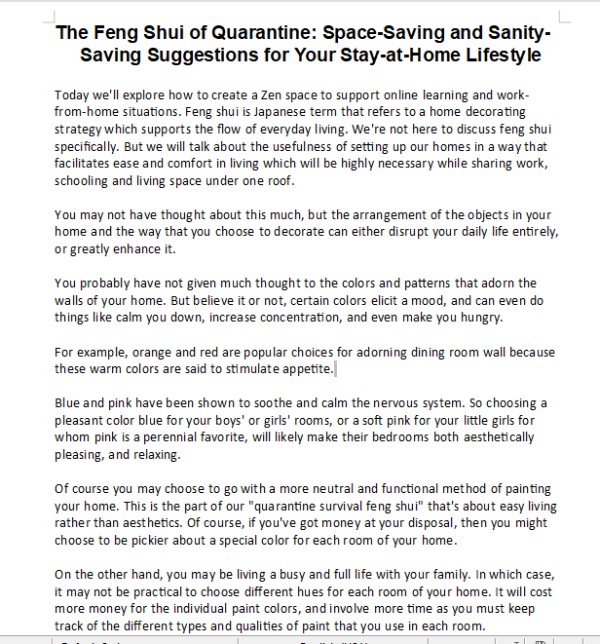 Add these to your ebooks, emails, blog posts, social posts, courses and more.
Add this entire pack of 15 PLR articles to your content collection right now.
Take a look at How much you Save when choosing PLR from Wordfeeder
| | | | |
| --- | --- | --- | --- |
| PLR PRODUCT | HOURS TO CREATE FROM SCRATCH | COST IF HIRING A PRO TO CUSTOM CREATE THIS | PRICE AS PLR |
| Ultimate "Wise Woman's Way" Stay-Home Survival Guide - 15 articles - more than 13,500 words! | 50 hours to write from scratch | 50 hours at $70 per hour = $3500.00 | This content is regularly priced at $67 so you get it for less than the cost of two self help books! |
This pack contains 13,500+ words.
NOW $67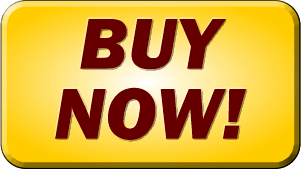 How to Access Your PLR Articles:
Once your order processes, you will be asked to create a login to the Wordfeeder member site. Do this, then check your email for a confirmation, plus another email containing your delivery of the files.
If you have any questions or trouble with your download, email me and I'll get back to you as quickly as possible.
THANKS for supporting our freelance businesses. CHEERS to you in yours!