NEW! "Not Your Ordinary Weight Loss PLR"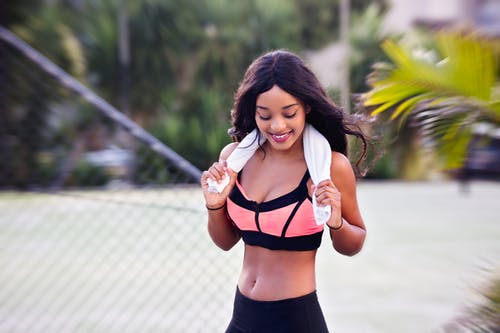 Weight loss and fitness blogger, do you need fresh content to feed the hungry masses of weight loss information seekers who find you via Google and other search engines?
You won't find regurgitated weight loss drivel here. Wordfeeder creates interesting, informative, inspiring and helpful content. Our articles offer thorough explanations, help people shift their perspective, and most definitely shares something they didn't know before.
Ask my satisfied buyers... Wordfeeder PLR is some of the best around!
You've been told that the money is in the list. Now you just have to get people on it! Here's how:

Step 1: Publish sound weight loss information that people want and need! But why write from scratch when Wordfeeder has your articles and future blog posts already written?

Step 2: Make ebooks and special reports. You can use done-for-you content to do this. We have your content for you right here!

Step 3: Give away some of the ebooks and short reports. Make sure the topic is HOT!

Step 4: Sell some of the rest of the information. It could be in the form of an online course, an email autoresponder challenge, a private member area on your site, or a series of video tutorials.
Other awesome, profit-generating activities you can get into with your online business include:

One-on-one health coaching or personal trainer services (virtual or in-person)

Weight loss motivation and support groups

Recommending Amazon products to help with weight loss goals such as workout clothes, exercise equipment, nutritional supplements, books, and much more.
Now you know how to get the signups AND what to offer them that they'll jump for.
Weight loss is an evergreen topic that never goes out of style! We know this at Wordfeeder, and that's why we've been creating set of terrific weight loss themed articles that you can purchase the private label rights to do with as you wish. These launch October 7... just in time to battle the Halloween temptations that derail us from eating healthy and keeping that weight off!
This Weight Loss PLR Pack includes:

Weight Loss PLR - Approx. 11,071 words- 17 articles total

1. Obesity in Families: Inherited, Or Learned?
2. Change Your Relationship With Food so You Can Lose Weight
3. Not-So-Subtle Signs That It's Time to Lose Weight for Real
4. Feel-Good Goals to Help You Kick the Pounds
5. Smart Habits to Get into If You Want to Lose Weight and Keep it Off for Good
6. How to Lose the Most Weight from the Least Amount of Exercise
7. Trick Yourself into Being Less Hungry
8. Simple Tricks to Eat Less and Lose Weight
9. How to Cut Down on Sugar While Still Enjoying the Occasional Delicious Dessert
10. The Skinny on Fats if You're Trying to Lose Weight
11. Strategic Snacking to Keep Hunger at Bay While Still Losing Weight
12. Rethinking Meals to Facilitate Weight Loss
13. How to Reduce Calories Without Compromising Nutrition or Sacrificing Taste
14. Weight Loss Motivation Secrets
15. Snacks on Your Diet: Okay, Or No Way?
16. Weight Loss Tricks that Have Nothing to Do With Exercise
17. Seven Nutritious Smoothie Recipes: Tastes Great, Lose Weight
Here's a writing sample. As you can see, there's plenty of knowledge packed in here!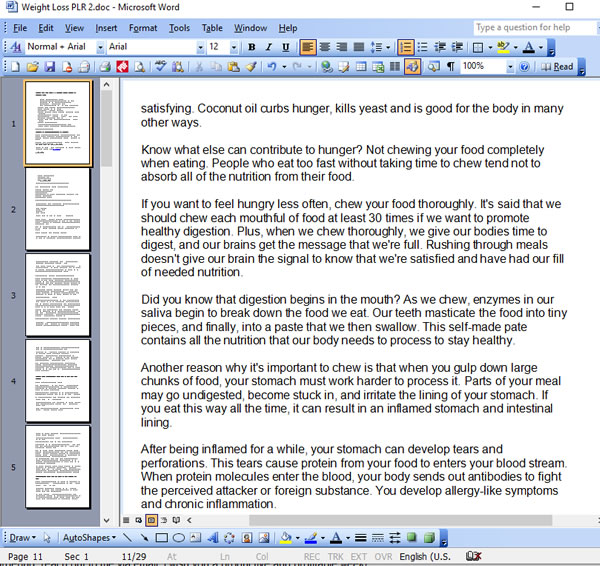 Savings Breakdown:
| | | | |
| --- | --- | --- | --- |
| PLR PRODUCT | HOURS TO CREATE FROM SCRATCH | COST IF HIRING A PRO TO CUSTOM CREATE THIS | PRICE AS PLR |
| Weight Loss PLR- 17 articles total or 11,000+ words | 40 hours | 40 hours at $50 per hour = $2,000.00 | This content is regularly priced at $35 for the entire pack of 17 articles |
NOW $35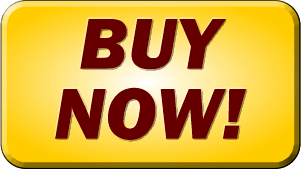 Click Buy Now to purchase - opens up a checkout area where you can check off this and other PLR packs.
How to Access Your PLR Content:
Once your order processes, you will be asked to create a login to the Wordfeeder member site. Do this, then check your email for a confirmation, plus another email containing your delivery of the files.
If you have any questions or trouble with your download, email me and I'll get back to you as quickly as possible.
Free PLR Articles Sweeten the Deal!
PS: Don't forget! In addition to these high quality articles, you also get a TON of free content once you log into the Wordfeeder member area. Check the top menu and look under FREE PLR to see what's offered.

THANKS for supporting my freelance business. CHEERS to you in yours!