Wordfeeder Loves Coach Glue!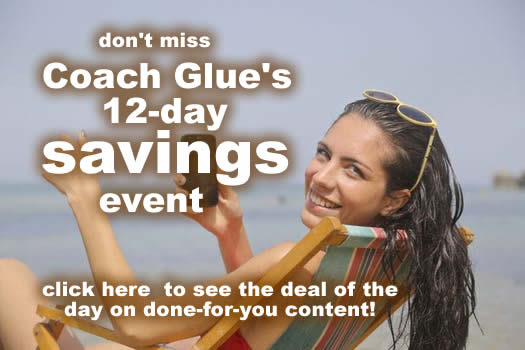 If you found this page searching for Coach Glue, you are in LUCK!
Starting June 1, 2021, Coach Glue will run their Daily Deals content savings event for 12 days straight.
I'll email you when the first offer comes out, and for 12 days after that!
ALL the content featured (ONE offer on ONE product for ONE day only, then it's on to the next Deal), will be Deeply Discounted!
Use coupon code 2021 for ALL products featured during their daily deals event.
Coach Glue 2021 June Deals are as Follows:
June 1: Video Script & Workbook: 7 Ways to Manifest More Money in Your Business - $70 Off
June 2: Workbook & Checklist: The Only 3 Systems You Really Need for a 6-Figure Business - $20 Off
June 3: Video Script & Workbook: How to Turn Your Passion for Service into a Profitable Business - $70 Off
June 4: Workbook: How to Discover Your Purpose So You Can Love Your Business and Your Life! - $20 Off
June 5: Course: Freedom Journaling! How to Write Your Dreams into Reality in Just Minutes a Day! - $200 Off
June 6: Workbook & Checklist: You Need Clients - How to Get an Abundance of Client Referrals - 50% Off
June 7: Workshop: Money Mindset to Help You Soar - $220 Off
June 8: Simple and Fun Goal Setting Strategies to Create Your Most Spectacular Year Ever! - $20 Off
June 9: Workshop: Mindset Reset - $220 Off
June 10: Course: Full Time to Freelancer - $220 Off
June 11: 10 Done-for-You Blog Posts: Vision Boards - $10 Off
June 12: Workshop: Your 12 Month Marketing Calendar - $220 Off
Never heard of Coach Glue?
Sample their amazing coaching content packages right here. You'll get instant coaching forms right now, to use in your business. AND they will email you their next deeply discounted digital product that you can sell or share as your own!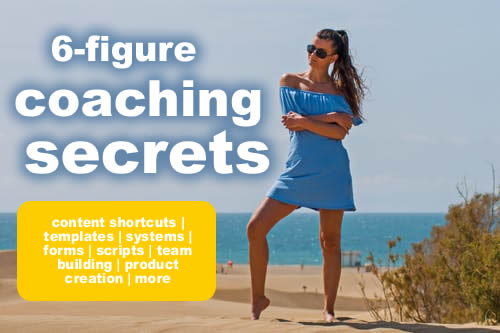 Don't miss their done-for-you content packages - including special offers and free trial packages to use in your coaching business