Child Care PlR Articles - 5 Total on "How to Choose SAfe, AFfordable and Reliable CHild Care for Your Kids" - 3,377 words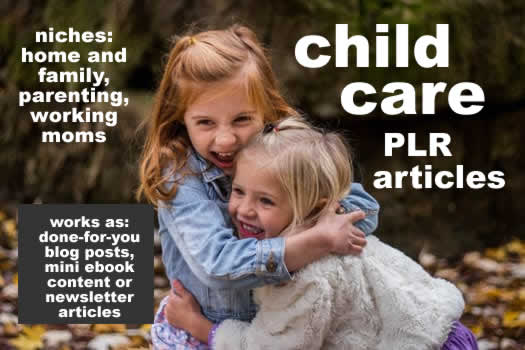 It's back-to-school season, and the time to talk about child care options is now
Greetings, home and family blogger and content publisher. Are you in search of high quality PLR articles and blog posts to share with your home and family, parenting, or career audience?
This is Dina from Wordfeeder PLR, and I have a thoughtfully written, information-rich, high quality PLR pack for you. This topic comes to you right on time for back to school season, and the moms-of-preschoolers and school aged kids crowd.
The topic is Child Care 101 - this is the basic information that first-time parents would need when seeking out child care options for their family.
This pack speaks to the Home and Family, Working Parents, Career and Parenting Audiences.
Word count is 3,377 and it's a total of 5 PLR articles with intro text. Perfect to create a mini ebook, publish as stand-alone articles, release in your newsletter as a series of tips for new parents, or for sharing on social media.
Titles include:
• Intro
• Options in Daycare: What Choices Do You Have?
• Steps to Choosing the Right Daycare Center for Your Kids
• Pros and Cons of Choosing a Family Member to Care for Your Children
• Red Flags to Watch Out for in a Childcare Facility
• Steps to Choosing the Right Daycare Center for Your Kids
Screen shot sample for you: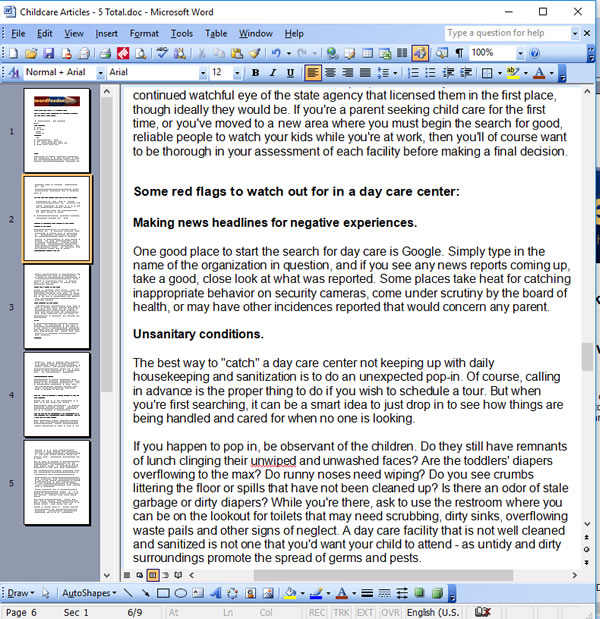 Delivery: MS Word file. Arrives via email upon receipt of PayPal payment. Your file will also be accessible each time you log into the Wordfeeder member area.



Did You Know? You also get a TON of FREE PLR articles inside your Wordfeeder member area. Once you check out, be sure to log in and look in the top menu under FREE PLR.
How to Access Your PLR Articles:
File arrives via email upon receipt of online payment. Download again and again from your member account for the lifetime of your membership which is free to sign up. THANKS for supporting my freelance business. CHEERS to you in yours!
More Home and Family PLR Articles, Ebook Content and Ecourse Material