All-New PLR Self Care Articles, Now On Sale. 7,832 words total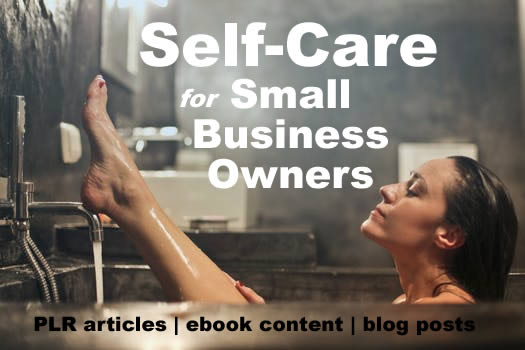 Hey there, busy blogger! It's Dina from Wordfeeder PLR. I've been working hard to create a new PLR pack for you in time for spring publishing!
It's been a neverending winter around here. I thought I even saw a few snowflakes mingling with last night's rain as I was writing this content.
Is it me, or are we all ready to be done with this winter weather, so we can move on to sunny days, short skirts, light, fresh foods, and looking and feeling good!?
So, the topic of interest with spring about to be sprung: self care! And we have the perfect self-care PLR articles to help you drum up excitement this April and May.
Does the change of seasons and warmer weather make you regretful of all those pounds you packed on over the winter? Spring and summer is the time of year when entrepreneurs break out of hiding, blink their tired, computer-weary eyes and make their way out into the bright sunshine to dance, frolic, and enjoy life. Spring is a time when people shift their work shedules to make more time for self care and outdoor enjoyment while the sun is high in the sky.
Self care is a HOT topic at this time of year when we're all anxious to break out of hibernation... Especially with the Work-from-Home moms crowd!
I speak from personal experience when I tell you that self-care is one of the first things to go neglected when you're struggling to bring in new clients and sales. But now that I'm in Phase 2 of my own writing business growth, I've figured out how to maintain my own self-care rituals along the way. Self-care has kept me from burning out the second time around... and it can help your readers, too!
That's why it was pretty easy for me to write these 12 PLR self-care articles that will go over big with your work-from-home mom, online business owner, health and wellness, or self improvement readers.
Self-Care PLR - Blog Posts, Articles, or Ebook Content - 7,832 words for instant download. Put your name on this content, edit it, publish it wherever you like. It's YOURS as soon as the online Order goes through.
Here's a list of titles included with this information-rich pack of PLR articles:

Self Care for Small Business Owners - Intro
Self Care for Small Biz Owners: But What if You Don't Want to Take a Break?
Simple and Effective Stretches for People Who Spend Long Hours at a Computer
Too Much Computer? 5 Signs It's Time to Stretch and Move
Yoga "Cheats" That You Can Do Right at Your Desk
Self-Care Tip: End Your Busy Day With a Lavender and Epsom Salt Soak
Vitamin D: Dose Yourself in Any Season
Yes, Even Out of Shape and Overweight People Can Benefit from a Yoga Self-Care Practice
Bed Yoga Ensures a Better Night's Sleep
"I Forgot How to Breathe!" Breathing Techniques for When You've Spent Too Much Time at the Computer Again
A Cup of Relaxation: Best Herbal Teas to Wind Down With
It's Important to Step Away from the Screen: Work Projects You Can Do Without a Computer

How Will This Content Be Delivered?
Delivery: MS Word file. Arrives via email upon receipt of PayPal payment. Your file will also be accessible each time you log into the Wordfeeder member area.
There's a lot you can do with this PLR self care content! Below, some ideas...
Turn it into an ebook to sell at an affordable price point or offer free in exchange for new email signups.
Set it up to release in an email autoresponder series - again, free or paid, up to you.
Add it to your coaching member area to help your small business clients remember that self-care is essential on the path to success.
Use this content as the basis of your 30-Day Self Care Challenge. Host on email, via a private area of your blog, or in your Facebook or LinkedIn group.
Print it out and use at your next in-person coaching workshop or group event!
Here's a Writing Sample from the Pack: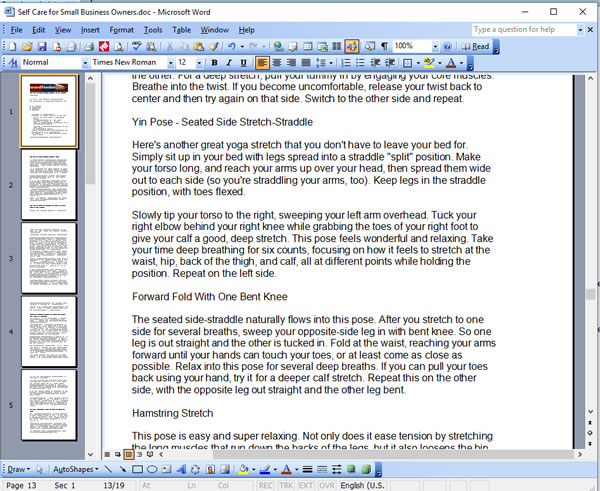 And don't forget to take advantage of our low introductory price, listed below:
Regularly $37
NOW ONLY $17
Use coupon code SELFCARE to grab the discount at checkout. Offer ends April 17, 2018. extended through May 1, 2018!

PS: Don't forget! In addition to these high quality articles, you also get a TON of free content once you log into the Wordfeeder member area. Check the top menu and look under FREE PLR to see what's offered.

THANKS for supporting my freelance business. CHEERS to you in yours!

More Health and Wellness PLR Articles, Ebook Content, Social Posts