Self Care for Small Business Owners - 12 High Quality PLR Articles. REbrandable content for you to Grow Your List and Profit From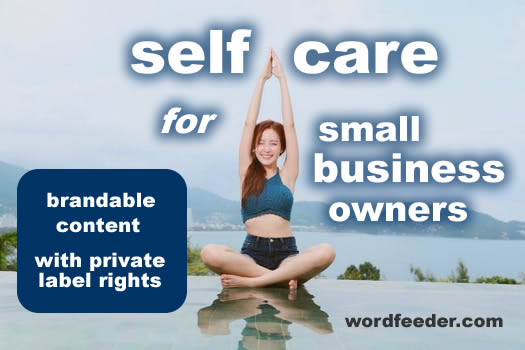 Now on Sale for $20 Off through Thursday, October 11, 2018.
Hey there, busy blogger! It's Dina from Wordfeeder PLR. I wrote these self-care tips for small business owners hoping to reach out to you AND the people you serve online.
Quarter 4 is upon us. The fall and winter holidays bring a bustle of activity, both in your personal life and your business. Have you or your readers set aside some time for self-care? It's so important for our overall health, longevity, success and happiness.
I don't know one hardworking small business owner who wouldn't appreciate Serious Self-Care Tips.
Before you know it, the cold and snow will be upon us. Do you plan to brave the elements and head out into the dwindling sunshine for some exercise? With the days growing shorter, your self care routine will likely change along with the seasons. But don't give into the tempation to just sit there and slog at your computer.
No Better Time to Kick up Your Self-Care Routine than Fall and Winter.
Why? Holiday treats tempt at every turn. The rush of planning, shopping and prepping often have us taking drive-through shortcuts. How well do you perform your job after scarfing down two take-out cheeseburgers?
Know what else? Gift-buying season will soon be here. If you've got a list full of hardworking entrepreneurs like you and I, these guys can definitely get into the self-care mindset. Who's going to be asking Secret Santa for an aromatherapy diffuser, book about meditation, or a new yoga mat this year? What about spa days and massage gift cards? All of these make terrific affiliate product for you to share with your list and profit from.
I speak from personal experience when I tell you that self-care is one of the first things to go neglected when you're struggling to bring in new clients and sales. But now that I'm in Phase 2 of my own writing business growth, I've figured out how to maintain my own self-care rituals along the way. Self-care has kept me from burning out the second time around... and it can help your readers, too!
That's why it was pretty easy for me to write these 12 PLR self-care articles that will go over big with your work-from-home mom, online business owner, health and wellness, or self improvement readers.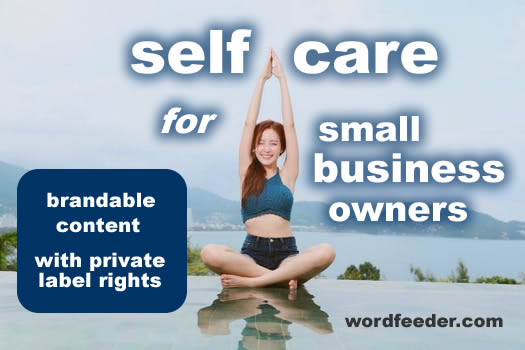 Self-Care PLR - Blog Posts, Articles, or Ebook Content - 7,832 words for instant download. Put your name on this content, edit it, publish it wherever you like. It's YOURS as soon as the online Order goes through.
Here's a list of titles included with this information-rich pack of PLR articles:

Self Care for Small Business Owners - Intro
Self Care for Small Biz Owners: But What if You Don't Want to Take a Break?
Simple and Effective Stretches for People Who Spend Long Hours at a Computer
Too Much Computer? 5 Signs It's Time to Stretch and Move
Yoga "Cheats" That You Can Do Right at Your Desk
Self-Care Tip: End Your Busy Day With a Lavender and Epsom Salt Soak
Vitamin D: Dose Yourself in Any Season
Yes, Even Out of Shape and Overweight People Can Benefit from a Yoga Self-Care Practice
Bed Yoga Ensures a Better Night's Sleep
"I Forgot How to Breathe!" Breathing Techniques for When You've Spent Too Much Time at the Computer Again
A Cup of Relaxation: Best Herbal Teas to Wind Down With
It's Important to Step Away from the Screen: Work Projects You Can Do Without a Computer

How Will This Content Be Delivered?
Delivery: MS Word file. Arrives via email upon receipt of PayPal payment. Your file will also be accessible each time you log into the Wordfeeder member area.
There's a lot you can do with this PLR self care content! Below, some ideas...
Turn it into an ebook to sell at an affordable price point or offer free in exchange for new email signups.
Set it up to release in an email autoresponder series - again, free or paid, up to you.
Add it to your coaching member area to help your small business clients remember that self-care is essential on the path to success.
Use this content as the basis of your 30-Day Self Care Challenge. Host on email, via a private area of your blog, or in your Facebook or LinkedIn group.
Print it out and use at your next in-person coaching workshop or group event!
Here's a Writing Sample from the Pack: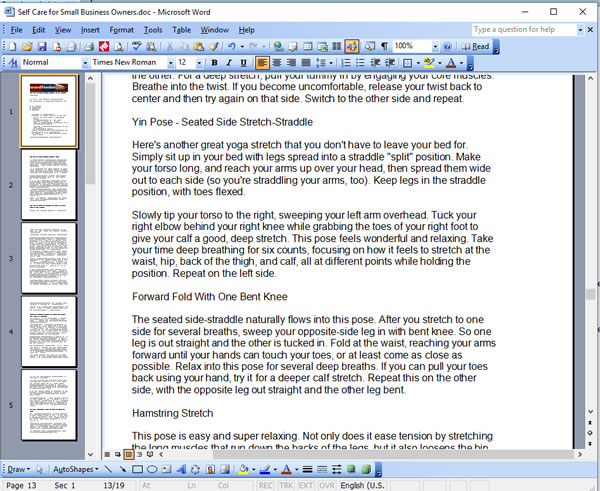 Regularly $37
NOW Only $17
Use coupon code SELFCARESEASON at checkout to grab your discount! Offer ends after October 11, 2018.

PS: Don't forget! In addition to these high quality articles, you also get a TON of free content once you log into the Wordfeeder member area. Check the top menu and look under FREE PLR to see what's offered.

THANKS for supporting my freelance business. CHEERS to you in yours!

More Health and Wellness PLR Articles, Ebook Content, Social Posts