If you're new to the world of private label rights content, here's how this works.
Most of the providers of private label content that we recommend here run member websites. The best way to REALLY use your content is to log in and stay logged in all day.
Get Started Using PLR on Wordfeeder or Any Other PLR Website. Here's How:
Step 1: Sign Up
Step 2: Log in
Step 3: Access your content in the TOP MENU on Wordfeeder's logged-in screen.
Anyone who signs up for a PLR membership will be able to log into their account and access content files anytime they need to use them in their publishing tasks.
I'll show you a screen shot of what your member area will look like on Wordfeeder after you sign up, purchase content, and log in:
(This is what you'd click on to access your files if you were a Wordfeeder Weight Loss PLR Monthly member)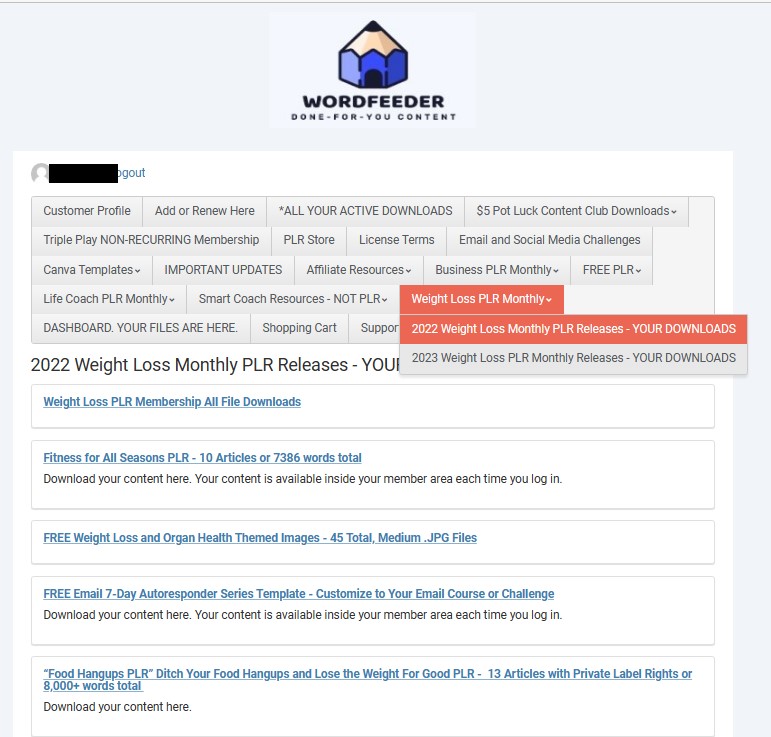 How to access your PLR content after purchase:
Once your payment goes through, you'll be given the opportunity to sign up with a member account and login.
Most content sellers also set up an automated email response that delivers the content directly to your email.
So if your order just went through, check your email right away and look for the product to download.
Any time you log in, you will be able to access this content package and anything else you may decide to order.
What if you can't access the content you paid for or downloaded free?
Common problems when ordering private label rights content have to do with human error.
Occasionally you might purchase content, click the download link and for some reason you don't receive your file.
If that's the case, try to remain calm. It is understandably a bit nerve-racking to make a purchase and then not receive what you ordered.
But typically, there is a human being writing and uploading this content. So if you reach out by email to talk with the website owner, they will generally be able to fix the issue and send you a new download link.
You get to download some free articles from the top menu of your new member account.
Let us know what you think of our content, and what other topics and types of documents you may be interested in.