Searching for really good gratitude content? One way to elevate the articles you share online is to research up front. Researching can be exciting because you learn new things. However, it can also be tedious because you want to quote the proper sources, but they're often buried.
Or… you know the topic of gratitude like the back of your hand, but you don't have expert names and sources at your fingertips to back the claims you're making in the article.
If you skip over the research part, nothing bad will happen. However, you will look better and lend credibility if you properly quote and cite field experts and scientific studies.
At Wordfeeder, we offer plenty of gratitude-themed content with private label rights. Gratitude is a hot topic, with more people coming to realize the benefit of a gratitude mindset for health and happiness.
Would you like a free sample? We're giving away a series of expert quotes, facts and stats on the topic of gratitude. Copy and paste these here and there in ebooks you create, articles for your blog and social media, or anywhere else you may be publishing info about gratitude.
FREE Gratitude PLR: Stats, Quotes and Research Findings to use in your online publishing and digital product creation.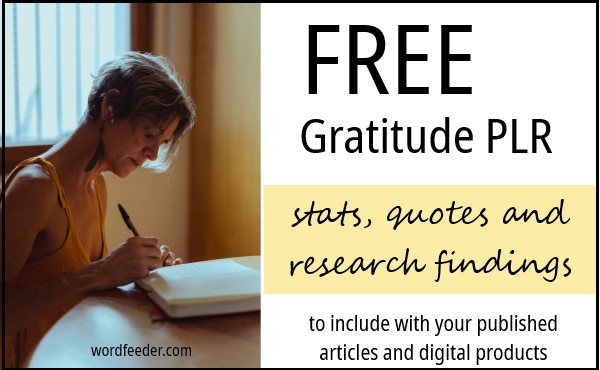 Go here to learn more and grab your free gratitude content from Wordfeeder PLR!