Question: WHY planners in your coaching business? I had a hard time seeing their value, being a "words girl" from way back.
A life coach or business coach would do well to pick up a few planners, as they're a GREAT thing to lend structure to your one-on-one work with clients AND bulk up your coaching packages.
Think about it. Your client has a problem. She's made the same amount yearly, for the past 3 years, working her butt off for clients, or selling a certain type of product in her small business.
What's stopping your client from reaching full income potential? Very likely, it's the limiting mindset she has about money.
Help her blow past this block. She will feel INCREDIBLY motivated to continue working with you as her coach, best supporter and facilitator of success!
Even BETTER if, instead of freestyling it through your next brilliant coaching moment, you had pre-created material to "make it official"…
HAND your client a terrific tool to begin working on money blocks immediately! SO professional, polished and together.
Think about all the crazy ways we limit ourselves and block that money from flowing our way:
"I can't promote that other coach's product because she's my competition!"
…becomes —> "Coach friend and I collab, pool together our knowledge/hard work. Clients get what they need, we create profits together!"
"My customers aren't going to pay X amount for this product I put so much time, love and care into creating"
…becomes —> "This product will help people solve a problem and they will be HAPPY to pay me what I'm worth, and what it's worth to them!"
This is EXACTLY Why Money Blocks will ALWAYS be a Hot Coaching Topic.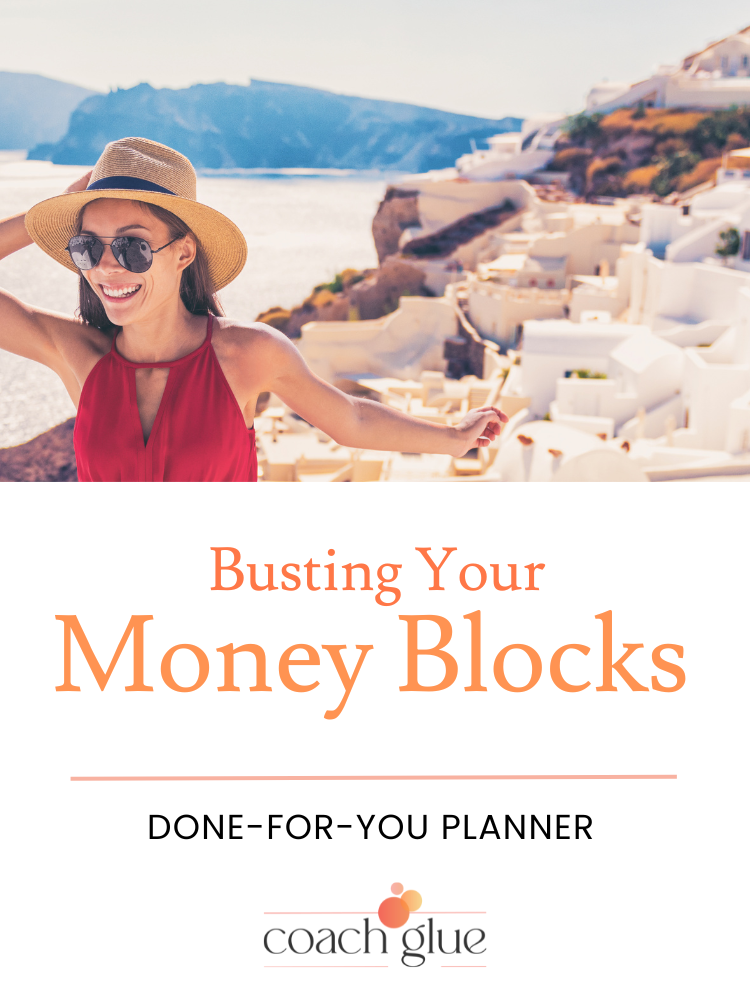 All of this said, I didn't want you to miss this offer from Coach Glue on one of their popular coaching planners with private label rights.
Here's what's included in this tight, tidy and together tool for coaches to begin using with clients and customers immediately:
Intro: Why Women Entrepreneurs (And Men, Too) Earn Less Than They Should
Step 1: Acknowledging the Problem Is Always the First Best Step
Step 2: Get to the Root of the Issue
Step 3: Watch Your Language
Step 4: Recognize (And Accept) Where You're Starting From
Step 5: Dare to Dream
Step 6: Generosity Breeds Abundance
Step 7: Use Affirmations to Create Your New Reality
Use coupon code 50 for half off this Coach Glue product! Ends after August 6, 2023. Are your clients ready to BUST Their Money Blocks? Are you??
Thanks for reading… have a GREAT and successful day!
Dina at Wordfeeder (Huge Fan of Coach Glue!)