Hi ! It takes hours to create a newsletter if you have all the content ready. It takes days if you don't! Back when I did this for clients, we didn't have amped up programs like Canva to put the project on speed. BUT even with the template, it STILL takes more than a day to write all of the articles, gather images and get your Amazon links to products you'd like to promote for passive income.
And that's why I'm creating this content publishing shortcut for Natural Wellness publishers like yours. It's a package of 6 wellness newsletters with private label rights. They're done, and they're for you.
Each one will be created in Canva, as an editable template.
If you order the bulk pack of 6 (still working on these), you'll have 6 Canva templates, 6 Word docs, and 6 folders of images for EACH topic.
Newsletter 1 is complete, and ready to pre-order. Topic is Boosting Immunity Naturally.
Newsletter 2 will be on Sleep Wellness. I'm working on it now.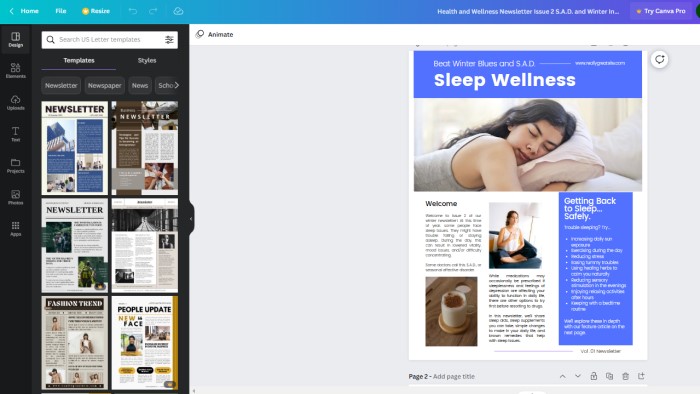 WELLNESS NEWSLETTER TOPICS ARE:
Cold and Flu Immune Boosters DONE, AVAILABLE TO ORDER AS A SINGLE
Beat S.A.D. and Insomnia with These Natural Cures IN PRODUCTION
Everything Essential Oils: Natural Cleaning, Aromatherapy and Skincare Recipes
Start Your Yoga Practice
Feel Better… Naturally! (Simple, Everyday Detox Tips)
Improve the Health of Your Skin
Here's what you'll receive:
A ready-to-go editable Canva newsletter template that you can edit, change colors, fonts, add your logo, images and branding.
Approximately 3K words (give or take) of helpful tips and content that covers a single wellness topic.
A back page of the template where you can copy and paste your short bio, company images, logo, headshot if desired, and advertise your current programs, products and services.
12 or so images inputted into the newsletter
Separate MS Word file of the written content
Separate image files in a zipped folder.
​​​​If you want to try ordering just the ONE newsletter before you commit to ordering 5 more, learn more and order here
I will somehow configure the price so that the people who ordered the first one won't be paying for it twice if they order the bulk pack. So don't you worry!
Here's a code for you to get $20 off the single issue while the others are in production. You may as well grab it now because cold season is NOW.
Use coupon code NATURALWELLNESSISSUE1 for $20 off! Ends January 26, 2023.
What can you do with the content?
You'll be able to log into your Wordfeeder member area any time and access the link to this Canva template.
The template can be duplicated so you can reuse it for different newsletter projects.
The written content, images and links are already inputted into the template. This is a HUGE time saver because you don't have to edit to fit the space.
The written content and images also come in separate files, so you can copy and paste in your blog, into an email, on social media, etc.
Canva templates translate live links once you download them as a PDF. This is huge because it means you can share your affiliate links to recommended products and make commissions if people buy through those links.
BE SURE TO CHANGE THE AFF ID in each link so you don't miss out on potential commissions.
How do you send a PDF via email?
Because it's a PDF containing live links, you don't want to lose those links. So, to email a PDF to your list, you must..
Download the PDF and save it to your computer or cloud storage.
Upload the PDF to your web server and copy the link that takes people to the file.
Type an email to your list. Tell them your latest newsletter is available, then paste the link to the PDF into the message for them to download.
(You can also share your newsletter link on social media, which is actually SUPER HANDY if your audience mostly lives in a Facebook group. Just introduce the newsletter and share the link to the PDF right from your page.
If you decide that you'd rather send this as an HTML email, you can copy and paste the written content and upload the incuded images to your server. Then, insert image and your Amazon aff links into the email. (or replace these products with some from another affiliate program you belong to). Tack on your greeting and closing. Upsell your coaching or digital products. Hit send, and you're good to go.
One more time! Get $20 off the single issue while the others are in production. You may as well grab it now because immune boosting season is NOW.
Use coupon code NATURALWELLNESSISSUE1 for $20! Ends January 26, 2023.
Thank you for supporting Wordfeeder PLR. If you have friends who publish to the wellness audience, email me a note and I'll make you an affiliate of our PLR products!
Dina at Wordfeeder PLR