Ditching Perfection as a Blogger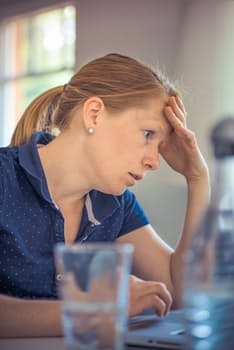 You may have heard that if you blog to earn money, you have to post something every day. That probably seems like a lot of work. And if blogging is your side gig, then yeah, you may lose track of your blogging goals while in the throes of obligation that is life.
However, it IS possible to blog every day, just like you brush your teeth every day or you log into your favorite social media account every day, or you walk your dog every day.
I'm writer by profession, a copywriter by trade. So the thing that could theoretically stop me from making blogging a daily event is something that you've probably thought about, too.
It's perfection. Yep, the dotting of the i's and the crossing of the t's, (should there be an apostrophe after i and t? should I have put the i and the t in quotes like this: "i" and "t"? Should I have capitalized the S? Does the period go inside of the parentheses, or outside?)
Ironically, the things that, as a writer, I was taught to be on the lookout for are the very same things that could stop me from seizing a moneymaking opportunity on the web, and acting on it.
I'll give you a for-instance. Let's say I check my email, and a fellow marketer and private label rights content seller whom I admire and who I also have signed up as an affiliate for, has just announced an awesome new content release.
I wasn't expecting this, but it turns out to be something my readers might benefit from. Let's say she's running a course on how to set up an email list. As her affiliate, I can share the link to her course so that interested parties from my email list might sign up and I can then earn a percentage of the sale.
But if I'm worried about the perfect wording of the post, and if I'm fretting because I might spell something wrong, or my points aren't coming together as readily I'd like... well, that's probably going to stop me from getting my message out in a timely fashion.
And if I drop the ball on this, I could miss out on something awesome. Also, my post that I write about the course my friend is selling will take some time to register on search engines and get found by searchers who ALREADY want what she's selling. And I could be a matchmaker between the seekers and those wanting to be sought (meaning the seller of said paid course).
So, even if there's a shred of a doubt, or a mistake manages to slip through, or my verbiage lacks energy today... I post anyway.
That's because I know this is the web, and web communication is speedy AND I can always log back in another day and change what I said in the post, correct something that's inaccurate, write an apology if I accidentally offend someone, or what-have-you.
So... I drop my writerly need to be perfect. And I just hop on my blog and start talking and I hope that someone out there is hearing the message.
And that's what YOU should be doing, too.
Did you know that I've changed the home page copy and the keywords of my website at least fifteen times since I re-launched the site in October?
Did you know that it took me ten minutes to write this post, and I didn't even proofread? I'm going running right after I post this. I can proofread it later, log back in and fix whatever I missed.
YOU should work this way, too! Just remember, this is the web. We write on the fly here. So let it flow, brother or sister.
Peace.