List Segmentation: Old-School List Building the New School Way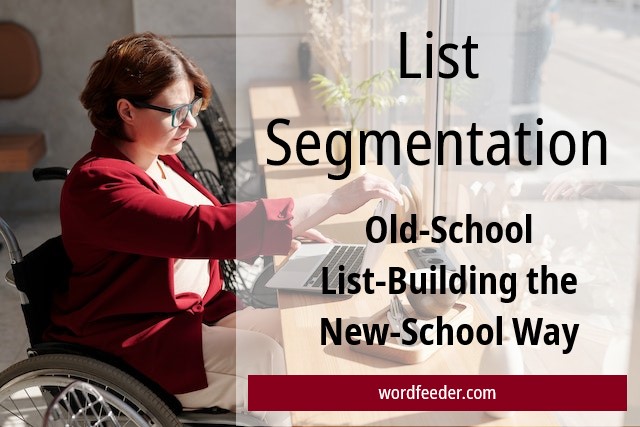 Everybody has a target market, right? You know this if you're blogging to a specific audience. Here on Wordfeeder, my general audience is PLR shoppers. I know this is very broad, so I created some different pages to hopefully attract various segments of the PLR market. Which one did you arrive on to find my site? Was it Health and Wellness? Petcare PLR? Business building?
Segmenting your email list is truly the secret sauce to get more conversions from your email list. But what if your email list is just jumbled into a big mishmosh of signups? You know that when you email them a specific offer, some may bite but others, in a different sub-niche, could be annoyed by the interruption of yet another email.
What do you do? Take your old-school list and segment it! Modern technology on the web makes it super easy.
Here's how to segment your list for better conversions.
Start with data collection. Send your list a series of questions. Ask about their business and what they were hoping to get from being on your list. Separate your subscribers based on their responses. In addition to using your autoresponder to do this, you can also use tagging and other automation such as by using Zapier.com or IFTTT.com.
Break up your audience. If you need to brainstorm, by all means create separate "typical profiles" of your different market segments. From here, you can begin to think of your site as a series of mini websites. This is really just different pages with lists - everything is categorical online! In doing this, you can refine the main navigation of your website just like I described earlier with Wordfeeder's PLR customers.
Create new offers for each segment. You might start with freebies and price breaks to get their attention. You can work this from both within your existing list, and you can also create pages of your website to share on social media, that will push your new offers out for farther reach and an influx of a new type of client that fits a specific segment.
See if your list management software will do the work for you. Some may be able to segment at the time of sending a new message to your list. They do this by collecting data about each person by way of a series of questions. If you're not sure how to determine this, you can always contact support at your list management service.
Searching for a great, permission-based email marketing company to help manage and segment your audience?
I can personally recommend Aweber. I've used them for years and been very happy with the results.