They'll Say YES to a Self Care for Entrepreneurs Challenge, Workshop or Boot Camp! Rebrandable Content for You to Publish and Profit from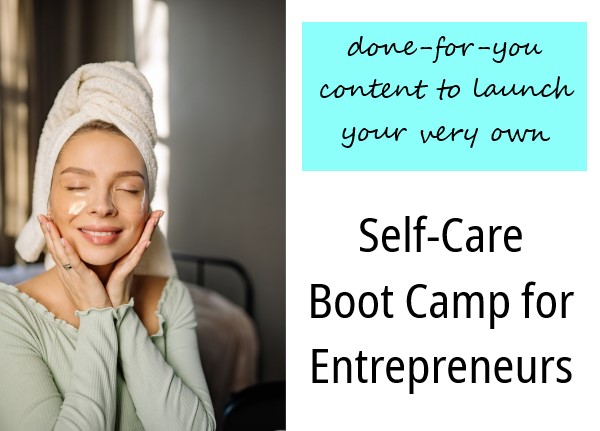 Hi, coach or expert! Self Care for Entrepreneurs is one of my absolute favorite topics. Today's a good example of why. I just released a brand-new 30-day gratitude content pack and I am tapped out. But I have to keep going because more work needs to be done. Maybe you can relate? So, for about 30 minutes this morning I stepped away from the screen and went trotting down the road with my little dog. Feeling better now!

If you're a taskmaster like I am, then you know that it's all too tempting to skip that walk or wait until 1 a.m. insomnia to start your yoga routine. But you probably also know that the longer you sit and stare at the glowing machine, the more mistakes creep into your work and the more crazed you'll become. ;) This spills over into every area of your life, including your relationships and your health.
Self Care for Entrepreneurs: One HOT and Timely Niche
So, self care for entrepreneurs… a powerful niche with lots of crossover potential. A wellness coach can get behind this content. So can a life coach or online biz owner who may be looking to liven things up with a timely theme. That's why I was pretty excited to see a new, complete, teachable content package from Coach Glue. It's their Physical, Emotional, and Spiritual Selfcare Bootcamp for Entrepreneurs
I wrote a self care for small business owners pack of 7,832 words earlier this year. So if you bought that, I'm guessing you'll love the Coach Glue brandable content package even more. And if you didn't pick up that content, I've put it up for sale for you to get $20 off the list price now through October 11.
Wordfeeder's Self Care for Small Business Owners PLR Articles - 12 Total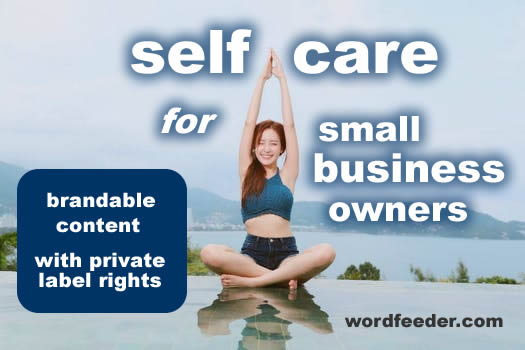 The included article titles in my pack are:

· Self Care for Small Business Owners - Intro
· Self Care for Small Biz Owners: But What if You Don't Want to Take a Break?
· Simple and Effective Stretches for People Who Spend Long Hours at a Computer
· Too Much Computer? 5 Signs It's Time to Stretch and Move
· Yoga "Cheats" That You Can Do Right at Your Desk
· Self-Care Tip: End Your Busy Day With a Lavender and Epsom Salt Soak
· Vitamin D: Dose Yourself in Any Season
· Yes, Even Out of Shape and Overweight People Can Benefit from a Yoga Self-Care Practice
· Bed Yoga Ensures a Better Night's Sleep
· "I Forgot How to Breathe!" Breathing Techniques for When You've Spent Too Much Time at the Computer Again
· A Cup of Relaxation: Best Herbal Teas to Wind Down With
· It's Important to Step Away from the Screen: Work Projects You Can Do Without a Computer

Grab that content from the sales page right now, and get $20 off by typing in SELFCARESEASON at checkout.

Ready to Lauch Your Self-Care for Entrepreneurs Boot Camp This November or December?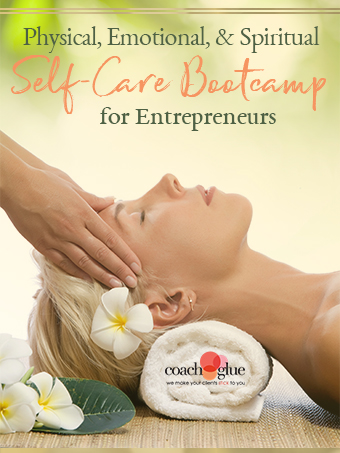 But back to Coach Glue's incredible Self-Care Boot Camp! Let me tell you how these two are different and why one, the other, or both, may be right for you. In Wordfeeder's self care for small biz owners PLR package, my own natural writing voice comes across. You get playful, quirky, upbeat tips and unexpected advice that you may never have heard before. That's total Wordfeeder, and if that's not your style, it's okay, I get it. Plus, it's 12 articles. Great for putting up some new blog posts or making a mini ebook giveway.
Now that I'm thinking about it… if you'd like to whet your readers' appetite for self care tips, my 12 self care articles would make a great little teaser to give away, get more people on your list, and then invite them to join your Self Care Boot Camp this holiday season!

So let's talk a bit more about the comparison between these two self care content packs. Coach Glue's content has the Voice of the Coach down to a tee. Plus, their packages contain loads and loads of irresistible information that you can set up and roll out to your readers as an online course. I'll paste "module 1" of their 4-part, comprehensive Self Care Boot Camp Rebrandable Workshop Content right here:
What Do You Get With Coach Glue's Self Care Boot Camp Workshop Content Package?

In module 1, they cover:
Why self-care keeps slipping from your grasp (and how to stop the slide)—so you can break your old habits for good and build a sustainable self-care routine.

7 signs of burnout you need to take seriously— and what to do about them

6 signs of stress— and how to permanently diffuse it

What to do when success keeps slipping from your fingers— and ways to make yourself accountable for the daily actions you take

Why you're stuck in distraction (and how to get out)— because #truthbomb: ditching those time drains will free you up to do the things you love

How to get back on track and claim the life you dream about— it's time to look forward to the life you genuinely want, strip out anything that's no longer working for you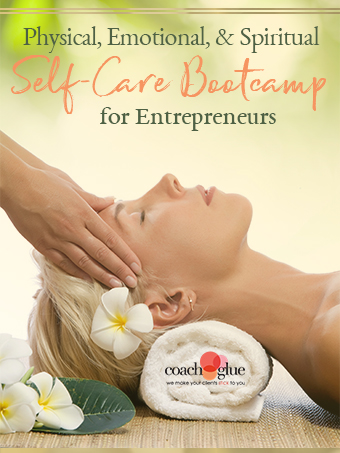 That is ONLY module one. The total package includes the following: An Entire Teachable Workshop with…
4 Training Modules

4 Fast Action Plan Worksheets & Exercises

4 Program Accelerator Checklists

4 Sets of PowerPoint Slides
Oh, and Melissa and Nicole would like to remind you of the following:
Important: You have 3 different ways to get this content, including the discount.
Sign up for a VIP membership right from the sales page, and it'll be included along with all of your other amazing goodies.

Access this package via the monthly membership.
Opt to make this boot camp a one-time purchase. The workshop normally sells for $297 but (through Monday, October 8th) you can save $220.

ENTER 220 in the checkout area where they prompt you for a promotional code.
Okay, Let's Recap: Order One, The Other, Or Both of These Terrific Self Care for Entrepreneurs Done-for-You Content Packages with Private Label Rights to Brand and Publish as Your Own
Once again, if you'd like to order Wordfeeder's Self Care for Small Business Owners pack of 12 articles with private label rights, go here and enter SELFCARESEASON at checkout to enjoy your $20 off.
To grab the highest quality done-for-you workshop content from Coach Glue and immediately get going on an Physical, Emotional, and Spiritual Selfcare Bootcamp for Entrepreneurs, visit that link. Type in 220 at checkout for your $220 off the one-time purchase!

Thank you so much for keeping up with the latest content offers and deals from Wordfeeder and friends. We hope you LOVE the content that we create for you!
Dina at Wordfeeder PLR