All is Calm 6-Day Emailed Journaling Challenge Content with Private Label Rights - 9,000 words total + instructions + sales copy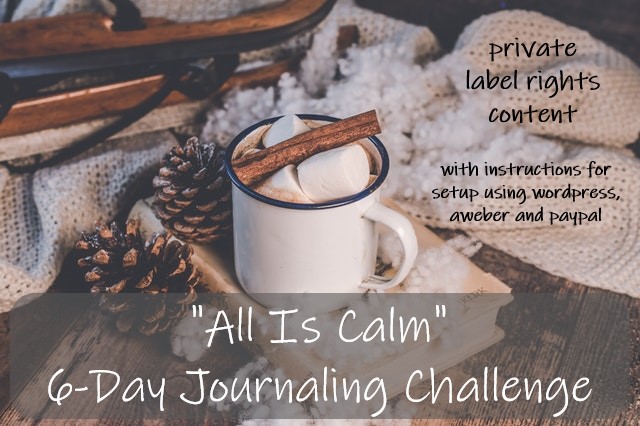 Journaling Challenge Content with Private Label Rights - 9,000 words total or 6-Day Autoresponder Series
To Set Up on a Wordpress, Password-Protected Area and Deliver via Aweber with PayPal as the Payment Method
This package includes:
Instructions for setup using Wordpress (give your customers private access with password), Aweber autoresponder, and PayPal to take payment and have the course go out automatically, one challenge per day for 6 days.
Written content for 6 Journaling Days (to paste into Wordpress Pages and make them password-access only)
Written content for 6 autoresponder email messages that will go out after the purchase goes through.
Written content for the LANDING PAGE that they must enter their name and email after the PayPal payment is accepted and goes through
Written content for the SALES PAGE that you'll need to publish in order to market the course (doubles as an EMAIL that you can send to your list to get potential buyers interested in the course).
Bonus Images - 34 Total - small JPGs to use in your Email Autoresponder and Wordpress Course Pages
Journaling Challenge 6 Days of Content Includes:

Email 1/Lesson 1: Welcome and Day 1 Journaling Challenge

Email 2/Day 2: Find Calm in Nature.

Email 3/Day 3: Take Calm from Simple Pleasures.

Email 4/Day 4: Eating Calmly Around the Table

Email 5/Day 5: Be Calm in Your Heart and Soul

Email 6/Day 6: Live a Calm Life
Screen Shots of the Written Content:
Screen Shots of the Written Content: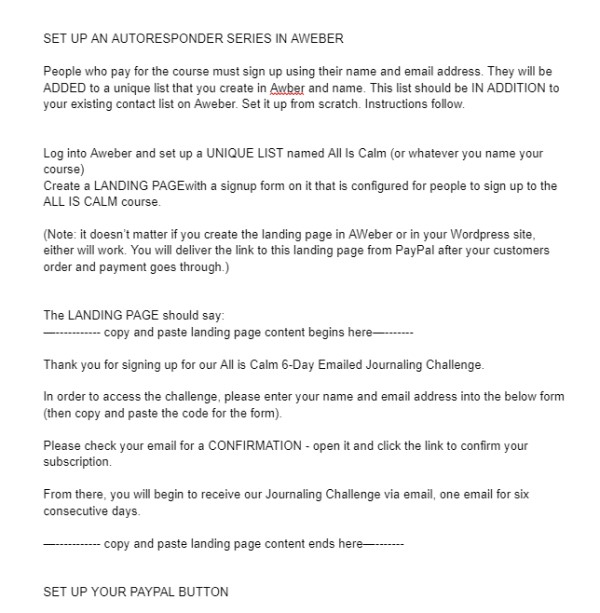 Screen Shots of the Written Content: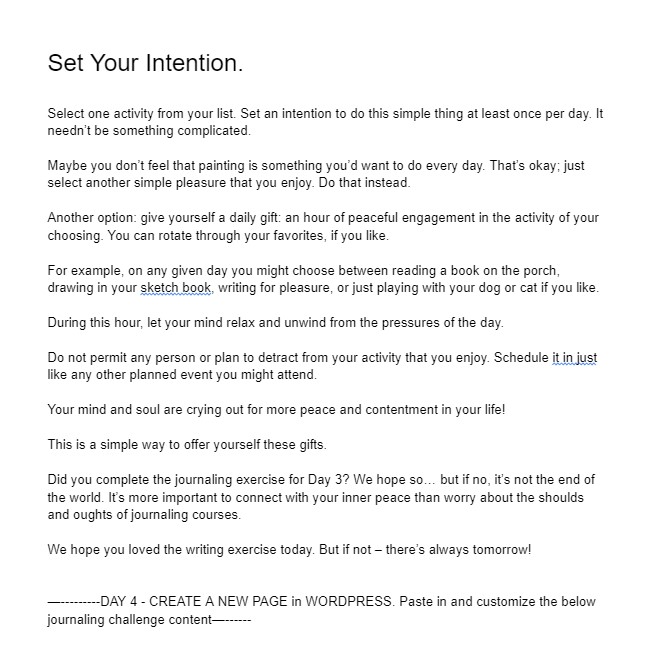 You also get 34 Free Small.JPG Images to Use in Your Email Series and Wordpress Course Pages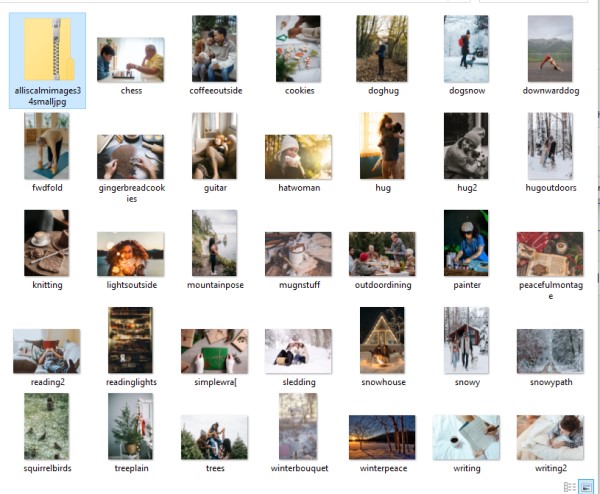 Rules for use:
Publish this as an email series to sell or give away. Remove our name from the final product Do not resell as PLR. You may ONLY sell as a digital course delivered by email OR as a PDF ebook.
How to access your content and instructions for use:
Once your order goes through, you will be asked to create a login if you have not already. Check your email. We'll mail you a receipt confirmation that includes the link to the file on Google docs.
This content will be accessible via a Google Doc. To access, log into your account and check the left sidebar (this is called the dashboard) to find a direct link to the page where the download link lives.
You can also find it in the top menu of your member area, under Writing and Journaling Courses.