Looking to monetize your mom blog?

Content marketing is the best way to create profits with a website and email list.
But content writing also takes a lot of time and brain power.
Are you finding content publishing shortcuts that are also friendly on the pocketbook?
Have you heard of PLR, or done-for-you content? It's already written. Just copy, customize, paste, and click publish.
If you're a frugal mom blogger or home and family publisher, here's some great news. We have a done-for-you content solution that's just right for busy mom bloggers on a budget.
At Wordfeeder, we understand the need for you to keep content flowing out to your audience. But we also know that as a mom blogger, you lead a busy and fragmented publishing life.
From minute to minute, who knows what's going to happen! You could be writing content at 10:00 a.m. and then at 10:03 doing damage control on a toddler meltdown.
It's hard to keep a schedule when you're an internet Mom working from home. As a content creator who is also a busy mama, I totally get this.
I have a content shortcut and budget-friendly solution to match your on-the-go blogging style, and meet your publishing needs.
The Wordfeeder $5 PLR Pot Luck Content Club presents the perfect solution for those times when you need content fast, good and on the run.

What do your mom blog readers want?
The changing economy means that more moms want budget-friendly, family-friendly solutions for their busy lives.
They want healthy and delicious recipes that are easy to make.
They want to get good and fast at household management.
They want solutions to plan and participate in holidays and occasions throughout the calendar year.
They want cleaning hacks and DIY projects.
They want to make and save money for their families from the comfort and convenience of home.
They want the best for their children-- including opportunities to learn, play, grow, explore, gain skills, have adventures, make friends, exercise, create, relate and live well.
They want ways to keep their family healthy, fit and well.
They want self-care solutions to keep on top of all of this and stay nourished in body, mind and soul.
Pass along great, money-saving tips, mom hacks, healthy recipes, wellness advice and more.
At Wordfeeder, we write the content. You share it to build your audience, create profits and thrive online!
Here's how our $5 PLR Pot Luck Content Club works.
Sign up each month for just $5.
Receive content tidbits throughout the month to share in your blog, social media, videos and email newsletter.
Download similar content from your member area, such as recipes. Then, compile and turn it all into an ebook. Makes a great lead magnet to get more moms on your list!
What kind of content deliverables can you expect from the PLR Pot Luck Content Club?
A single, written blog post (article) or a handful of them in one document.
A set of written tips that teach something moms would want to know.
A printable file such as a planner or journal pages.
A folder containing themed images, for example food, fitness, plants, wellness, seasonal or holiday images.
What's an example of content you can monetize, and how do you do it?
Over the last week of June 2022, I added two content pieces to this member club. One was a blog post with text and a recipe about making hummus from scratch at home. Another was 7 images of hummus.
(Here's a screen shot of the blog post)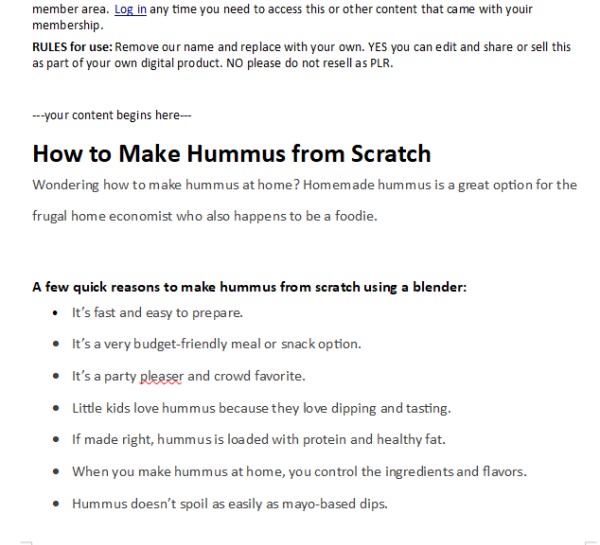 Here are the images.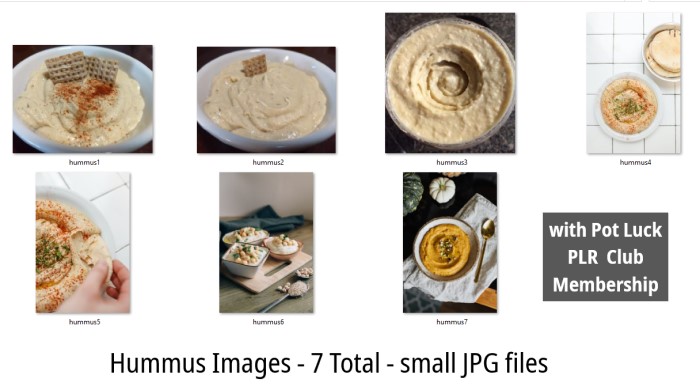 I also included a link to an Amazon product - a small blender that's perfect for making homemade dips like this.
(Side note, it's not easy to make hummus in a regular blender. That's why this kitchen gadget solves a problem.)
To monetize, sign up as an Amazon affiliate and then grab the link to this product.
Include that, along with a description of the product, in your post about making hummus at home.
How to Access Your Blog Content from Your Computer or Phone
To access your PLR Pot Luck content, log into your Wordfeeder member account. Content is organized by month.
The membership is also cumulative. The longer you stay, the more content will collect in your member area for quick and easy download.
Screen shot of your file location in the Wordfeeder member area after you sign up: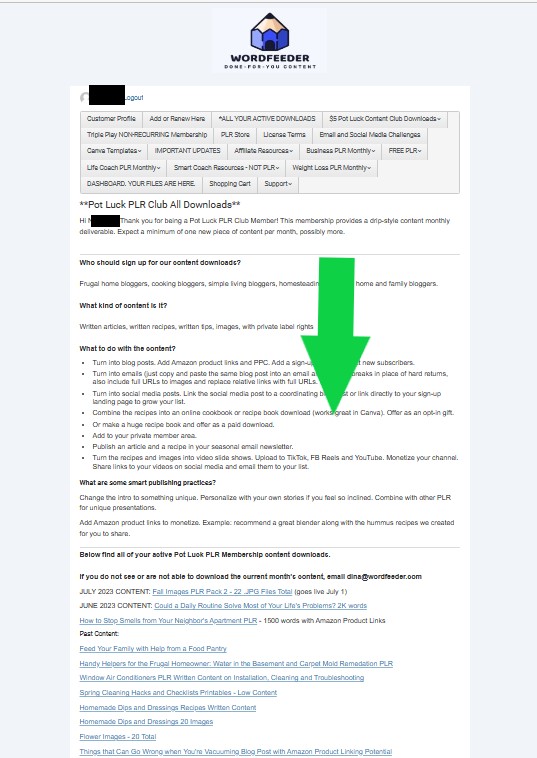 Support The Pot Luck Content Club Endeavor! This membership is in a beta testing phase.
Your small purchase of $5 helps us keep content quality high, and prices VERY low.
I, too, am a busy mom working online. With 27 years having served as a professional copywriter and content creator, I can help you keep the content flowing and ensure quality of information to share with your audience.
Let's partner up for success! You need content. You need a budget-friendly solution. I have both for you here.
Sign up for the Pot Luck Content Club membership now.
Order now, and collect your content from the Wordfeeder member area immediately.
This membership is brand new. Please feel free to suggest future content topics for this membership.
Content club collection will be cumulative. Content releases from former months will still be available after you sign up and log in!
How to Access Your PLR Content:
Once your order processes, you will be asked to create a login to the Wordfeeder member site. Do this, then check your email for a confirmation, plus another email containing your delivery of the files.
If you have any questions or trouble with your download, email me and I'll get back to you as quickly as possible.
PS: Don't forget! In addition to these high quality articles, you also get a TON of free content once you log into the Wordfeeder member area. Check the top menu and look under FREE PLR to see what's offered.

THANKS for supporting my freelance business. CHEERS to you in yours!
We reserve the right to cancel or change this membership any time.