Done-for-You Empowerment Course for Life Coaches, Success Coaches, Therapists
Believe in Yourself Empowerment Course in CANVA. Just Add Your Company Details and Launch!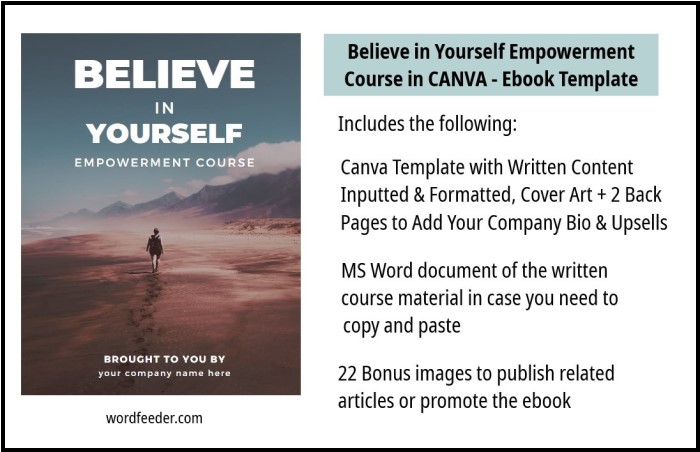 with Private Label Rights to Publish as Your Own
Searching for a done-for-you coaching course in Canva that has content inputted and is ready to launch as your next coaching product? This is in-depth coaching material designed to go deep with your clients' wants, needs, wishes and desires for a life that reflects their unique strengths, purpose and joy.
Give your clients the exact material they need to conquer doubt and overcome confusion and discover what's holding them back in life so they can release negative influences and time wasters to make space for more posivity and joy.
What will they get?
Though provoking articles and questions to help them aquaint or reaquaint with their inner selves.
Journaling exercises to guide them to a deeper self-awareness so they can identify their values, get clear on goals and make a plan for the future
Tools and coping strategies to navigate difficult relationships, develop stronger boundaries, form their tribe and live to win.
What's included with this digital product?
Canva template - 117 pages with written content inputted, including articles, journaling questions, goal setting pages and cover art.
MS Word document - containing the original content, so you have it to copy and paste, make changes to the Canva doc, or use it any way you like.
22 Bonus images to match the theme - post these on social media, make blog posts or send in emails with these or other, related article content.
What Kind of Coach Can Offer This Course?
Life Coaches
Career Coaches
Empowerment Coaches
Transition Coaches
Self Development Coaches
Success Coaches
In case you're not familiar with the term, private label rights or "PLR" is the label we give to unbranded content that's sold as a writing product that you can purchase and make your own.
Other names for this are done-for-you content, brandable content, and ready-to-go content. Turning it into your own content that you can sell or give away and share is easy, saves you tons of time, and will be an all-around investment in success and prosperity for both you AND your clients who learn from this material.
Done-for-You Empowerment Course Content that You Can Edit and Sell or Share
You have the freedom to edit this and make it your own any way you can think of!
Just purchase this course for less than you'd pay to have a single article written for you from scratch. Then turn around and sell it to your list. You'll make back your investment and then move into the profit zone.
Steps to Launch This Course:
Scan the document and make any changes you wish.
Add your company bio and upsells to the back pages.
Remove the Wordeeder back page if you like.
Save as a PDF.
Upload the PDF to your web server.
Save the link to the PDF.
Set this up as a digital product to order via PayPal, Stripe or another automated method.
Copy the link to the file, and paste it into a message that the buyer will receive automatically via email after their purchase goes through.
Again, this done-for-you content becomes YOURS to do whatever you like with. You can...
Sell it for an affordable price point. Think of all your coaching clients who may need a productivity enhancer and self esteem boost. An online course that arrives instantly via email, in ebook form, or one article at a time via autoresponder, could be the perfect learning method for them!
Give away this content to star building your rep in the coaching niche. The empowerment niche is an empowerment place to be. Use this content to get prequalified buyers on your list by giving the course away for free.
Include this empowerment course as part of a bigger package. This course would make a great addition to the private member area of your website, where clients can sign up for an array of coaching services and products.
Turn it into printables. Print this out, make copies, and distribute at your next group coaching meet. Squeeze every drop of profit potential from this high quality, motivating empowerment course content by repurposing it to teach as a class.
This jumbo-sized, high quality online course includes 17,000+ words total, presented in a 117-page Canva template.
Download the course from your member area on Wordfeeder.com.
Table of Contents includes...
Intro:
What Does It Mean to Believe in Yourself?
Were You Offered the Gift of Healthy Self Esteem?
JOURNAL IT: Assess Your Self Worth
Why is Self Esteem Important to Achieving Your Goals?
The Purpose of This Course

Part 1: Cultivating a Healthy Self Esteem
JOURNAL IT: Self Esteem Reality Check
Empower Yourself! Validation is the Key, But Where Do You Get It?
Examples of Validation
Who Matters in the World of Personal Validation?
Part 2: Getting to Know Myself All Over Again
Your Strengths
Your Skills
Your Education
Your Personality
Your Likes and Dislikes
JOURNAL IT: Rediscovering YOU
Tending the Garden of Your Spirit
EXERCISE: What Satisfies You?
Searching for More Meaningful Life Experiences? Try These Activities

Part 3: Setting Boundaries: Deal Breakers, What You Will or Will Not Tolerate
What are Boundaries?
Powerful You: Erect Boundaries
JOURNAL IT: Define Your Boundaries
Boundaries at Home
Boundaries at Work
Boundaries in Your Business
Boundaries in Your Social Life
Boundaries in Intimate Relationships

Part 4: Find Your Tribe
Who's In Your Tribe?
Your Tribe Lifts You Higher
Where to Find Your Own Tribe
Part 5: Potent Practices for Living Your Best Life
Self Care: Your Health Matters
You've Got Friends (and You Can Have a Social Life, Too)
Become Your Own Personal Advocate and Cheerleader
Exploring Creativity: Take the Plunge, and Do Something Amazing
Make the Most of Your Mornings
Getting It Together so You'll be Ready for Anything
How to Actively Utilize Your Free Time Instead of Being a Passive Bystander in Your Own Life
EXERCISE: Make Two Lists
Part 6: Empower Yourself! Set and Achieve Goals in Every Area of Life
S.M.A.R.T Goal Setting 101
Your Work Goals
Your Health Goals
Your Relationship Goals
Your Creative Goals

CONCLUSION

Screen shots of the Canva document: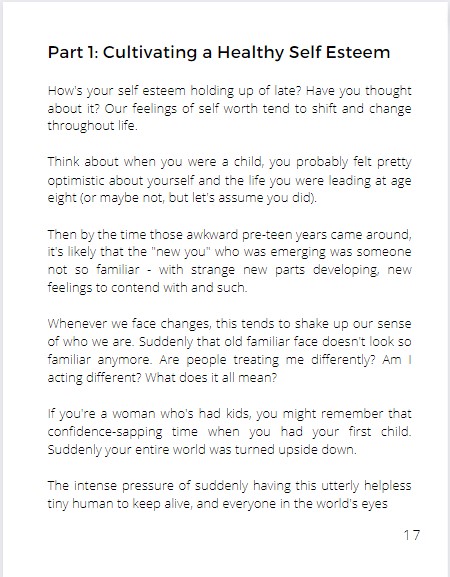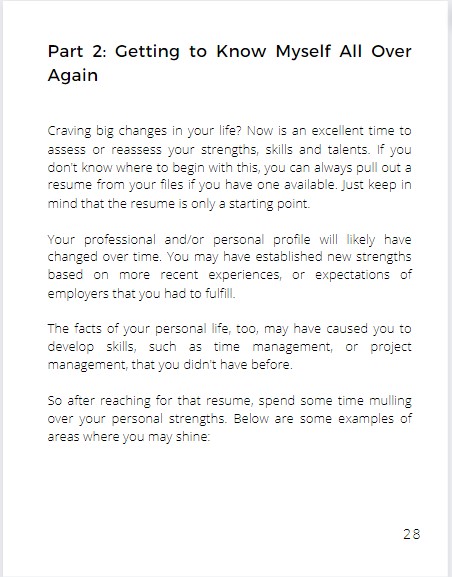 From the MS Word doc:


22 FREE Images Included
What to do with the images?
Add them to the Canva template if you like (not necessary though).
Add special messages and share them on social media to help you sell more copies of your course.
Include them in the autoresponder email series that you send out after people purchase the course.
Make the images part of your blog posts that you share when marketing this course.
Add them to a video slide show that you create as part of your effort to market this course.
...whatever else you can think of!
Here's a screen shot of the FREE images: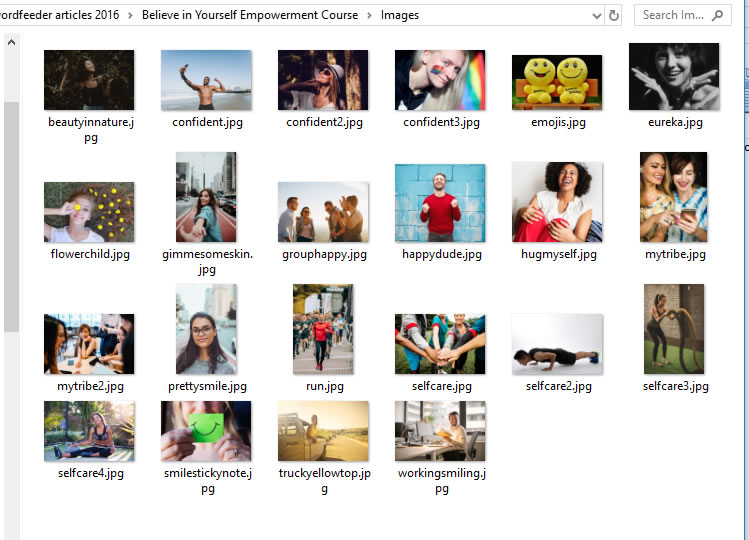 Don't miss your free member gifts
While you're logged into the Wordfeeder member area, take advantage of the collection of free articles that I offer for you to publish as your own. You'll see them in the top menu under FREE PLR as soon as you log in. And if it's business building resources you're in the market for, we have those for you, too. Just log in and start downloading your free learning material from Wordfeeder!