Done-for-You Coaching Course, Private Label Rights Digital Product. Brandable, PLR
Coach, Need a Done-for-You Stress Management Course?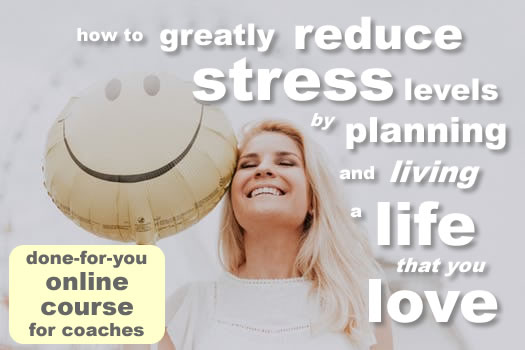 This beautiful, complete pre-written content package from Wordfeeder is ready for you to set up and profit from while guiding people to live their best, least-stressed life.
Hey, Coach.
It's no secret that stress stops us from doing the things we want to do and impacts every area of life. In this crazy connected modern world, we are ALL battling stress.
If you've ever wanted to offer a stress relief, stress reduction or stress management course to help your clients relieve the pressures of every day life, then I've got a wonderful, thought provoking, hands-on ecourse that's pre-written, packaged up in a Word document, and ready to launch and run as your own!
Your clients Will LOVE what's included in this high quality stress reduction course that you can set up and start teaching immediately.
It's all ready for you to add your signature branding, upload to your autoresponder or transform into a beautiful ebook, and start using IMMEDIATELY as an ecourse to help your clients and followers enjoy their lives more and stress far LESS.
"How to Greatly Reduce Stress Levels by Planning and Living a Life That You Love" - Done-for-You Online Course Content
WHAT YOU GET: 8,566 words of Stress Management Ecourse Content including 18 Articles plus BONUS 14-Part Worksheets Section
1. Intro
2. Sources of Stress
3. Signs of Stress
4. How to Release Stress in the Body
5. Ways to Correct Stress Caused by Technology Dependence
6. Stress is Different for Everyone
7. Identify Your Stress Triggers
8. Taking Steps to Reduce Daily Stress
9. Stress Reduction: Do It for Your Health
10. How to Greatly Reduce Stress by Planning and Living a Life That You Love
11. Stress in Your Career, Job or Livelihood
12. Tips for Reducing Stress at Your Job
13. Relationship Stress
14. Tips for Reducing Stress in Your Relationship
15. Stress in Your Home and Family Life
16. Tips for Managing Family and Household Stress
17. Assess and Reassess Your Life; Reduce Stress by Doing a Clean Sweep
18. Too Many Choices for Kids
BONUS Stress Reduction Worksheets Section
1. Identifying Sources of Stress at Home
2. Questions to Ask
3. Steps to Manage Stress at Home
4. Identifying Sources of Stress in Your Job or Business
5. Questions to Ask
6. Steps to Manage Stress in Your Job or Business
7. Identifying Sources of Stress in Your Relationships
8. Questions to Ask
9. Steps to Manage Stress in Your Relationships
10. Identifying Sources of Stress in Your Social Life
11. Questions to Ask
12. Steps to Manage Social and Extra Curricular Stress
13. My Stress Triggers Are…
14. My Commitment to Stress Management - Technique
Delivered via email in a ready-to-download MS Word document. Plus, you get to instantly access your ecourse content each time you log into the Wordfeeder member area. (You'll be asked to create a login after you click BUY NOW.)
What to do with this done-for-you stress management course
Grab your trusty VA and have her help you...

... turn it into an affordably priced ebook

... paste into an autoresponder series that fans can sign up for to receive via emil

... add awesome images and make into printed workshop materials to conduct group coaching sessions

... use the content to drive traffic to your blog when you publish as individual posts

... grab snippets of this content to entice more signups via social media

... incorporate into your next 14-day or 30-day challenge!
How Can This Prewritten Stress Reduction Ecourse Benefit You as a Professional Coach?
You'll begin to know your fans and followers on a more personal level by going deep with the questions


You can cover more coaching ground by reaching every major area of your clients' and subscribers' lives


You'll forge stronger connections with your clients and fans by helping them solve their most pressing stress related issues


You'll help your client and followers discover what they do want rather than what they don't want - which is what elevates their stress levels in the first place


You'll help your clients power through whatever stress prevents them from moving forward with their plans and realizing their dreams for the perfect life


You'll be able to offer a more budget-friendly group coaching option for those clients who are not yet ready to begin one-on-one work with a coach


You can reach those people who prefer to self coach independently - i.e. via an email course or ebook download that they can work on privately at their own pace


You'll teach them empowering stress relief methods like identifying triggers, releasing stress from the body, and working to eliminate stress from each area of their lives impacted - which will define you as an exceptional coach and equip them with life-changing skills!


You can take the course yourself - to test it out, and maybe even de-stress yourself as you move foward with clearing out what doesn't serve you so you can refine your own life and business plans
Want a Quality Check? Get a Writing Sample of Our Done-for-You Coaching Ecourse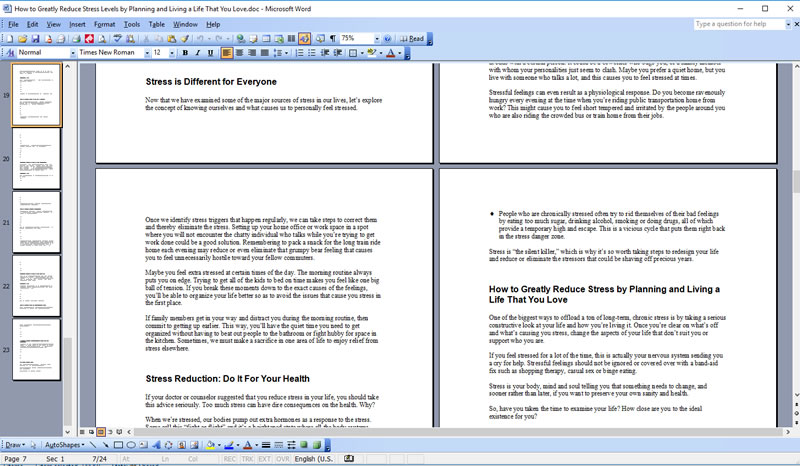 And here's another writing sample: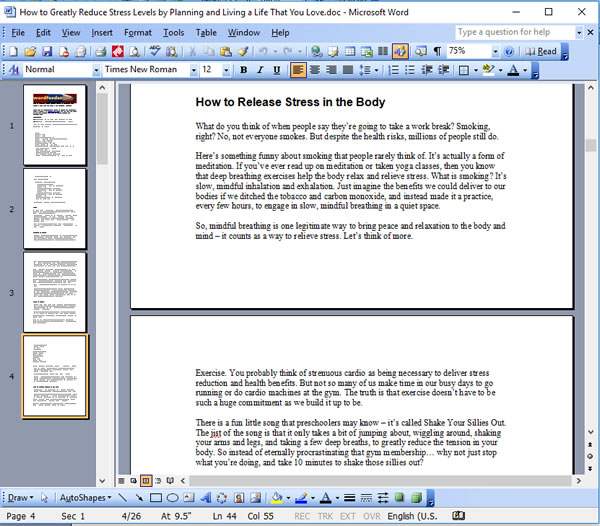 Your brand new course with private label rights to edit, publish as your own, sell or give away, or use this however you like, is mere minutes away from arriving in your email inbox!