Highest Quality Business PLR Articles
Let's Overhaul Your Website and Brand for More Leads, Customers and Revenue - 15 PLR Articles or 6900 words
This content comes with private label rights to sell or share as your own. Rules for use: please remove our brand from the content and replace with your own. Please do not resell these articles as PLR. Thank you kindly!
Titles include:
Intro
Don't Give Up on Your Website Just Yet. Here's Why.
Is It Time to Overhaul Your Web Business? Questions to Ask.
See if You Can Automate Your Business Using Tech-Based Solutions
Let's Go Deeper with Your Potential for More Income Streams
The Importance of Marketing Funnels as an Income Generator for Your Online Business
Want to Get People to Regard You as an Expert? Create a Lead Magnet and Grow Your List.
Your Branding Overhaul 9. Your SEO Overhaul: Keywords are Key.
Your Web Marketing Overhaul
Lead Capture is Priority One of Your Web Marketing Revamp.
A Quick Checklist for Your Lead-Capture and List-Building Initiative
Your Website or Blog Revamp, Let's Do This!
Social Media Overhaul: Your Plan of Attack
Digging into the Complexities of Your Marketing Funnels.
Overwhelmed? Just Try One Marketing Funnel to Start.
Sample of the Content: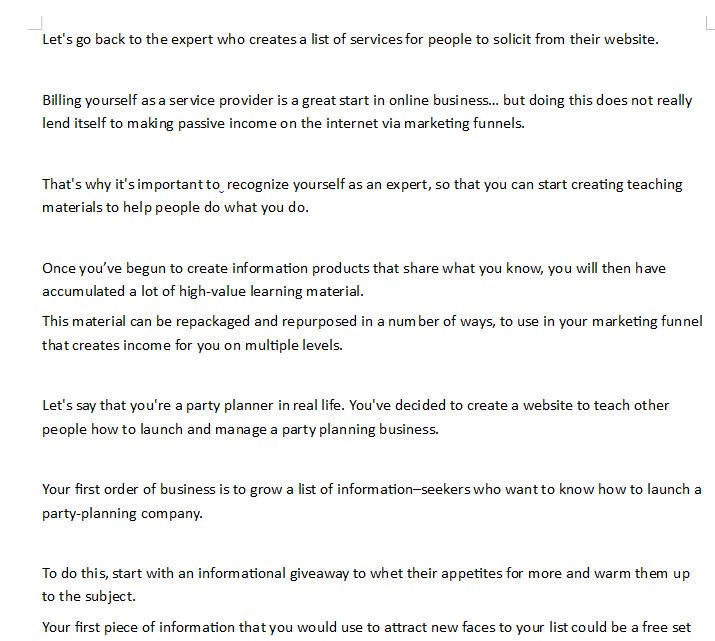 Here's a print preview of what the files look like...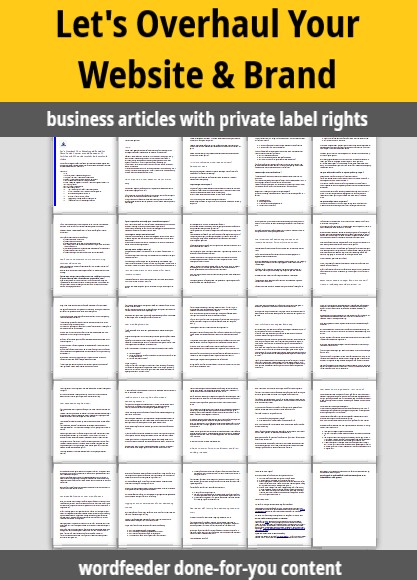 Use this high quality content to make quick work of ebook creation, online course creation, blog posting, or anything else you can think of to turn this into...
Use this to make and sell an ebook.
Want to use these to create cash flow? Add some images and branding to this document, turn into a PDF and sell it as an ebook. The more people on your list, the more you profit.
Or, business coach... give away the ebook as a way to get more people to join your membership.
This Digital Product is Offered as PLR: Private Label Rights Content. Use it to Create Profits for Your Coaching Business or Niche Website.


Create and launch digital products & coaching programs. Help people solve problems and live better, affordably.

Offer PDF courses by email or hosted privately.

Launch a multi-media course on a site like Teachable

Create a paid video course

Launch an email course or challenge.

Make into client learning materials.




Get new signups and connect with your fans and followers.

Offer an ebook, whitepaper, special report or series of tips as an opt-in gift.

Turn into an article feature for your email newsletter.

Use the content to make a short, free webinar to give your followers a taste of what's to come.



Grow your brand and increase your reach by publishing authoritative content.

Share as blog posts or web articles.

Post the articles on social media with a link back to your blog or sign-up page.

Make video talks, slide shows or tutorials to share on your channel.

Add to Pinterest pins to drive traffic back to your blog.

RULES: Edit, brand, copy, cut, paste, add to and change this any way you like. Do not publish originator's name. Do not resell as PLR. You may offer personal rights to your customers.
Work SMARTER, Not Harder

NO paying a writer to create this from scratch for hundreds of dollars

NO more slaving away at the computer for weeks and weeks to create this on your own

YES this can be branded with your name and business details. You can edit it, add to it, change it, and publish any way you like - give away, sell as an ebook, it's up to YOU.