PLR Selling Pack of 7 Articles - Perfect as a Done-for-You Course Teaching How to Write and Sell PLR Content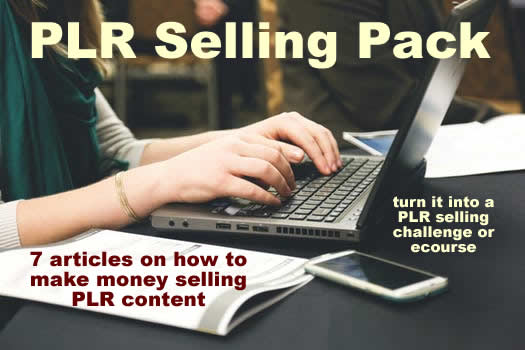 Hey, friends! This is Dina with Wordfeeder PLR. I've got a great PLR article pack for you that was written by my friend Kecia Hambrick. If you're an internet marketer in search of content to create and sell a course from... or if you just want to learn the ropes of how to sell private label rights content... then this 7-pack of PLR articles on how to sell PLR content will be perfect for you.
You Could Host a PLR-Selling Challenge Using these Articles
Wrangle up some sales potential with PLR on PLR selling. Teach as you learn! A done-for-you social media challenge, ebook to sell or offer free, autoresponder series, set of blog posts or social media updates can be yours for a very affordable price.
Here are a few ideas on how to make the most of this done-for-you PLR selling content...
Publish as stand-alone blog posts. If you want to drive traffic that targets people who are ready to make money through their writing, this PLR selling ecourse content that doubles as blog content is the way to do it!
Use this content to grow your list. The more people who find your blog and sign up, the more you're likely to increase your sales by working smarter and not harder. PLR content on PLR is the ticket to attracting them in the first place.
Publish this as a PLR selling ecourse or autoresponder series. You can charge a budget-friendly price for it, or offer for free if you've got bigger long-term plans for your list and you want to attract more signups first.
Share on social media. This is the perfect content that teaches how to sell PLR, and you can share it with your social media groups to gain a bigger following, or charge a low price that everyone will be able to afford and appreciate!
PLR on How to Sell PLR: You Get the Private Label Rights to Edit and Publish Anywhere You'd Like
This content pack is already written for you - the work's been done! If PLR selling is old hat for you, then why not grab the course and turn it into an ecourse for quick profit. You've got the fans, the followers and the respect... now give them what they want. You can even coach your people through the steps, and host a PLR Selling Challenge using this information as the basis for what you teach!
Articles in this 3,683-word pack include...
• Article 1: How is PLR Selling Different from Ghostwriting?
• Article 2: 4 Great Places to Promote your PLR
• Article 3: 5 Important PLR Sales Page Elements you Don't Want to Forget
• Article 4: Finding Topic Ideas for your PLR Content
• Article 5: Tips to Pricing your PLR for Maximum Sales
• Article 6: Joint Ventures in PLR Selling
• Article 7: How to Launch a PLR Membership Site in 4 Easy Steps
This Digital Product is Offered as PLR: Private Label Rights Content. Use it to Create Profits for Your Coaching Business or Niche Website.


Create and launch digital products & coaching programs. Help people solve problems and live better, affordably.

Offer PDF courses by email or hosted privately.

Launch a multi-media course on a site like Teachable

Create a paid video course

Launch an email course or challenge.

Make into client learning materials.




Get new signups and connect with your fans and followers.

Offer an ebook, whitepaper, special report or series of tips as an opt-in gift.

Turn into an article feature for your email newsletter.

Use the content to make a short, free webinar to give your followers a taste of what's to come.



Grow your brand and increase your reach by publishing authoritative content.

Share as blog posts or web articles.

Post the articles on social media with a link back to your blog or sign-up page.

Make video talks, slide shows or tutorials to share on your channel.

Add to Pinterest pins to drive traffic back to your blog.

RULES: Edit, brand, copy, cut, paste, add to and change this any way you like. Do not publish originator's name. Do not resell as PLR. You may offer personal rights to your customers.
Work SMARTER, Not Harder

NO paying a writer to create this from scratch for hundreds of dollars

NO more slaving away at the computer for weeks and weeks to create this on your own

YES this can be branded with your name and business details. You can edit it, add to it, change it, and publish any way you like - give away, sell as an ebook, it's up to YOU.