Homemade Dog Food PLR | Q&A Content on Making Dog Food from, Err, Scratch | Ebook PLR | Blog Posts | Recipes
Pre-written articles and Q&A content on how to make dog food at home using healthy, wholesome ingredients
Hey, this is Dina from Wordfeeder. Do you make money online by running a dog blog or simple living website? Do you email helpful tips and information to dog lovers?
I know that managing a dog blog can be, well, a little ruff sometimes.
Here's some great news if you're hungry for high quality PLR content that speaks to either of these audiences - dog people, or simple living fans. I just finished writing some brand-new, private label rights content on how to make homemade dog food from scratch (no pun intended)!
There's a ton of great content here that you can do all sorts of things with:
Make it into an ebook that you brand as your own and sell online via email
Turn into an ecourse that people can sign up for a low price point
Offer the ebook or ecourse as a free gift in exchange for new email signups
Publish each article or Q&A section as a stand-alone blog post - great for traffic building or creating a niche site
Make it "homemade dog food month" on your blog, or youtube channel. This could work perfectly as an instructional video, too!
Share with your social media group to get more blog traffic, signups and ebook or ecourse sales.
"Doggy Dinners" Homemade Dog Food PLR - 6,639 words total

Content Includes:
• A quick history of dog food
• What's in store-bought dog food?
• Homemade dog food can improve your pet's overall health
• Can you feed table scraps to dogs?
• Homemade dog food can reduce allergic reactions in your dog.
• What human foods can dogs eat?
• Can my dog eat beans?
• Can dogs eat vegetables? What veggies should I add to my homemade dog food recipes?
• What about cruciferous and green leafy vegetables such as broccoli, kale, spinach and cabbage for your dog?
• What foods are not safe to feed your dog?
• What types of human meals should not be fed to dogs?
• Perfect Homemade Dinners for Dogs
• Main ingredients of homemade dog food:
• How much homemade dog food should you feed to your dog?
• Economical choices for buying meat to make homemade dog food from
• Dog Dinners: Some Homemade from Scratch, Some Leftover, All Good
• Do you need to gradually change your dog's food from store-bought to homemade?
• Dogs and bones
• How to cook dog food from scratch
• Can people eat homemade dog food?
• How long should you cook homemade dog food for?
• How to store homemade dog food
• If you run out of homemade dog food, what should you do?
• What if your homemade dog food makes your dog sick?
• Will your dog get enough vitamins if you make his food from scratch?
• Is it okay to feed your dog leftovers from your own meals?
• How to thaw frozen dog food in a hurry
• Homemade Dog Food Recipes
• Beef, Potato and Carrot Stew for Dogs
• Chicken Livers, Peas and Brown Rice Homemade Dog Food Recipe
• Trout and Brown Rice Medley
• Chicken Vittles, Rice and Sweet Potatoes Homemade Dog Food Recipe
• Pork, Rice and Veggies Homemade Dog Food Recipe
• Dog Burgers - Homemade Dog Food Recipe
• Dog Turkey Meatloaf - Homemade Dog Food Recipe
• Venison Stew - Homemade Dog Food Recipe

File delivery is an MS Word file that will arrive via email once your online order processes. You'll also be able to access your PLR essential oils content from your Wordfeeder member area each time you sign in.
Here's a screen shot sample of the content: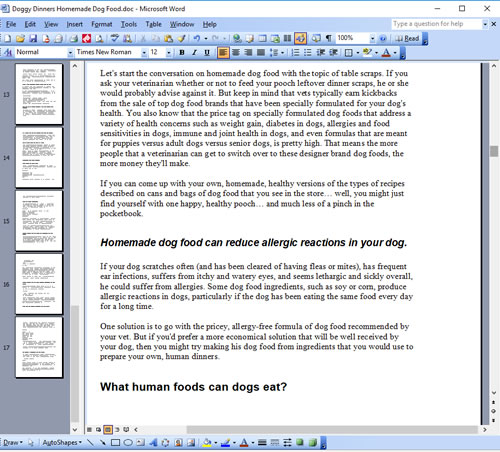 You ALSO Get Lots of FREE, High Quality PLR Content!
In addition to this content, you get a whole bunch of FREE PLR that you can begin using immediately to drive more traffic to your blog, get more social media love, and create ebooks that you can sell or give away in exchange for sign-up information from your website visitors.
Here's what to do once your order processes:
Step 1: Save this file to a folder on your computer where you'll be able to easily access it later.
Step 2: Paste the content into a .txt file to strip out all non-HTML code.
Step 3: Edit if needed, and add your brand where appropriate, add images, style and save in a new file of your own.
Feel free to give away as a free eBook OR sell the eBook, publish as individual articles, add to an existing e-guide, or offer as a bonus gift with purchase. Don't forget to announce your newly published content on all your favorite social media platforms!
Your content will arrive in a file via email. You will also be able to access the file via our online membership, which you can sign up for at no extra cost as soon as your order is processed.
Don't forget to save the file to a safe place on your computer. You can grab it later on and pop it into your branded documents, saving countless hours of research and writing time. You can also eliminate the need to pay a VA to write it for you! So much savings here.
Not only is this content set up perfectly for a very specific niche that's crying out for a voice of authority... but in publishing it on your site, you'll be potentially helping countless pet owners who love their dogs very, very much and would do anything for them.
Thank you so much for purchasing PLR articles from Wordfeeder.com. If you like what you've read here, please share with a friend.
THANKS for purchasing PLR content from Wordfeeder. I hope you find value in this excellent quality set of dog articles that I've created for you. And THANK YOU for supporting my freelance business. CHEERS to you in yours!