Best Quality Essential Oils Aromatherapy PLR to Make Ebooks, Blog Posts, Handouts, More
Essential Oils Natural Insect Repellent PLR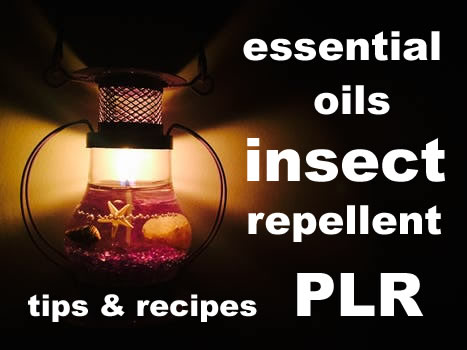 Teach Your Readers How to Repel Insects Using Essential Oils, thanks to this High Quality Package of Prewritten articles
Essential Oils Bug Repellent PLR Content
NATURAL INSECT REPELLENT TIPS AND RECIPES -3,412 WORDS
Audiences this content works for:
Natural Remedies
Essential Oils
Green Living Tips
Home and Family
Natural Moms

This private label rights content pack includes:
• Essential Oil Insect Repellent Recipes
• Natural Remedies to Get Rid of Roaches
• Control Ticks with Eucalyptus and Citrus Essential Oils
• Get Rid of Moths Naturally with Essential Oils
• Fight Fleas with Natural Essential Oils
• BONUS CONTENT: At-a-Glance Natural Essential Oil Bug Repellent Cheat Sheet

How to Monetize This Pack of Essential Oils Content How-To Articles and Tips:
Offer a set of FREE essential oils insect repellent recipes in exchange for email signups to your list. Your signups become customers who will buy more information products on this topic from you.
Set up a private membership area on your site where people can either join for free or pay a low monthly subscription for instant access to tons more green living tips and homesteading how-to.
Make a professional-quality ebook and sell at an affordable price to thousands of eager buyers that you've collected and added to your publishing list.
Use portions of the content to make blog posts that entice people to sign up and learn more. Include your Amazon affiliate links to products that they can purchase after reading your blog post. Also include pay per click ads.
To get more traffic and eyes on your blog posts, pay for Facebook advertising exposure that directly targets essential oils, green living and holistic health readers.
Paste segments of this and other essential oils factoids and tips into social media posts that share your blog link and sign-up form for people to give up their email address and hear from you on a regular basis.
Set up an autoresponder series that teaches people how to make homemade essential oils recipes for a variety of household purposes. (We have a ton more essential oils content available on Wordfeeder. You'll see some packs in the checkout area when you click BUY NOW, below.)
Publish a sales page that announces your brand new essential oils bug repellent recipes e-guide or ecourse that arrives daily via email.
Turn the tips into videos that are hooked up to your PPC ad account. Each time a video is viewed, there's the possibility of getting paid via a click. (But please don't have the content read by one of those creepy computer voices... I can't stand those!) Hook your videos up for high-volume traffic on social media.
Ideas for What Products to Link to Via Your Blog:

Essential oils single bottles. Best brands include Young Living, Now, DoTerra and many others. Do an Amazon search to find them.
Essential oils gift packs. If your readers are new to using essential oils, they may appreciate a sampler pack to practice making blends for personal and household use.
Essential oils diffusers and dehumidifiers. As this content pack informs, pesky bugs don't like the smell of certain oils. So diffusing, say, a mix of citrus and peppermint could be step one in their ongoing battle of the bugs this summer.
Essential oils repellent blends. Just because someone searched online for MYO bug repellents doesn't mean they're going to actually make them!
Containers. Dark colored spray bottles, cosmetic jars, empty amber colored jars for oil blends.
Books about how to make essential oils blends at home, how to make your own natural insecticides and insect repellents, skincare recipes using essential oils, household uses for essential oils and much more
How to Access Your "Essential Oils Insect Repellent" Content After Ordering:
File delivery is a single, MS Word document, zipped and delivered via email. Once your order is processed, you will receive an email asking you to confirm your membership, and another email that contains the file/content you just paid for. Your file will also be available from the member area of our Wordfeeder website. So don't forget to put your login info in a safe place!
Screen Shot of the Content: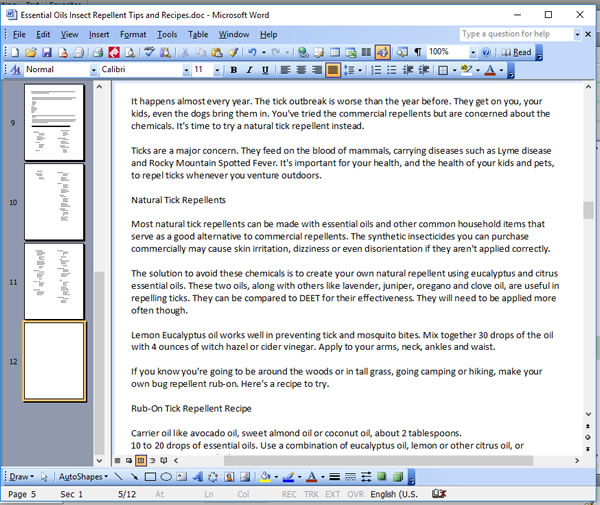 Word count is 3,412. Delivery is an MS Word file. Be one of the first to grab this excellent deal on the highest quality PLR content!
Instant delivery of an MS Word document via email.