Best Quality, Best Price on Done-for-You Wellness PLR - Aromatherapy PLR, Essential Oils PLR
Essential Oils PLR to Profit From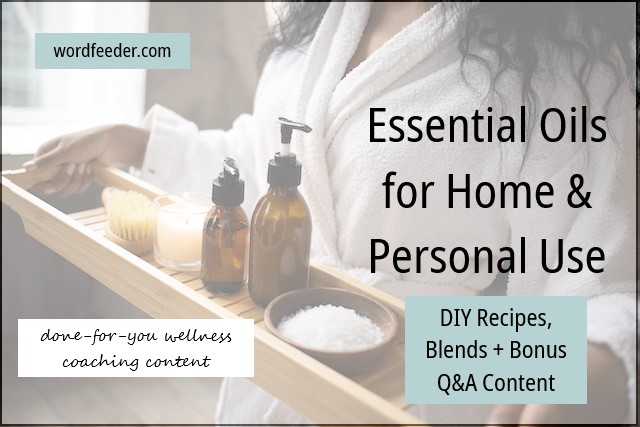 Non-Toxic Cleaning Recipes and Homemade Skincare Recipes with Private Label Rights - 2200 words total
Hey, my natural moms and health blogging friends! Don't miss your chance to market to an eager group of health conscious readers who are ready to buy.
Whether it's using essential oils as nontoxic cleaning ingredients to freshen our homes, plugging in for some aromatherapy relaxation, or fighting colds and flu... natural moms like myself know firsthand how powerful essential oils are.
There is a ton of great info here, with potential to link to all kinds of products, on Amazon, ClickBank, and of course from your own favorite essential oils company such as DoTerra or Young Living.
The Booming Essential Oils Market
All that said, let's talk about the essential oils buyers and why you should talk to them from your blog:
Here are some fast facts on the essential oils market:
Grandview Research cited the following market growth projection for the essential oils market:

The U.S. essential oil market size was estimated at USD 4.8 billion in 2019 and is now forecasted to reach USD7.3 billion in 2024.

Growth rate: CAGR of 9.0% from 2019 to 2024

Your health and wellness readers are part of this market share.
More About the Essential Oils Nontoxic Skincare and Cleaning Products PLR Pack:
Word count is approximately 2,200. File delivery is a single, MS Word file that arrives via email and is accessible from your Wordfeeder member area.
Contents include:
PART 1: Sanitize, Deodorize With All Natural Cleaning Recipes Using Essential Oils
All Natural Lunch Box Disinfectant
Natural Garbage Pail Deodorizer and Disinfectant
Homemade Glass Cleaner for Windows, Mirrors and Picture Frames
Essential Oil Based Furniture Polish
Homemade Natural Wood Floor Cleaner
All Natural Room Air Freshener
Doggy Deodorizer
Homemade Nontoxic Abrasive Cleaner
PART 2: Essential Oils for Personal Use - Make Bath Products, Skincare Treatments, Facial Cleansers
Clary Sage Eye Compress
Coconut Oil Facial Cleanser
Oatmeal, Coconut Oil and Lavender Skin Soother
Lavender, Rose and Oatmeal Bath Soak
Essential Oil Bath Salts for Muscle Pain Relief
Homemade Clay Based Facial Cleanser or Mud Masks
All Natural, Homemade Cucumber Facial Cleanser
Homemade Apricot Almond Exfoliant Recipe
Honey Turmeric Facial Cleanser Recipe
Carrier Oil Facial Moisturizer Recipe
Banana Lemon Facial Cleanser Recipe

Here's a Writing Sample: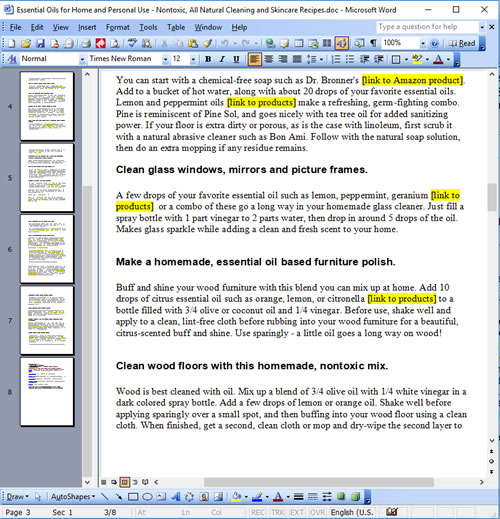 (You can see where I slipped in those prompts to add your own Amazon links for the products!)