Best Quality Wellness PLR, Essential Oils Aromatherapy PLR
Essential Oils "Happy Fall" Diffuser Blends and Soy Candle-Making Tips PLR: Grab this and Blog It for the Season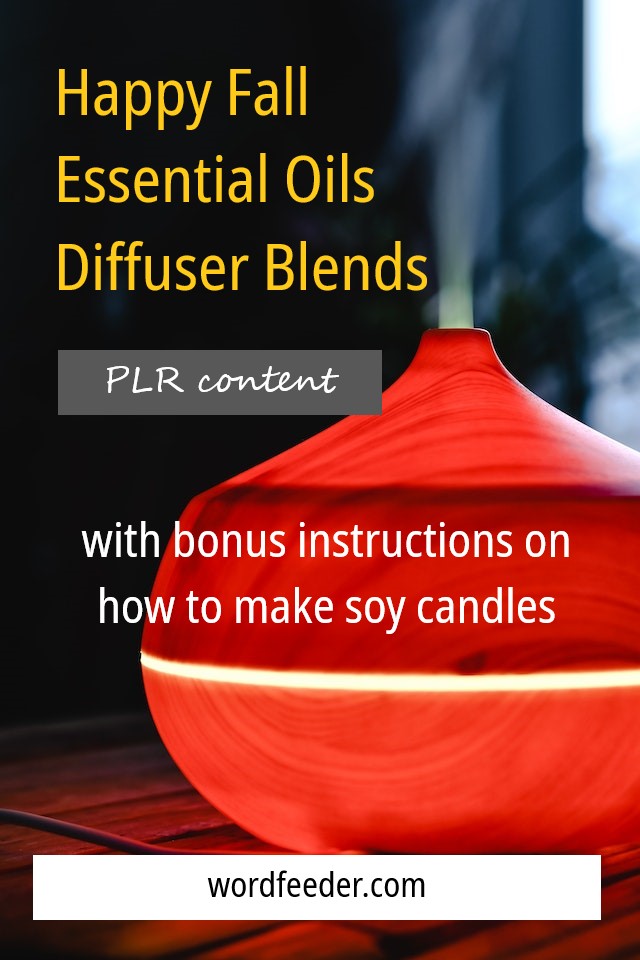 Hey, busy content publisher! Thinking that you haven't got another word left in you to formulate more blog posts from scratch?
Rest easy. Wordfeeder's done-for-you essential oils content promises interesting accurate information and high quality writing every time.
In fact, we've been told that our PLR is "some of the best around!"
Why essential oils? This market has exploded over the last several years, and it's only getting more popular. Your readers don't have time to get sick. And now more than ever, they're concerned about toxins in the environment and how those might affect their health and the health of their children.
This is why health-conscious individuals are turning to natural cures and safe home remedies that don't contain harmful chemical additives. Essential oils smell amazing, boast miraculous health benefits, cleanse, balance and purify everything they touch.
PIck up your copy of this private label rights essential oils content now, and get to blogging.
Warming Spice Blends for Fall
Don't let the festive fall season pass you by without a quick trip to Wordfeeder for private label rights content that you can grab in a hurry for an affordable price. What can you do with our content? Oh, what can't you do with it?
Make blog posts from this. You know, those posts that teach people step by step how to do DIY projects, all about natural cures... things they want to know. Those posts take time and energy, and you're not done after you write one. You have to then find amazing images and link to Amazon products... put your ad code in there. It's a whole THING! But with this content, the writing's already taken care of. WHEW!
Use it to create a simple ebook. It could be a small ebook that you give away that features just one of our content packs, like this one. You need ebook giveaways to attract more ready buyers of information to your list!
Or, this content could become a more comprehensive e-guide that includes information from several article packs. You can even sell your larger ebook - yes, people buy ebooks on the web all the time!
Where to share the link to your ebook sales page if you make one?
At the bottom of each blog post you create.
In the sidebar of your blog.
In the white space of your private member area if you host one.
In the descriptive content area of YouTube videos that you create.
In social media posts that you share on Facebook, Instagram, LinkedIn, Pinterest and more.
What other helpful items can you craft from the content we prepare for you?
How about autoresponder email blasts... special reports... how-to videos... a helpful handout to share at your next EO party or workshop... the list goes on!
Why is essential oils content so great for blog monetization?
Because no matter what the source of the product, people are buying. If you're an affiliate of DoTerra, Young Living or another company, you can link to these products. If you're an Amazon affiliate, there are plenty more popular brands such as Now, Art Naturals, Healing Solutions, and AuraCacia, that your readers will happily try.
And let's not forget PPC and Native Ads in your blog. This is a legit way to keep passive income flowing in for sure.
But let me tell you... I know that the more time you'll have to set up creative monetization methods, the better off you'll be. So take a look at the latest essential oils pack from Wordfeeder that arrives in time for festive fall.
"Happy Fall" Essential Oil Diffuser Blends, Soy Candle Making PLR - 2,768 words
Essential Oils PLR covering fall diffuser blends, candle-making tips and some benefits of essential oils such as cinnamon, clove, cardamom, orange, lemon and others. Amazon product links are listed throughout this pack.
Contents Include:
Essential Oils Fall Diffuser Blends
About Diffusers
Favorite Essential Oil Diffuser Blends for Fall
Best Brands of Essential Oils - Autumn Aromatherapy
More About Thieves Blend
Make Soy Candles at Home Using Essential Oils
To Make Natural Soy Candles You Will Need:
Soy Candle Making FAQs
Flash Points of Fall Essential Oils
Tips for Essential Oil Candle Scents that Last
Here's a screen shot of this content: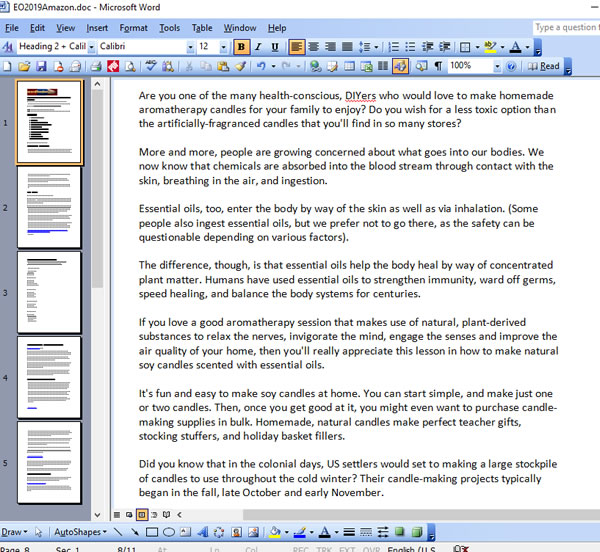 At Wordfeeder, we list our Essential Oils PLR article packs in minis. At Wordfeeder, you get options. You get choices! When you click BUY NOW on our content, you get a list of reasonably-sized, reasonably priced mini content packs that are easy to work with and very pocket-book friendly. Buy one of them... buy ten of them... it's up to you!