Best Quality Wellness PLR, Essential Oils Aromatherapy PLR
"How to Make Scented Candles Using Essential Oils" PLR | Beeswax Candle Making PLR - 1500+ words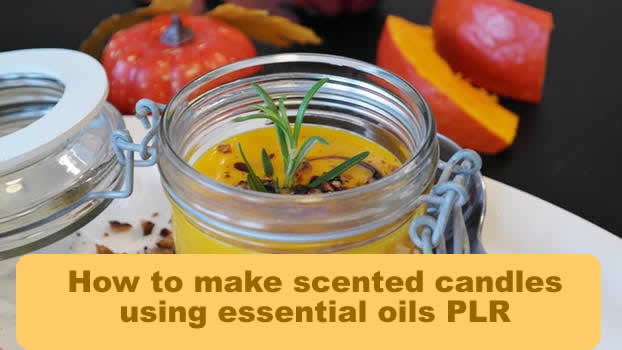 Hi there, friends! Do you publish content to the Health and Wellness, Essential Oils, Crunchy Moms, and Holiday audiences? I've got some really neat Essential Oils PLR articles for you to offer them. I just researched and wrote up 1,500+ words on how to make homemade, scented candles from beeswax and essential oils.
This content goes perfectly with our Essential Oil Holiday Blend Recipes PLR
I originally intended those EO holiday PLR recipes to be used with an essential oils diffuser (another great affiliate product to promote, by the way). But then I got to thinking, what else can these delicious, all-natural holiday scents made from essential oils be used for?
Candle making seemed like the obvious next step. So here's some informative and instructional, prewritten candle-making content for you to publish and share.
Here's a sample of the content now:
Homemade Essential Oil Candles Make Great Holiday Gifts
If your blog readers, newsletter subscribers and social media fans are on the hunt for homemade, natural products to make gifts from the heart this Christmas holiday season... direct them to these detailed instructions on candle-making at home using just a handful of simple items that they can purchase right on Amazon.
(Here's a link to an Amazon search on Beeswax Candle Making to get you started.)
Why are Essential Oil Scented Candles So Popular?
Because there's a growing population of individuals who either don't want their families to breathe in artificial, chemical-based scents, or they get migraines from regular scented, paraffin candles.
Essential oils are a clean, nontoxic and HEALTHY way to fill your home with amazing Christmas scents while also delivering a big boost of aromatherapy and healing benefits.
Plus, everyone loves to wind down at the end of a busy day with a flickering candle and a pleasant aroma to sniff up and enjoy.
This "How to Make Scented Candles Using Essential Oils" PLR pack includes:
• How to Make Scented Candles Using Essential Oils
• Essential Oil Candle Aromatherapy Really Works
• What is Needed to Make Candles at Home (Things to Know About Beeswax and Wicks)
• What Types of Candle Containers to Use in Your Homemade Essential Oil Candles
• Types of Candle Wicks
• Candle Making Supplies
• How to Make Beeswax Candles in Seven Easy Steps
• Add Some Festive Holiday Touches to Your Homemade Beeswax Candles
File delivery is an MS Word file that will arrive via email once your online order processes. You'll also be able to access your PLR essential oils content from your Wordfeeder member area each time you sign in.
You ALSO Get Lots of FREE, High Quality PLR Content
In addition to this content, you get a whole bunch of FREE PLR that you can begin using immediately to drive more traffic to your blog, get more social media love, and create ebooks that you can sell or give away in exchange for sign-up information from your website visitors.
Here's what to do once your order processes:
Step 1: Save this file to a folder on your computer where you'll be able to easily access it later.
Step 2: Paste the content into a .txt file to strip out all non-HTML code.
Step 3: Edit if needed, and add your brand where appropriate, add images, style and save in a new file of your own.
Feel free to give away as a free eBook OR sell the eBook, publish as individual articles, add to an existing e-guide, or offer as a bonus gift with purchase. Don't forget to announce your newly published content on all your favorite social media platforms!
PS: If you'd like to also order the Essential Oils Holiday Diffuser Blends, you'll find those listed at checkout too!
This Digital Product is Offered as PLR: Private Label Rights Content. Use it to Create Profits for Your Coaching Business or Niche Website.


Create and launch digital products & coaching programs. Help people solve problems and live better, affordably.

Offer PDF courses by email or hosted privately.

Launch a multi-media course on a site like Teachable

Create a paid video course

Launch an email course or challenge.

Make into client learning materials.




Get new signups and connect with your fans and followers.

Offer an ebook, whitepaper, special report or series of tips as an opt-in gift.

Turn into an article feature for your email newsletter.

Use the content to make a short, free webinar to give your followers a taste of what's to come.



Grow your brand and increase your reach by publishing authoritative content.

Share as blog posts or web articles.

Post the articles on social media with a link back to your blog or sign-up page.

Make video talks, slide shows or tutorials to share on your channel.

Add to Pinterest pins to drive traffic back to your blog.

RULES: Edit, brand, copy, cut, paste, add to and change this any way you like. Do not publish originator's name. Do not resell as PLR. You may offer personal rights to your customers.
Work SMARTER, Not Harder

NO paying a writer to create this from scratch for hundreds of dollars

NO more slaving away at the computer for weeks and weeks to create this on your own

YES this can be branded with your name and business details. You can edit it, add to it, change it, and publish any way you like - give away, sell as an ebook, it's up to YOU.