Garlic PLR Articles to Publish in Your Natural Health Blog: 2,625 words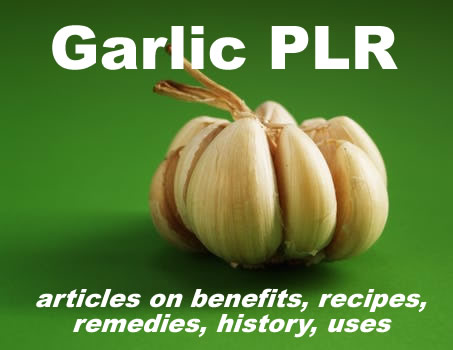 If you'd like to profit from the lucrative market of natural, nontoxic and holistic products, garlic could be a sure bet for the upcoming cold and flu season.
Below, find ideas on what Amazon and other affiliate products to link to from your blog and make money promoting garlic based products online:
Garlic oil and dried garlic supplements
Yeast Fighter supplements that contain garlic
Grow-your-own organic and heirloom garlic varieties
Books on Cooking With Garlic and the Healing Power of Garlic
Garlic based insect repellents
Not only that, but I went the extra step, and added a list of links to Amazon products that you can set up affiliate links to when you blog these garlic articles. You'll find the products right in the document along with your articles.
Here's a quick profile of the ideal garlic product buyer:
She's female - could be a 30s and 40s natural mama, or woman in her 40s, 50s and 60s living the organic and natural lifestyle
Interested in holistic healing and knows about the power of garlic to relieve a variety of ailments and conditions
Concerned about the future of our planet; exploring nontoxic and environmentally-friendly alternatives
Looking to lessen the use of toxic substances in her everyday life
Interests include organic gardening, green cleaning products, grass-fed pasture-raised meats, alternative energy sources
Does yoga, meditates, lives peacefully, enjoys the outdoors and practices mindfulness
Takes vitamin and mineral supplements to ward off illness and live a healthier life
Here's what you get with Wordfeeder's garlic PLR article pack:
"The Magic of Garlic" - 9 PLR Articles Total
2,625 words. Content includes:
• Intro
• Historic Medicinal Uses of Garlic
• Is cooked garlic as good for you as raw garlic?
• Science Based Evidence of the Health Benefits of Garlic
• Garlic as a Cure for Yeast Infection
• Garlic for Acne
• Garlic for Ringworm
• Garlic for the Common Cold
• Garlic Broth Recipe to Help Cure Cold and Flu Faster

Your Health and Wellness Readers Want and Need this Information!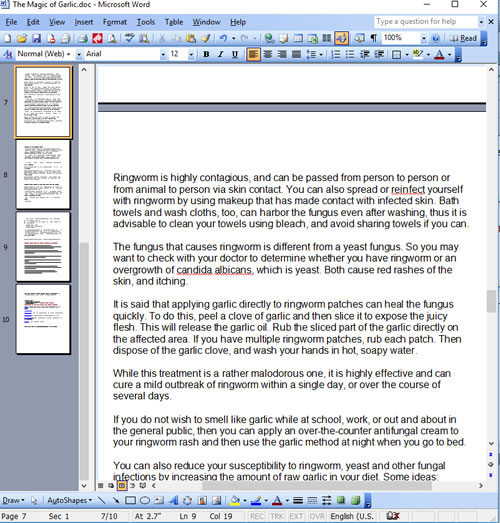 Here's a screen shot of the content in production. The total number of articles in this content pack is 9. The word count is 2,625. Delivery is an MS Word file. Be one of the first to grab this deal!
Instant delivery of an MS Word document via email.