"Happy Healthy Fit and Well" PLR 5-Part Super Bundle from Dee and Dina
Hey busy blogger... I've got some special PLR for you today in the health and wellness area.
It's perfect if you're a health coach, personal trainer, health and wellness blogger, or really any type of professional who publishes content in the name of being healthy, fit and happy.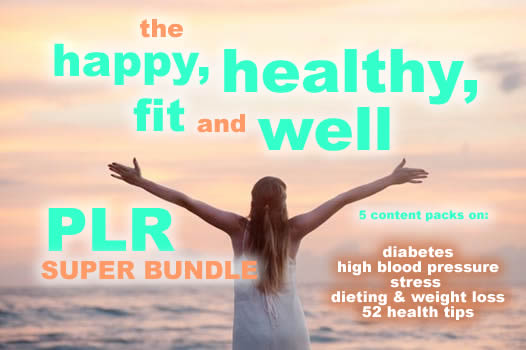 Kick off a new season with an emphasis on health and wellness.
Wordfeeder's "Healthy, Happy, Fit and Well" PLR Super Bundle is jam-packed with useful tips and advice that you can put to use in any number of ways to profit from online.
What to make of this content? What NOT to make of it.
Ebooks, autoresponder courses, blog posts, social media tips to link to, special reports to give away in exchange for email addresses.
If you run a private member site, you can upload this content and make it available to your members as an incentive to join or upgrade.
It even works superbly as a publication that you can share with new health coaching clients who have signed up to work one on one with you. Oh, and did I mention the possibility for printed materials?
Here's what we did to put this high quality health and wellness content pack together for you to make money with:
My buddy Dee did the heavy lifting, supplying well-researched health and wellness information in the highly searched areas of diabetes, high blood pressure, weight loss, stress reduction, and even a huge mix of miscellaneous health tips like this one:
"An egg a day can keep a stroke away. It doesn't matter how the egg is cooked, your risk of stroke drops by 12%. Hard boil a half dozen eggs in the beginning of the week and you'll always have an egg at the ready."

Then, she passed this huge pile of well-crafted tips to me. I looked at it and thought, wow, there's a ton of awesome, search-friendly content here. These would make great articles!
So I added a few intros, formed into articles, then organized and labeled it all according to how people might search.
You can get a good idea of what type of advice is offered here just by scrolling down to read the listed titles in each of the five included content packs.
This super bundle of private label rights content includes:
PART 1: Diabetes PLR - 2,163 words
Content Includes:
Diabetes: What is It?
Types of Diabetes
Manage Your Type 2 Diabetes Using Food: Mushrooms, Cinnamon, Avocado, More
Natural Supplements to Help Manage Diabetes
Vegan Diets and Diabetes
Natural Ways to Balance Your Blood Sugar and Manage Diabetes
PART 2: High Blood Pressure PLR - 2,532 words
Content Includes:
What is Hypertension?
The Dangers of High Blood Pressure
Tips for Managing High Blood Pressure With Lifestyle Changes
Tricks for Managing High Blood Pressure With Food
Interesting Tips For Lowering Blood Pressure Naturally
Here's a sample of the high blood pressure content:
PART 3: Stress PLR - 2,297 words
Content Includes:
Lower Stress by Retraining Your Brain for Mindfulness
Healthy Ways to Lower Your Stress Levels Naturally
Little Things You Can Do to Relieve Stress and Increase Calm
Self Care Tips for Reducing the Effects of Stress on Your Body and Spirit
PART 4: Dieting and Weight Loss PLR - 3,187 words

Help for Staying on Track With Your Dieting Goals
Eating More of These Foods Can Actually Help You Lose Weight
6 Distractions to Keep You From Going Off Your Diet
How to Eat Less Fat and Calories But Still Feel Full and Nourish Your Body
Eating Habits and Dietary Practices that Thin People Instinctively Know and Live By
Natural Ways to Lose Weight and Keep it Off
Great Ideas for Dieters to Get Cravings Under Control
Low Fat Substitutes to Support Your Weight Loss Initiative
Healthy Fats, Green Tea, and Other Neat Tricks to Help You Work on Weight Loss
(Here's a sample of the dieting and weight loss content now.)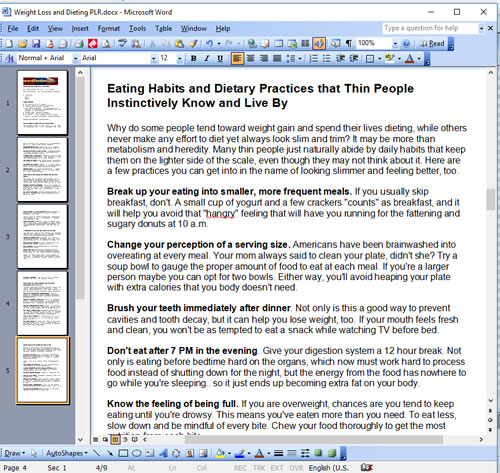 Part 5: 52 Miscellaneous Health Tips - 2,284 words
Here's a screen shot so you can get an idea of the types of tips we're sharing here.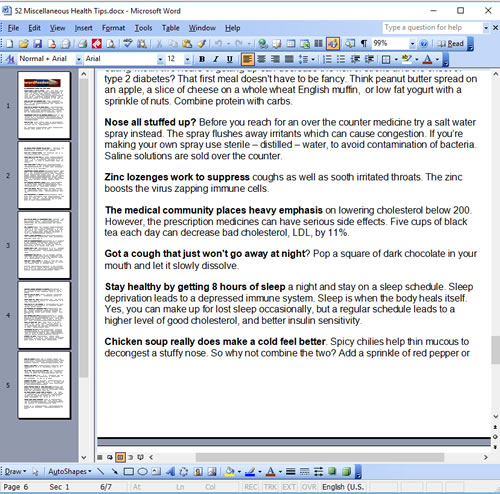 PLEASE NOTE: Any health-related articles or tips that you publish should be disclaimed everywhere it appears, with the following:
This information is not intended as medical advice. If you are experiencing unusual symptoms of any kind, please consult with your physician.
How Much for All This Content?
There are 12,463 WORDS TOTAL in this pack of well-researched, high quality health and wellness content.
If you hired a ghostwriter to create this exclusively for you, from scratch, it would probably run you about $250 per pack WITH a discount, times 5 packs... we're talking $1,250.00.
But because I want to offer fantastic quality content at reasonable prices... you get this for the "PLR price".