"Holiday Stress" PLR Articles: Because Christmas Posting Doesn't Have to be Stressful.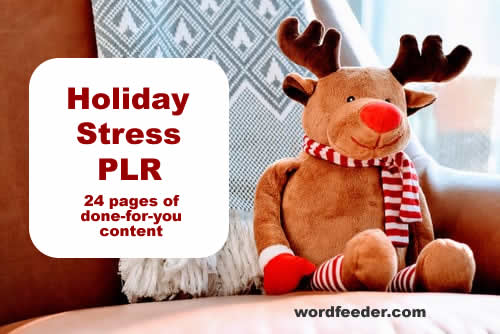 Eager to get a headstart on your holiday content publishing?
One topic that's sure to grab the attention of your ideal reader is holiday STRESS!
Whether your readers are trying to out-do each other with the most Martha-esque table centerpieces, overloading the power grid with a Christmas lights display to rival Clark Griswold's, or just grumpy from waiting on one too many lines at the mall... there is no doubt that holiday stress is something people can relate to in November and December.
Will your blog be getting clicks, signups and sales this holiday season?
It surely will if you get these done-for-you holiday stress articles posted in a timely fashion. They're perfect for sharing as blog posts. Just add an image and hit publish!
With more than 10,000 words in this holiday content package, you're fully covered.
And you can even add Amazon products related to self care and stress relief... think yoga and meditation books, essential oils, bath pampering products, skincare, and more.
Help your readers remember to slip in some much needed self care this Christmas season.
Use this to make and sell an ebook. 24 pages and a total of 10 holiday stress articles, nice.
Holiday Stress Articles - 10 Total - 10,230 words
Here's what's included:
Finding it in Our Hearts to be Kind This Christmas Season
Married Christmas: Coping with Spousal Stress This Holiday Season
Holiday Stress Coping Skills and Great Ideas for Working Moms
Holiday Stress Survival Tips for Introverts - 1,412 words
How Much is Too Much Holiday Fun? Setting Limits During the Busiest Time of Year So We Can Enjoy More and Stress Less
How to Ease Family Stress Around the Holidays

Just Say No to Holiday Stress
Self Care Rituals to Unwind During the Busy Holiday Season
Surefire Ways to Avoid Holiday Gift Related Stress and Confusion

Take the Stress Out of Christmas Shopping
Here's a screen shot of the content so you can get an idea of the quality:
Another content sample screen shot:

Also comes with free Bonus Images!
Add this entire pack of 10 holiday stress articles to your content collection right now.
Don't wait! If you do, you will miss your chance to turn this content into profit until next year.
| | | | |
| --- | --- | --- | --- |
| PLR PRODUCT | HOURS TO CREATE FROM SCRATCH | COST IF HIRING A PRO TO CUSTOM CREATE THIS | PRICE AS PLR |
| Holiday Stress Articles | 40 hours to write from scratch | 40 hours at $50 per hour = $2,000.00 | This content is regularly priced at $27 so you get it for less than the cost of a new designer sweater! |