Do You Work as an Energy Healer or Trauma Coach? The Empaths and Introverts on Your List Will Need Holiday Stress Relief This Christmas Season. Show Them the Way to Peaceful Holidays with Our Done-for-You Content.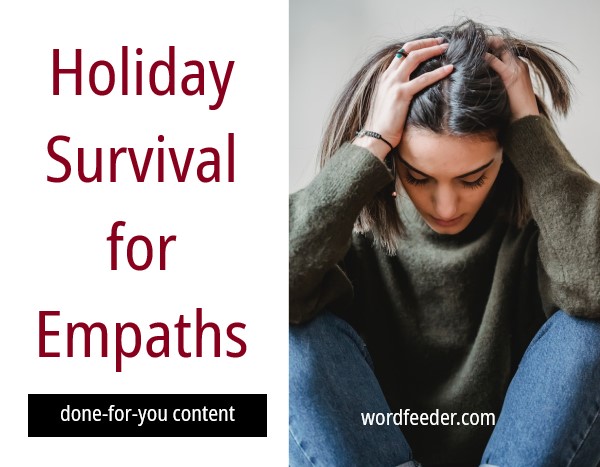 Holiday Survival for Empaths PLR: Pick and Choose from the Below Article Sets
Hi everyone! It's me, Dina of Wordfeeder PLR. (No, that's not me. That's a stock photo that came with our Fall PLR Images from the PLR Pot Luck Content Club. But I digress.)
I only recently learned that I have some energy healers on my list. This is GREAT because I've been writing to this niche for a while now, without realizing it. I have some excellent content with a peaceful theme for you to grab the private label rights to, and share in your blog or sell as digital products - like an email challenge or ebook.
Much of this content focuses on the holiday season because it can be so stressful and overwhelming... for all of us, but especially for the empaths and introverts on your list.


"Peaceful Christmas" 10-Day Journaling Challenge - 9,316 words, reg. $38.00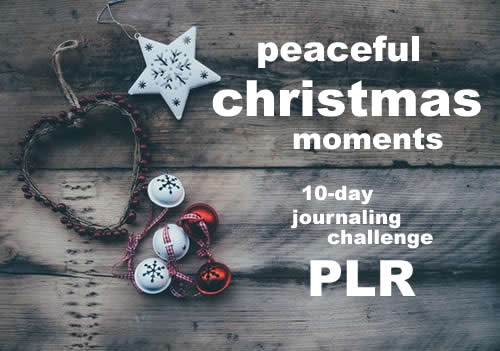 Niches: Life Coaches, Positivity, Mindfulness, Holidays. 10 days of journaling. Each day Includes 1 article, 1 exercise, 1 journaling prompt and 1 intention to set. 33 pages or 9300+ words. Learn about this pack on the product page here.

Peaceful Holiday Season PLR - 15 Articles - 7,438 words, reg. $27.00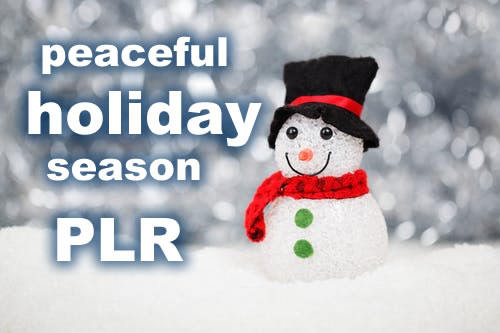 This set of articles is a perfect compliment to our Peaceful Christmas 10-Day Challenge. Titles include: 1. What Does Peace Mean to You? 2. Why Has Peacefulness Become Such a Challenge? 3. Seeking Peace for the Holidays 4. 5 Ways to Cultivate Peace in Your Family 5. 5 Ways to Create Peace in Your Neighborhood 6. How to Communicate Peacefully 7. Find Peace in the Great Outdoors 8. 5 Habits of Peaceful People 9. Can Pets Help Us Discover Peace? 10. Practice Mindful Conversations in the Name of Peace 11. How to Lessen the Chaos and Increase the Peace in Your Home 12. Share Peace During a Meal 13. Follow Your Heart to Peaceful People 14. Help Kids Spread Peace 15. Self Care Keeps Us Peaceful Inside - Learn more on the product page here.
Holiday Stress Articles - 10 Total - 10,230 words, reg. $27.00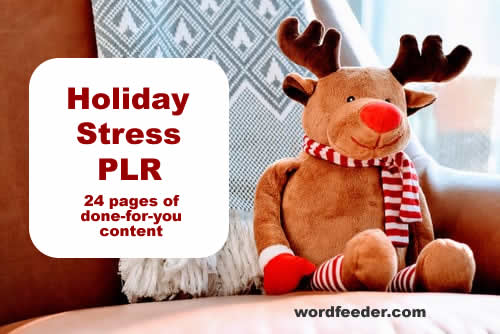 Includes 10 articles or 10, 230 words. That's a whole bunch of long holiday stress articles. Audiences: Life Coaches, Home & Family, Relationships. Full list of titles can be found on the product page.

How to Be Peaceful at Home - 15 articles or 7,466 words, reg. $47.00
Includes 15 articles - 7,466 words total. Titles include: 1. Peace at Home: Keeping Quiet Spaces 2. What Does Peace Mean to You? 3. Peace at Home Means Making Time for Different Activities 4. For a Peaceful Home, Be Active During the Day 5. Peace at Home Begins with Common Courtesy 6. Want a Peaceful Home? Offer Respect and Benefit of the Doubt 7. Avoiding Unnecessary Conversations Helps Keep Peace at Home 8. Limit Screen Time, Keep a Peaceful Home 9. Peaceful Activities to Replace Screen Time 10. Pets Bring Peace to Your Home 11. Evening Yoga for a Peaceful, Restful Bedtime 12. Peaceful Home: What to Do When Conversations Become Confusing 13. Prayer and Brings Peace to the Family Home 14. What Does a Healthy Diet Have to Do With Peace at Home? 15. Making Peace at Home Starts With You 50 Ways to
50 Ways to Offer Your Love to the World This Christmas Season - PLR Ebook Content - 2676 words total, reg. $10.00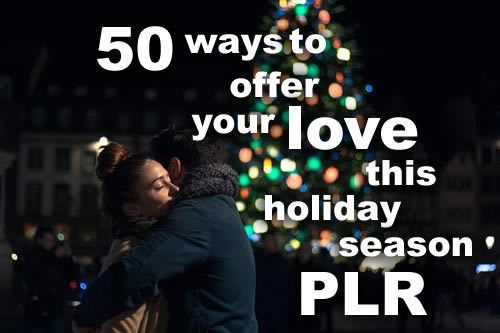 Total of 2676 words with private label rights to call your own. Create an opt-in gift, share a tip a day on social or via email, and more. Learn more on the product page.
Christmas and Holiday PLR Articles Pack 1 - 4 Articles Total, reg. $10.00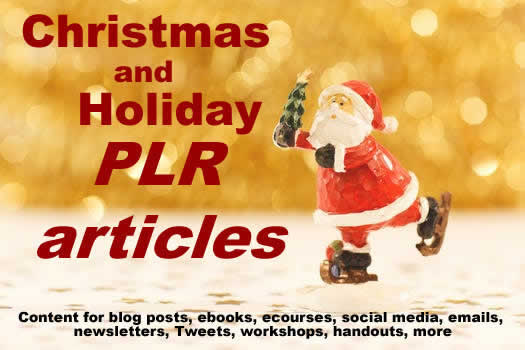 Includes 4 articles and a total of 2,399 words. • Surviving the Holidays With Your Crazy Family • Why Are Holidays So Stressful and How to Slow Down • How to Reduce Stress During the Busy Holiday Season • How to Sneak Healthy Benefits into Your Christmas Social Calendar
Christmas and Holiday PLR Pack 2, reg. $10.00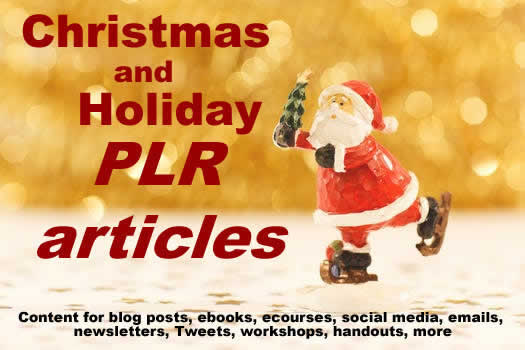 Includes 1,660 words total. Titles include: Family Holiday Stress and How to Cope | 7 Tips On Surviving the Holidays With In-Laws | How To Avoid Family Drama This Holiday Season
Christmas and Holiday PLR Pack 3, reg. $10.00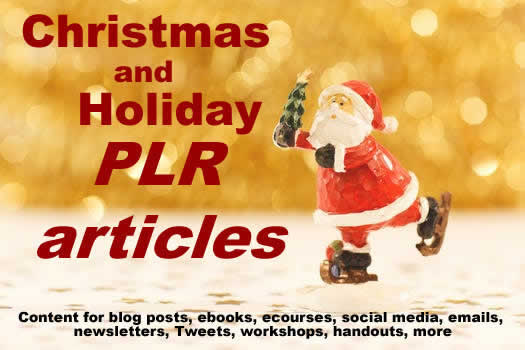 Total of 2,440 words of Christmas PLR. Titles include: A Lonely Person's Guide to Dealing With Holidays | 5 Things You Can Do To Make Someone Else's Holiday Special and Feel Less Lonely Yourself | Holiday Planning Tips for New Mothers | No More Retail Christmas: Remembering the Reason for the Season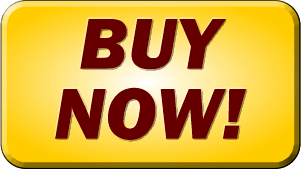 Use this form to order your "Christmas Survival for Empaths" themed content now
How to Access Your PLR Content:
Once your order processes, you will be asked to create a login to the Wordfeeder member site. Do this, then check your email for a confirmation, plus another email containing your delivery of the files.
If you have any questions or trouble with your download, email me and I'll get back to you as quickly as possible.
Free PLR Articles Sweeten the Deal!
PS: Don't forget! In addition to these high quality articles, you also get a TON of free content once you log into the Wordfeeder member area. Check the top menu and look under FREE PLR to see what's offered.

THANKS for supporting my freelance business. CHEERS to you in yours!