PLR Autumn Images - Perfect for Posting in Your Blog and Social Media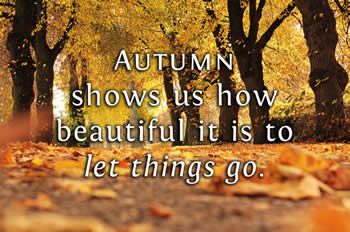 Hi friends! Are you in search of high quality social images with private label rights, to share in your social media groups and on your pages, publish in your blog and post in your email newsletter?
This is Dina with Wordfeeder PLR. Before you know it, fall will be upon us and you'll need some great fall and back-to-school themed content to publish!

I have some lovely social media images for you to use in your blogging and social media. My designer friend Shannon Smith teamed up with me on these.
What can you do with 10 social media-friendly fall themed images?
Post them on your blog along with your latest gratitude or thankfulness post
Upload them to your Facebook, LinkedIn, Pinterest and other social media pages and in your groups.
Use them to punch up your 30 days of Gratitude event if you plan to host one this November
Share them in your Gratitude Journal or blog
...anything else you can think of!
Here's a screen shot of the 10 JPG files you'll receive when you sign up for PLR rights to this pack of Beauti-FALL images from Shannon and me: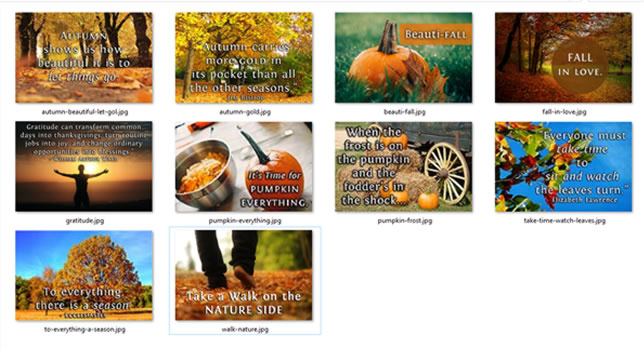 And in case you were wondering what the text says... here are all 10 messages:

Autumn shows us how beautiful it is to let things go.
"Autumn carries more gold in its pocket than all the other seasons." - Jim Bishop
Beauti-FALL
FALL in Love.
"Gratitude can transform common days into thanksgivings, turn routine jobs into joy, and change ordinary opportunities into blessings." - William Arthur Ward
It's Time for Pumpkin Everything.
When the frost is on the pumpkin and the fodder's in the shock

"Everyone must take time to sit and watch the leaves turn." - Elizabeth Lawrence

To everything, there is a season. - Ecclesiastes
Take a Walk on the Nature Side
Files are delivered via email in a zipped folder that you can download to your computer immediately. You'll also be able to access your content from the member area of our website each time you log in.
Just think, it would likely cost you hundreds to have a professional graphic designer custom create these for you. Here, you get TEN social-ready JPG files, for just $1 each. That's a deal and a half!
Click the Below Button to Order Your Instant Download of 10 Autumn Images PLR Pack