NEW! 30 FREE Bonus Images with Purchase. Use These in Your Ebook or Email Challenge
Coach, Guide your readers to more peace and happiness in their everyday lives...
Launch the "Peaceful Summer" 10-Day Journaling Challenge with Private Label Rights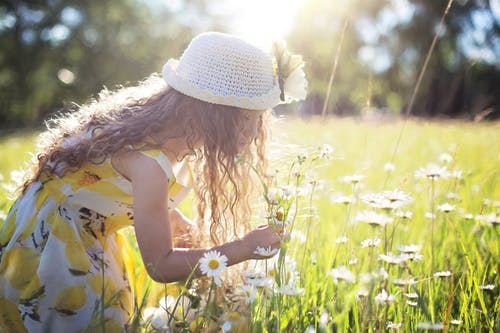 Your content's already written. this is just what your readers need to slow down and do "summer" just right.
Give them permission to let go of stress, ease their troubled minds, and enjoy a slower, more mindful summer full of peaceful moments.
Therapists, Coaches, Counselors... are you in need of done-for-you content to connect with the people on your list, get more signups, and continue educating your readers? Heads up if you publish content to the following audiences:

Life coaching

Health and wellness

Home and family/parenting

Mental Health/psych

Relationships

Self improvement/self help
Wordfeeder's next done-for-you content pack is all ready for you to run with. It's the beautifully and thoughtfully written Peaceful Summer 10-Day Journaling Challenge.
This is a perfect way to connect with your followers, fans and clients this summer. And what's more, summer is the perfect time of year to pursue a more peaceful life.
Attract Positive Attention to Your Business... Establish Yourself as The Go-To Expert. This Done-for-You Coaching Content is Yours to Edit, Launch and Sell or Share.
Coaches, psych professionals, self help experts: do your readers crave more peace in their lives? Launch a 10-day Peaceful Summer Challenge and help them embrace peace in every moment.
Each of the 10 "days" includes 1 article, 1 exercise, 1 journaling prompt and 1 intention to set.
This beautifully written content arrives in your email inbox in a 33-page MS Word document containing 8,544 words. You will also be able to access it each time you log into your Wordfeeder member area.
Set this up as an email autoresponder series. Add images and save as a PDF to sell as an ebook. You can also give away the ebook to grow your sales! The lovely thoughts here can also be presented as a live journaling workshop that meets twice per week for 2 weeks. Another idea: convert this to video format and lead a journaling challenge. The possibilities are endless when you have thought-provoking content on your side.
If you need more insight into who might be interested in this, take a look at the intro that's included in this document:
This challenge will be perfect to follow along with if you…
Recognize that peace is something you very much need to seek out in order to feel grounded and secure.
Feel deeply affected by negative people and stressful situations… and want to turn this around.
Find yourself emotionally thrown off and repelled by conflict, so much so that "Seek Peace" is a repeating mantra for you.
Carry around with you a sense of impatience or anxiety- knowing deep in your heart that it's time for positive change, and a shift to inner peace.
Are drawn to the company of people who carry a certain stillness and grounded peacefulness wherever they go.
Know deep in your bones that you are a true empath, and that peace is necessary for you to survive and thrive....
(To be continued... purchase this for our special discount to make it your very own!)
How to monetize this private label rights content:


Make into an ebook that new subscribers get as a free gift in exchange for signing up to be on your list

Sell the ebook at an affordable price point for your audience who may need a lower priced option than therapy or coaching

Use this content to share with life coaching or therapy clients who would like to work on decreasing stress and enjoy a greater sense of peace and contentment in their lives.

Add this content to your private library of member resources - adds value and helps people!

Sell or offer this free as an autoresponder series delivered one article at a time via email

Drive targeted traffic to your website or blog by posting each "day" of the challenge for 10 days.

Use this as workbook material for your next in-person support group

Incorporate this into a helpful video that you share with subscribers who may want to sign up for your coaching or counseling services

Add this to a more comprehensive guide or webinar that you may be creating

Anything else you can think of!
What's included:
33 pages of high quality content, word count 8,544, delivered in an MS Word document via email and also accessible from inside of your Wordfeeder PLR membership account.

This content is ready to launch as a peaceful summer 10-day challenge. Upload it to your social media group, make into an ebook to send out, set up as an autoresponder series of 10 emails, or release 10 blog posts, one day at a time for 10 days. Here's what's included:

"Peaceful Summer" 10-Day Journaling Challenge PLR - 8,544 words - with Private Label Rights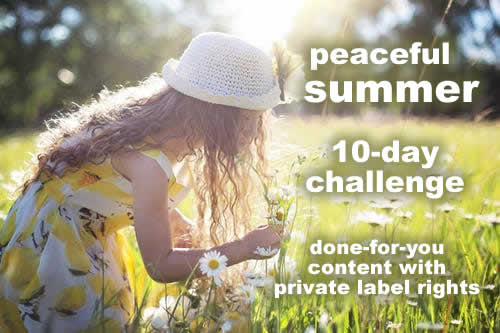 EACH Day of this 10-Day Email, Blog or Social Media Challenge includes one article, 1 exercise, 1 journal prompt and 1 intention.
For a FULLY immersive experience that is just as good as if you offered 10 days of one-on-one coaching on how to create a more peaceful life.
Contents include...
Intro
Day 1:
ARTICLE: Peacefulness Comes from Within
EXERCISE: Stretch your way to peaceful feelings.
(JOURNAL IT and "For the Future" Intention also included)
Day 2:
ARTICLE: Finding Peace in Nature
EXERCISE: Make your way into nature today, and be inspired by the peace that it brings.
(JOURNAL IT and "For the Future" Intention also included)
Day 3:
ARTICLE: Be the Peace Maker
EXERCISE: Practice living peacefully, yet with purpose.
EXERCISE: Be a peace maker even when you disagree with others.
(JOURNAL IT and "For the Future" Intention also included)
Day 4:
ARTICLE: Simple Pleasures Bring Us Peace
EXERCISE: Rediscover the joy of simple, peaceful pleasures.
(JOURNAL IT and "For the Future" Intention also included)
Day 5:
ARTICLE: A Time for Quiet Reflection
EXERCISE: Find peace in the poetry of Mary Oliver.
(JOURNAL IT and "For the Future" Intention also included)

Day 6:
ARTICLE: Breaking Bread Together Peacefully
EXERCISE: Practice being peaceful around the table.
(JOURNAL IT and "For the Future" Intention also included)
Day 7:
ARTICLE: A Peaceful Response (to Stress and Conflict)
EXERCISE: Practice Choosing the Peaceful Response.
(JOURNAL IT and "For the Future" Intention also included)
Day 8:
ARTICLE: Peace in the Garden
EXERCISE: Plant the seeds for peace in your own life.
(JOURNAL IT and "For the Future" Intention also included)

Day 9:
ARTICLE: What Does it Mean to Have a Peaceful Heart?
EXERCISE: Seek a peaceful heart.
(JOURNAL IT and "For the Future" Intention also included)
Day 10:
ARTICLE: Ordinary Ways to Invite Peace into Your World
EXERCISE: Make time for peace.
(JOURNAL IT and "For the Future" Intention also included)

Closing Remarks

You Also Get 30 FREE Bonus Images to Use in Your Mailing, Blog Posts, Ebook or Social Media Challenge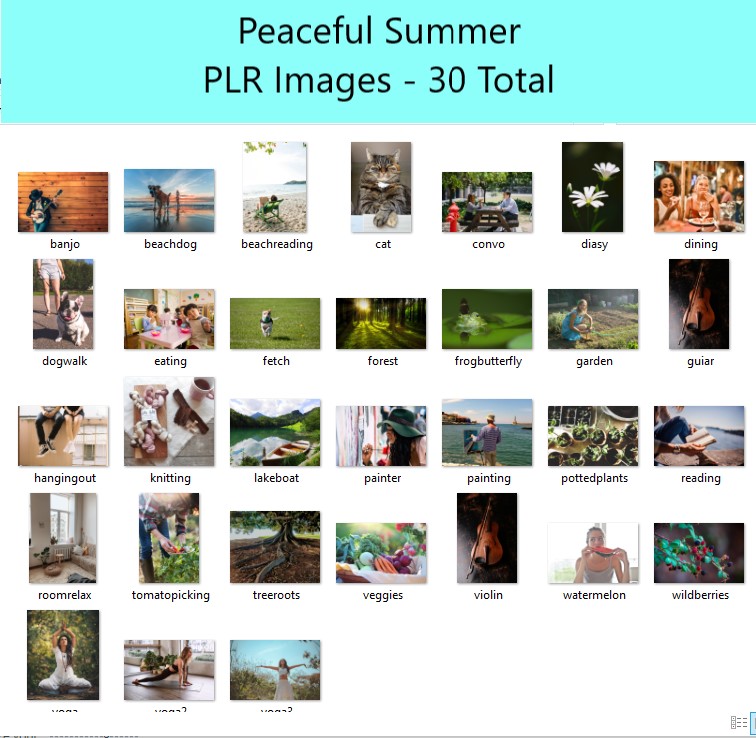 Just think, if you had a copywriter create this for you from scratch, it would run you anywhere from several hundred to possibly a thousand, and that's on the low end depending on edits and other factors. This is a complete, polished DRAFT that you get to do whatever you want with and make your own.
Here's a Writing Sample Screenshot: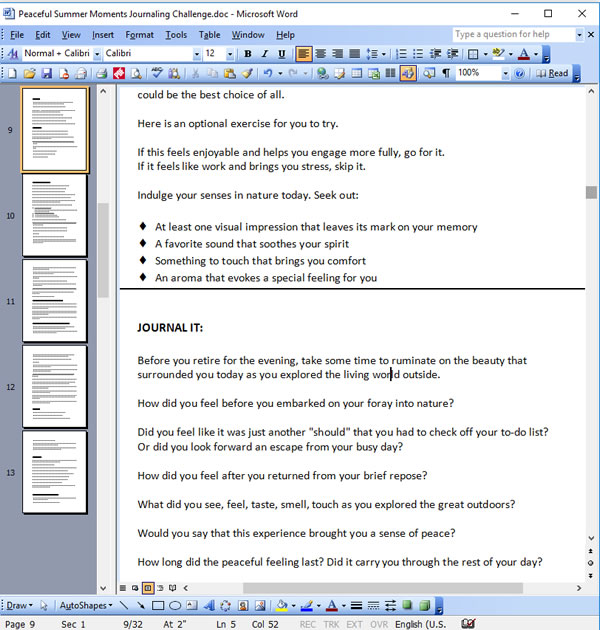 And here's another writing sample: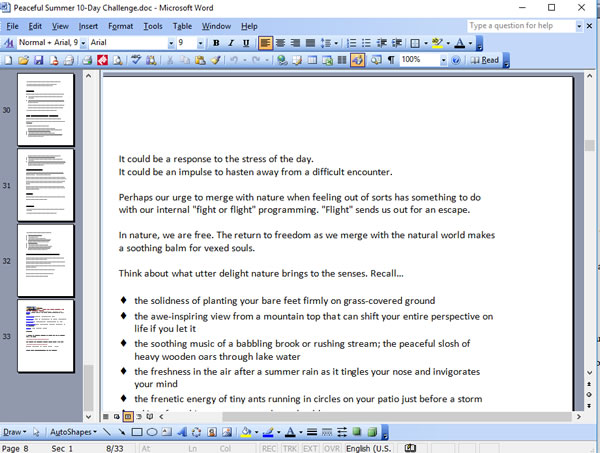 This is where you'll find your files in the member area: