Done-for-You Coaching Content: Awareness PLR – 8000 words or 14 Articles Total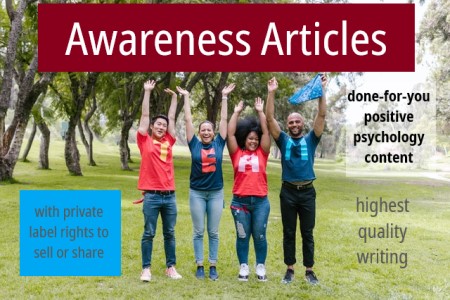 Using Awareness to Increase Emotional Intelligence, Improve Relationships and Inspire Personal Growth
(That's an EXTRA 1,000 words FREE as a BONUS GIFT) for Ordering PLR from Wordfeeder)
Audiences: Life Coaching, Positive Psych, Wellness
Titles include:
1. Becoming Aware of Our Own Awareness: The Emergency Awareness Mechanism
2. An Exercise in Time Awareness to Increase Your Productivity
3. Task Awareness Helps You Lock in on Priorities
4. To Sharpen Goal Setting Skills, Employ Results Awareness
5. Try a Tensing and Releasing Exercise to Increase Body Awareness
6. Sensory and Observational Awareness Tune Us Into the Subtle Nuances of Human Communication
7. Try an Exercise in Observational Awareness
8. To Increase Awareness and Connection with Others, Practice People-Watching
9. Active Listening as a Way to Increase Social Awareness
10. Increase Your Awareness to Improve Social Skills
11. Perspective Awareness and Seasons of Life Awareness Help Us Grow in Empathy
12. Empathy Versus Sympathy as It Relates to Awareness
13. Work on Awareness to Increase Your Emotional Intelligence
14. Use Awareness of Self-Talk + Self-Regulation to Shift Your Perspective
15. How to Solve Problems by Increasing Awareness: Take Responsiblity, Have Patience, and Practice Safety
16. Improve Interpersonal Skills at Work Using Informal and Social Awareness
17. Group-Structural Awareness as it Relates to Leadership
18. Deepen Your Sense of Mindful Awareness (Mindfulness)
19. Meditation Profoundly Increases "Present-Moment" Awareness
20. Offer the Gifts of Compassionate Awareness and Non-Judgment to Yourself and Others
21. Awareness in Action: Set SMART Goals
22. Sharpen Creative Awareness: Imagine, Play, Create
23. Sharing Your Awareness Through Writing
24. Live Aware
25. REFERENCES
Screen shot of the content: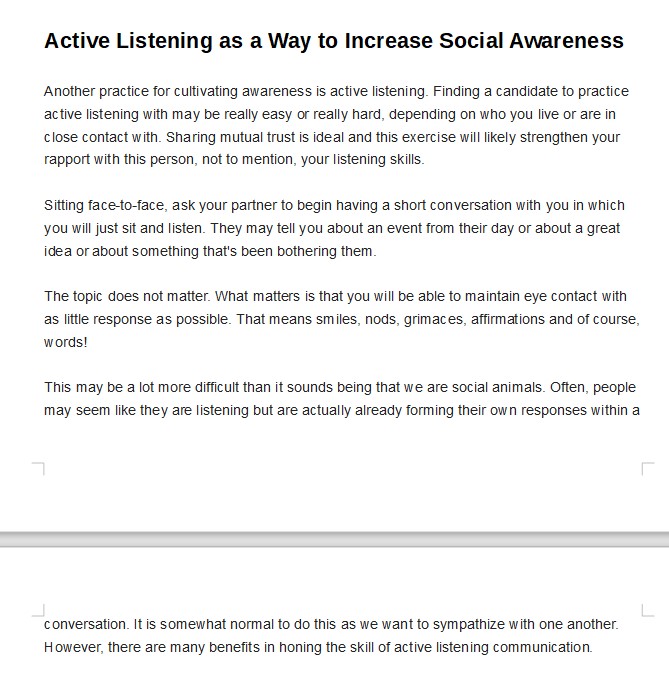 Add this entire pack of 15 life coaching and self help themed articles to your content collection right now.
Here's how much you save:
| | | | |
| --- | --- | --- | --- |
| PLR PRODUCT | HOURS TO CREATE FROM SCRATCH | COST IF HIRING A PRO TO CUSTOM CREATE THIS | PRICE AS PLR |
| Awareness PLR Articles - 8K words | 35 hours to write from scratch | 35 hours at $70 per hour = $1,750.00 | This content is regularly priced at $57 so you get it for less than the cost of two self help books! |