"Coping Skills for Empaths and HSPs" PLR - 15 Articles - 7,800+ words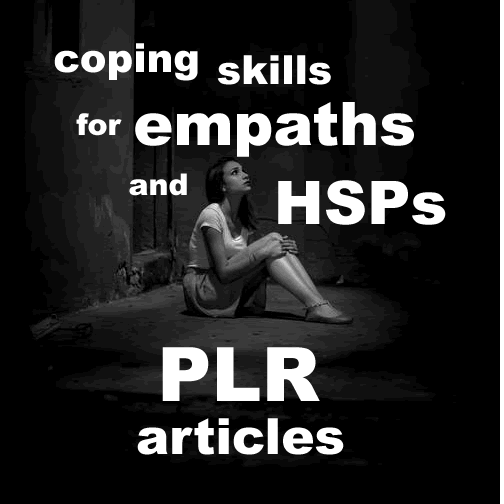 Done-for-You Coaching Content - Highest Quality, Amazing Value
Are you a life coach, self help expert or psych professional in search of high quality articles to share with your audience or sell as information products? We have a terrific, high quality pack of PLR articles for you to download and begin using immediately, any way you like.
More than ever, your target audience is turning to the internet to solve their mental health and relationship dilemmas. This includes learning how to cope when you're an empath - an old soul, intuitive personality, introvert, or HSP (Highly Sensitive Person). Your readers find this information incredibly intriguing, and our done-for-you coaching content makes it EASY for you to teach them what they want to know.
"Coping Skills for Empaths and HSPs" PLR- 15 Articles - 7,800+ words
Titles Include:
Empaths versus HSPs: What's the Difference?
Are You an Empath? 8 Possible Signs
Health Risks of Being an Empath or HSP (Highly Sensitive Person)
Empaths and Boundaries
How to Protect Your Own Energy as an Empath
Self Care for Empaths and HSPs
Ideal Careers for Empaths and HSPs
Where to Find Other, Like-Minded Empaths and HSPs
How to Survive Socially as an Empath or HSP
Strengths of Empaths
How to Organize & Decorate Your Home When You're an Empath or HSP
Yoga for Empaths and HSPs: Ease Your Stress
Creative Outlets for Empaths and HSPs
Pet Therapy: Perfect for Empaths and HSPs
Empaths and the Need for Down Time
Here's a screen shot of the content so you can get an idea of the quality: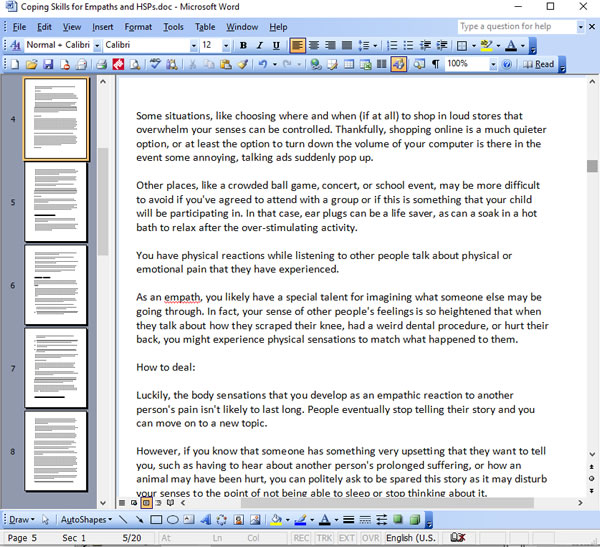 Add this entire pack of 15 psychology articles to your content collection right now.
Here's how much you save:
| | | | |
| --- | --- | --- | --- |
| PLR PRODUCT | HOURS TO CREATE FROM SCRATCH | COST IF HIRING A PRO TO CUSTOM CREATE THIS | PRICE AS PLR |
| "Coping Skills for Empaths and HSPs" Articles | 30 hours to write from scratch | 30 hours at $50 per hour = $1,500.00 | This content is regularly priced at $27 so you get it for less than the cost of a new designer sweater! |