Searching for a Simple Series of Articles and Instructions to Teach Mindfulness?
Mindfulness Exercises to Use in Your Teaching or Coaching Practice. 4500 words total, white label content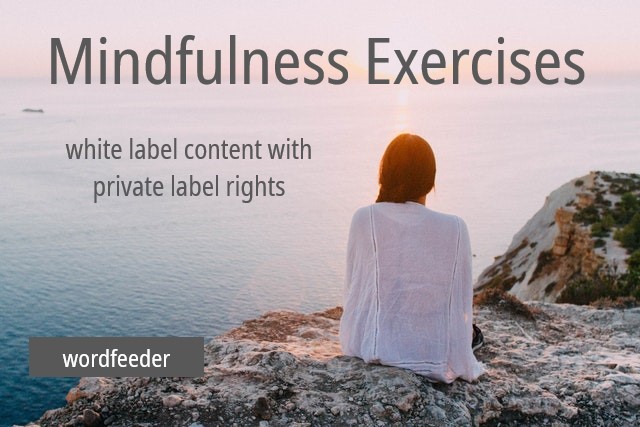 This content is meant for your audience if you are one of the following:
Life coaches
Trauma and recovery coaches
Energy Healers
Wellness coaches
Psychologists, Therapists and Counselors
Teachers
What's Included:
A Simple Mindfulness Practice to Benefit Your Mental and Physical Health – 4500 words total or 14 short articles with private label rights

Titles include:
1. Easing into Mindfulness
2. Mindfulness as a Calming Ritual
3. Mindfulness for Mental Health
4. Mindfulness as Meditation
5. Mindfulness May Help with Smart Phone Addiction
6. Mindfulness May Improve Your Problem Solving and Relating Skills
7. Prepare Yourself for a Mindfulness Practice
8. Come into Mindfulness: Let's Begin.
9. Breathwork to Enhance your Mindfulness Practice
10. Mindful Observation
11. A Mindful Immersion of the Senses
12. Walking Mindfully
13. Use Mindfulness to Counter the Negative Effects of Tech Use
14. Mindfulness Summary
Screen shots of the written content: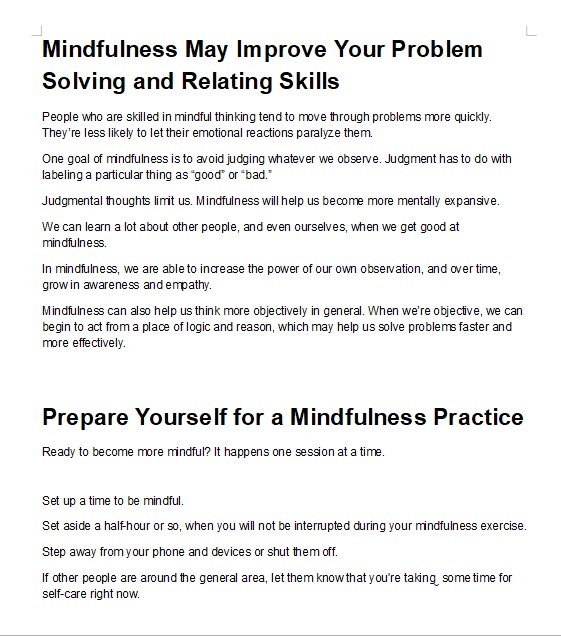 Another content sample...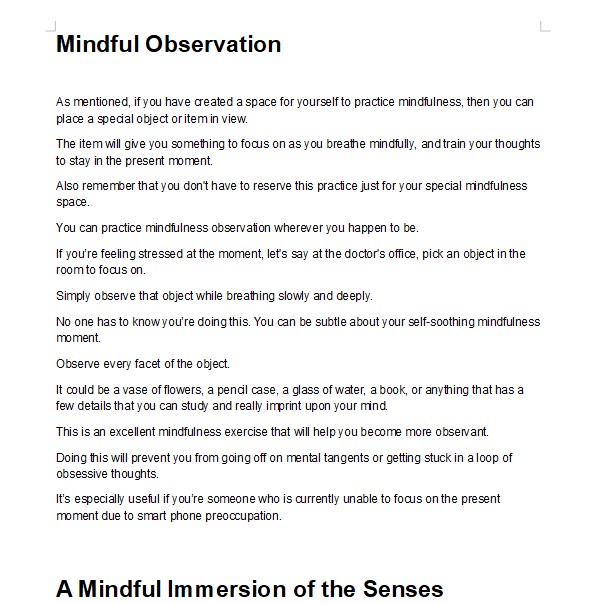 This comes with 10 mindfulness images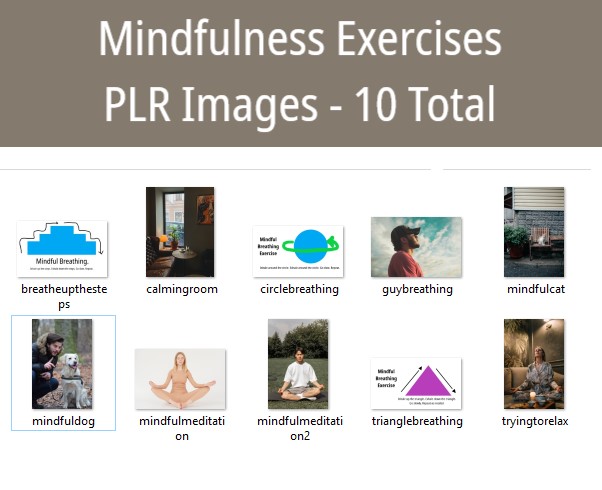 One More Visual of the Total Content Package: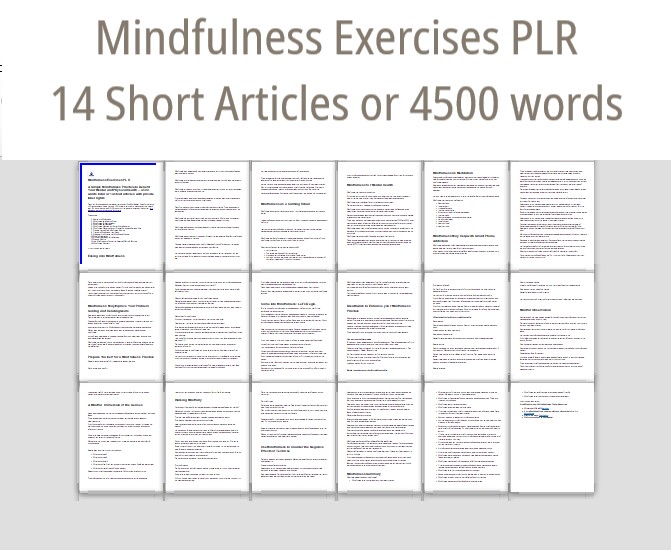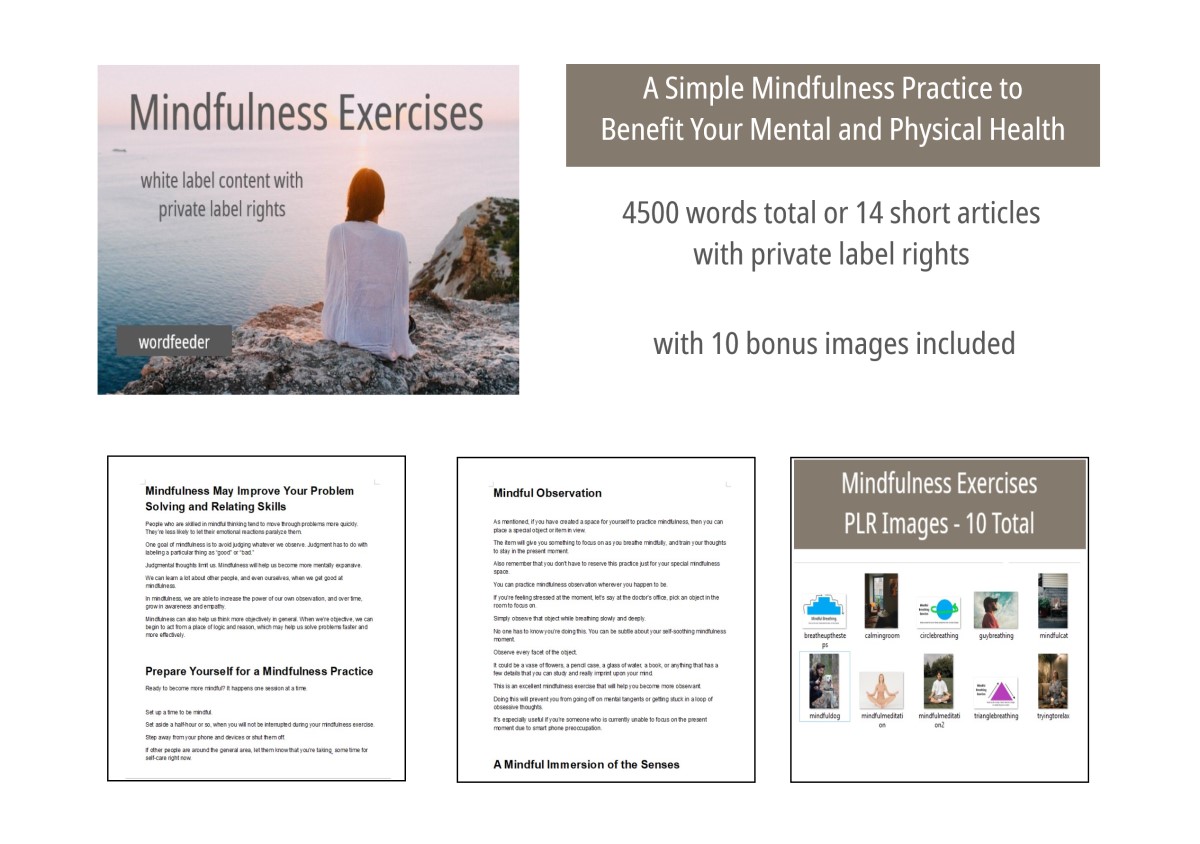 Where are your files? Top menu after you log in.
This is a terrific life coaching product that you can use to create income while helping people.
This Digital Product is Offered as PLR: Private Label Rights Content. Use it to Create Profits for Your Coaching Business or Niche Website.


Create and launch digital products & coaching programs. Help people solve problems and live better, affordably.

Offer PDF courses by email or hosted privately.

Launch a multi-media course on a site like Teachable

Create a paid video course

Launch an email course or challenge.

Make into client learning materials.




Get new signups and connect with your fans and followers.

Offer an ebook, whitepaper, special report or series of tips as an opt-in gift.

Turn into an article feature for your email newsletter.

Use the content to make a short, free webinar to give your followers a taste of what's to come.



Grow your brand and increase your reach by publishing authoritative content.

Share as blog posts or web articles.

Post the articles on social media with a link back to your blog or sign-up page.

Make video talks, slide shows or tutorials to share on your channel.

Add to Pinterest pins to drive traffic back to your blog.

RULES: Edit, brand, copy, cut, paste, add to and change this any way you like. Do not publish originator's name. Do not resell as PLR. You may offer personal rights to your customers.
Work SMARTER, Not Harder

NO paying a writer to create this from scratch for hundreds of dollars

NO more slaving away at the computer for weeks and weeks to create this on your own

YES this can be branded with your name and business details. You can edit it, add to it, change it, and publish any way you like - give away, sell as an ebook, it's up to YOU.