Best Quality Psychology and Relationships Articles with Private Label Rights
Coping with Critical People PLR - 14 Articles Total or 7K Words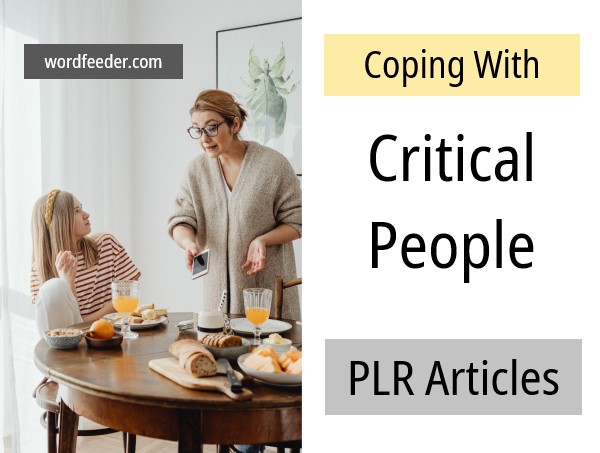 Are you a life coach, self help guru or psychology professional who needs content around the topic of Coping With Critical People? This is a common challenge that is likely faced by your clients and followers.
Use this to make and sell an ebook.
Nearly 8K words at a great value! Want to use these to create a little cash flow? Add some images and branding to this document, turn into a PDF and sell it as an ebook for just a few dollars. The more people on your list, the more you profit.
Another option is for life coaches to give away the ebook as a way to get more people to join your membership.
"Coping with Critical People" PLR - 14 Articles or 7K Words
Titles include:
Intro
Real-Life Examples of Someone Being Overly Critical
Why Are Some People So Critical?
How to Cope with a Family Member or Friend Who is Always Criticizing
Do Critical People Know They're Critical?
How to Handle Someone who is Critical to the Point of Being Annoying
What Kind of Personality Does a Critical Person Usually Have?
How to Handle Criticism: Strategies for Coping with Overly Critical People
Developing Resilience: How to Deal with Chronic Criticism from Others
Keeping Your Cool: Tips for Staying Calm and Collected When Facing Criticism
The Art of Setting Boundaries: How to Protect Yourself from Critical People
Turning Criticism into Growth: How to Use Constructive Criticism to Your Advantage
The Importance of Surrounding Yourself with Positive People when Dealing with Critical People
Avoiding Escalation: How to De-escalate Tense Situations with Critical People
Here's a screen shot of the content so you can get an idea of the quality: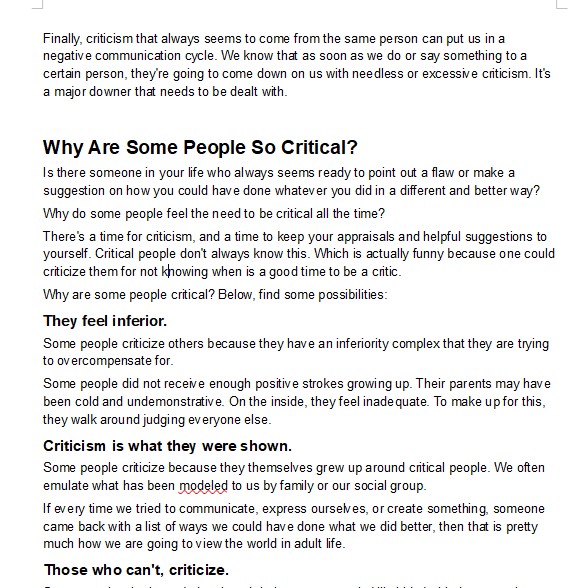 Add this entire pack of 14 psychology articles to your content collection right now.
Here's how much you save:
| | | | |
| --- | --- | --- | --- |
| PLR PRODUCT | HOURS TO CREATE FROM SCRATCH | COST IF HIRING A PRO TO CUSTOM CREATE THIS | PRICE AS PLR |
| Coping with Critical People PLR Articles | 30 hours to write from scratch | 30 hours at $50 per hour = $1,500.00 | This content is regularly priced at $27 so you get it for less than the cost of a new designer sweater! |