NEW! Relationships PLR Content Now With 20 FREE Images

"Love Your Tribe" PLR Articles and Journal Prompts- Perfect for an Ebook, Autoresponder Series, Blog Posts or Journaling Workshop
Coaches, therapists and self-help gurus, are you tired of struggling to come up with original content to help your readers stop, think and take action?

Need some fresh and engaging social media content to help drive traffic to your website or blog, connect with your fans and followers, get more signups and grow your coaching business or self-help site?
If you enjoy running an online business as much as I do, then you're probably eager to develop your own unique voice, brand and following.
But guess what? I know from experience that eventually all bloggers burn out from overwork. Where your ideas once flowed freely... as you pick up more business, it becomes more difficult to keep coming up with new content to drive even more followers to the fold.
Wordfeeder Offers Affordably Priced, High Quality PLR Products for Your Psychology, Relationships, Self Help and Coaching Audiences
Love Your Tribe - 13 PLR articles and 4 Journal Exercises - 7,060 words total
This Content Works for the Following Niches:
Life Coaching
Self help
Mental Health
Self improvement
Relationships
Titles include:
1. What's a Tribe?
2. The Importance of Having Your Own Tribe
3. JOURNAL IT: Questions to Ask as You Ponder Your Tribe
4. What Makes Your Tribe Special
5. Why Your Family May Not Qualify as Belonging to Your Tribe
6. Be Empowered by Your Tribe
7. JOURNAL IT: Remembering the Value of Your Tribe of Friends
8. How Can Friends in Your Tribe Show Support for Each Other?
9. JOURNAL IT: Recall the Support of Others
10. Thrive with Your Tribe During Times of Transition
11. The Importance of Face-to-Face Connections with Your Tribe
12. Seek and Find Your Tribe
13. Leverage Your Tribe to Help One Another
14. Accomplish Amazing Things With Your Tribe on Your Side
15. Does it Take a Village?
16. JOURNAL IT: The "Village" Concept in Action
17. New in Town? Where to Find Good Peeps to Add to Your Tribe

Sneak a Peek at the Writing: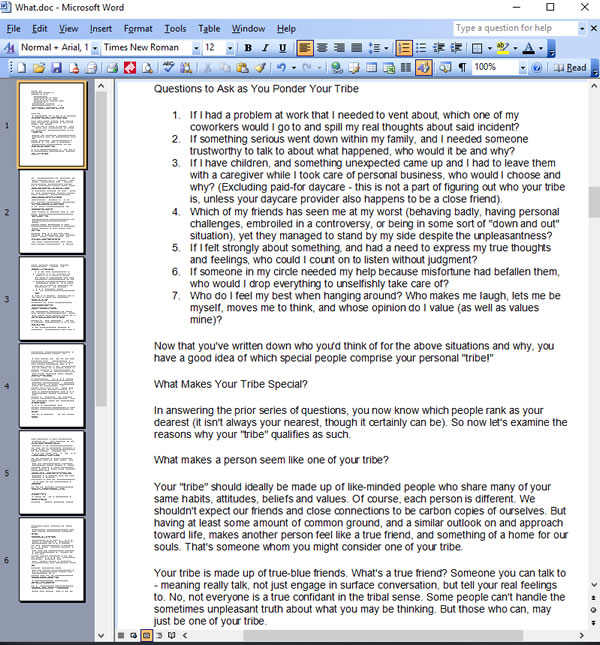 Instructions for Use:
Step 1: Save this file to a folder on your computer where you'll be able to easily access it later.
Step 2: Paste the content into a .txt file to strip out all non-HTML code.
Step 3: Edit if needed, and add your brand where appropriate, add images, style and save in a new file of your own.
Delivery:
Delivery is an MS Word file that will automatically arrive in your email inbox upon receipt of payment. You can also access your content in the member area of your site each time you log in.
FREE Gift! Order now, and you will automatically receive 20 professional quality images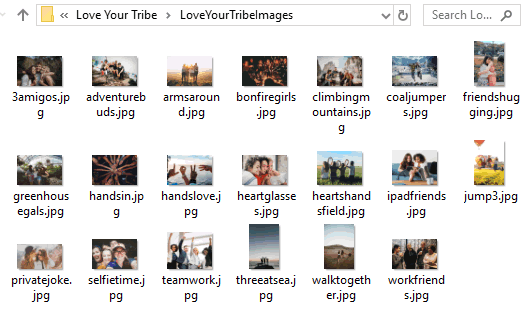 (...so you'll know EXACTLY what you're getting for this incredible price! Please ignore my sad videoing skills... I'm a writer, not a video producer. :})