Validation PLR Articles - 15 Total with 20 BONUS Images to add to Your Ebook, Emails, Blog Posts
Theme: "I see You, I Feel You, I Validate You Today" - Highest Quality Psych and Life Coaching Content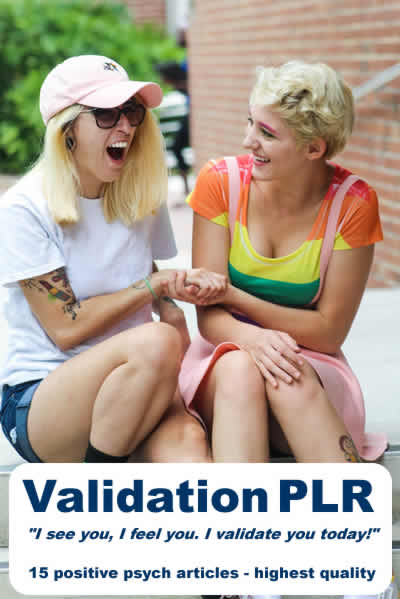 Prewritten Articles and Journal Exercises for Life Coaches to Publish as Your Own!
Hi there, my friends. If you're looking for some fresh, relevant life coaching content to help connect you with your readers, I've got the perfect solution for you. Sign up for the right to sell or share this high quality content package covering the topic of validation in detail.
This beautiful written content pack can be yours to edit, add to, and publish however you like, under your own name... for a fraction of the price you'd pay to have a writer create this for you from scratch.
Are you using the internet for its greatest purpose -- to connect with the minds and hearts of others in our universal quest for happiness? This is especially important, given the current quarantine situation that we're all faced with in spring 2020.

Wordfeeder is pleased and proud to bring you the very best in private label rights content. I'm Dina, and my writer friends and I work hard every day creating high quality articles designed to uplift, encourage, teach, support and guide.
YOU can be all of those things and more to the people who need your wisdom. It's easy and affordable to take the content that we create for you, add your own good thoughts, and make it your own to share or sell.
Use this content to create a 15-Day Email or Social Media Challenge, make an ebook download, share on your blog, or anything else you may think of!
Once ordered, you receive private label rights to publish this as your own. You can sell this content as an ebook, course, email series or workshop, or give away as an opt-in gift to get more subscribers on your list.

Validation PLR - 15 Articles Total on "I See You, I Feel You, I Validate You Today!"
Includes the following titles:
What is Validation?
Why is Validation So Important to Our Happiness and Well Being?
What Happens When We Don't Get Enough Validation?
Were You Raised With Validation?
Simple Ways to Validate People You Care About
Signs That You Could Use More Validation in Your Life
How to Surround Yourself with Friends Who Validate You
To Get More, Give More When it Comes to Validation
Take The Test: Are You Emotionally Validated in Your Relationship?
Why Do Some People Refuse to Validate Others?
Symptoms of Being in a Low Validation Situation
Validation at Work and Why It's Important to Employee Performance
Validation at Home and Why It's Important to Your Kids' Self Esteem
Validation in Your Love Life and Why It Matters
Show Your Love: 5 Simple Ways to Validate Someone Today
Here's a screen shot of the content so you can get an idea of the quality:

This content also includes 20 BONUS IMAGES at NO Extra Charge - large .jpg files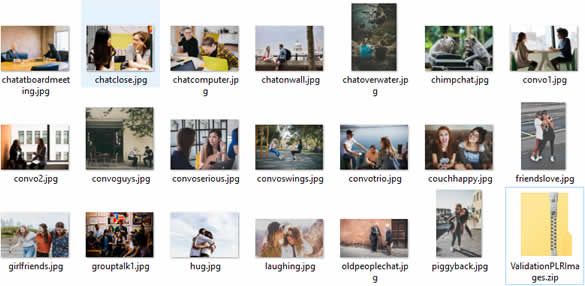 Here's how much you save...
PLR PRODUCT

HOURS TO CREATE FROM SCRATCH

COST IF HIRING A PRO TO CUSTOM CREATE THIS

PRICE AS PLR

Validation PLR: "I See You, I Feel You, I Validate You Today!"

15 articles with private label rights plus 20 bonus images


25 hours to write from scratch




25 hours at $70 per hour = $1,750.00


This content is regularly priced at $27 so you get it for less than the cost of two self help books!
This Digital Product is Offered as PLR: Private Label Rights Content. Use it to Create Profits for Your Coaching Business or Niche Website.


Create and launch digital products & coaching programs. Help people solve problems and live better, affordably.

Offer PDF courses by email or hosted privately.

Launch a multi-media course on a site like Teachable

Create a paid video course

Launch an email course or challenge.

Make into client learning materials.




Get new signups and connect with your fans and followers.

Offer an ebook, whitepaper, special report or series of tips as an opt-in gift.

Turn into an article feature for your email newsletter.

Use the content to make a short, free webinar to give your followers a taste of what's to come.



Grow your brand and increase your reach by publishing authoritative content.

Share as blog posts or web articles.

Post the articles on social media with a link back to your blog or sign-up page.

Make video talks, slide shows or tutorials to share on your channel.

Add to Pinterest pins to drive traffic back to your blog.

RULES: Edit, brand, copy, cut, paste, add to and change this any way you like. Do not publish originator's name. Do not resell as PLR. You may offer personal rights to your customers.
Work SMARTER, Not Harder

NO paying a writer to create this from scratch for hundreds of dollars

NO more slaving away at the computer for weeks and weeks to create this on your own

YES this can be branded with your name and business details. You can edit it, add to it, change it, and publish any way you like - give away, sell as an ebook, it's up to YOU.