Psychology Articles orLife Coach PLR: Withholding Behavior and What to Do About It - 17 Articles or 7200+ words total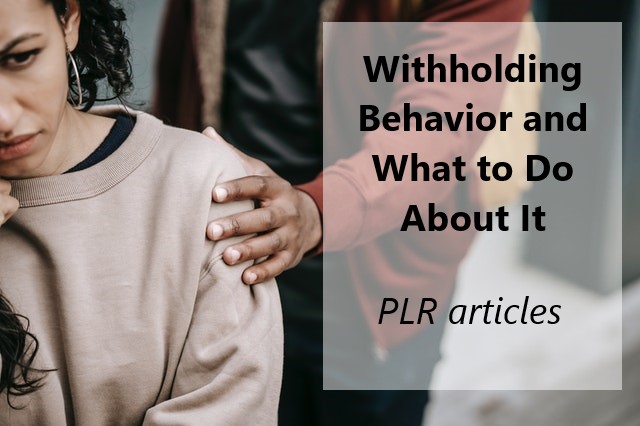 Do your readers need support around difficult relationships? We have some high quality articles for you covering the topic of withholding behavior. Withholding refers to those moments when people we care about ignore and reject us on purpose.
Many people need help dealing with this type of behavior from family, friends and romantic partners. Now you can offer some expert advice. Make ebooks, create blog posts, set up in your newsletter, turn into an email series. The possibilities abound!
What Audiences Will This PLR Content Work For?

Relationships

Mental Health

Life Coaching

Self Help

Home & Family


What Will You Get with this Written Content Pack?
Titles include:
What is Withholding?
Examples of Withholding Behavior
What To Do When Someone Withholds Attention, Affection and Emotional Support
When a Withholder is Being Toxic Again, Should You Call Them Out?
Why Do Our Loved Ones Withhold?
Are You Surrounded by Withholders? What can You Do?
Withholding is Contagious Unless We Grow in Awareness
How to Get Your Partner or Family Member to Stop Withholding
Consequences of Withholding Behavior
Long-term Effects of Withholding Behavior
Identifying Withholders in Your Family
Why do People Withhold Physical Affection?
Why do People Withhold Emotional Support?
Becoming Aware of Our Own Tendency to Withhold
Withholding is Actually Fear Based Behavior
The Importance of Using Tech for Good and Not as a Way to Exclude or Withhold
Free Yourself from the Influence of Withholders
How much you save:
| | | | |
| --- | --- | --- | --- |
| PLR PRODUCT | HOURS TO CREATE FROM SCRATCH | COST IF HIRING A PRO TO CUSTOM CREATE THIS | PRICE AS PLR |
| Withholding Behavior PLR - 17 Articles Total | 30 hours to write from scratch | 30 hours at $70 per hour = $2100.00 | This content is regularly priced at $37 so you get it for less than the cost of a self help course! |
This Digital Product is Offered as PLR: Private Label Rights Content. Use it to Create Profits for Your Coaching Business or Niche Website.


Create and launch digital products & coaching programs. Help people solve problems and live better, affordably.

Offer PDF courses by email or hosted privately.

Launch a multi-media course on a site like Teachable

Create a paid video course

Launch an email course or challenge.

Make into client learning materials.




Get new signups and connect with your fans and followers.

Offer an ebook, whitepaper, special report or series of tips as an opt-in gift.

Turn into an article feature for your email newsletter.

Use the content to make a short, free webinar to give your followers a taste of what's to come.



Grow your brand and increase your reach by publishing authoritative content.

Share as blog posts or web articles.

Post the articles on social media with a link back to your blog or sign-up page.

Make video talks, slide shows or tutorials to share on your channel.

Add to Pinterest pins to drive traffic back to your blog.

RULES: Edit, brand, copy, cut, paste, add to and change this any way you like. Do not publish originator's name. Do not resell as PLR. You may offer personal rights to your customers.
Work SMARTER, Not Harder

NO paying a writer to create this from scratch for hundreds of dollars

NO more slaving away at the computer for weeks and weeks to create this on your own

YES this can be branded with your name and business details. You can edit it, add to it, change it, and publish any way you like - give away, sell as an ebook, it's up to YOU.