Life Coaching, Positive Psychology, Wellness PLR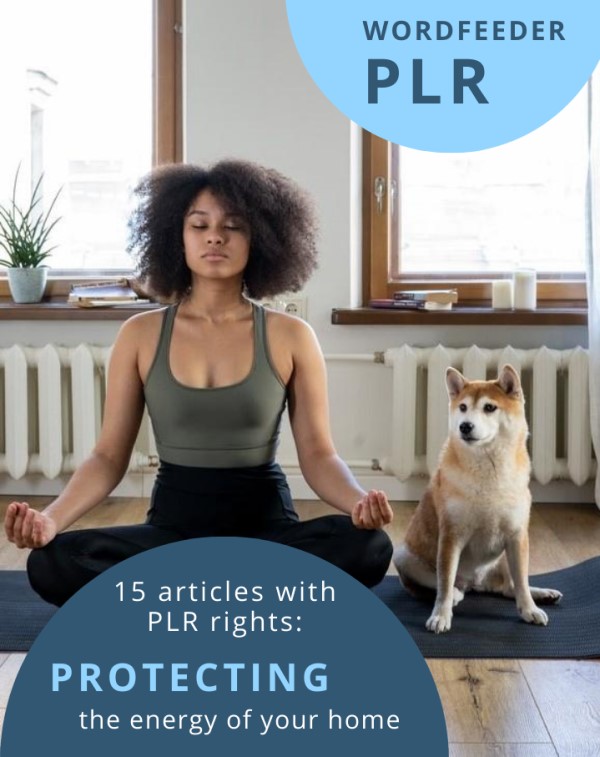 "Protecting the Energy of Your Home" - 15 Articles with Private Label Rights - 7000+ words
Prewritten Articles and Journal Exercises for Life Coaches to Publish as Your Own!
Hey there, Dina from Wordfeeder here. I have a beautiful set of high quality articles covering the topic of "How to Protect the Energy of Your Home".
This content will work for the following audiences:
Life Coaching
Self Help
Home and Family
Mental Health
Positive Psychology

Here's what your readers will learn from this content that you share or sell under your own name:
How the parents or heads of household set the tone for your home's energy
The trickle-down and transferral effect of personal energy from parent to parent to child within the home
How peaceful energy in the home can positively impact our emotional state on a very profound level
What the energy of our family home has to do with our ability to deal with stress as adults
How to calm the energy of your home
Ways to improve the energy in your home so children can benefit from increased positivity and peace
Why your ability to control your emotions matters in protecting the energy of your home
Boundaries, and how your home's energy can be improved by respect for others
Simple things you can do to regulate your personal energy
And more
Use this content to create a 15-day email or social media challenge, make an ebook download, share on your blog, or anything else you may think of!
Once ordered, you receive private label rights to publish this as your own. You can sell this content as an ebook, course, email series or workshop, or give away as an opt-in gift to get more subscribers on your list.
"Protecting the Energy of Your Home" PLR - 15 Articles or 7,000 words total
Titles include:
Protecting the Energy of Your Home - Intro
Create Peaceful Energy Within Your Home
What's Your Parenting Energy Exchange?
How Does the Energy of Your Childhood Home Manifest in Adulthood?
Extreme Closeness Means Shared Personal Energy
Define the Energy of Your Home
Want a Calmer Home? Exercise More.
Setting Boundaries to Cultivate Safe, Peaceful Energy in Your Home
Tips for Parents to Create Positive, Calm Energy in the Home
Being Intimate With Your Partner Brings More Peace to the Family Home
The "How" of Setting Boundaries to Create a Peaceful Home Life
"Get Out of My Mental Feed": A Case for Quiet Time at Home
How to Respect Others' Emotional Boundaries
Can't Control Others? Control Yourself. Tips for Creating Good Energy in Your Home
5 Simple Ways to Cultivate Peace During the Stay-Home Order
Here's a screen shot of the content so you can get a writing sample: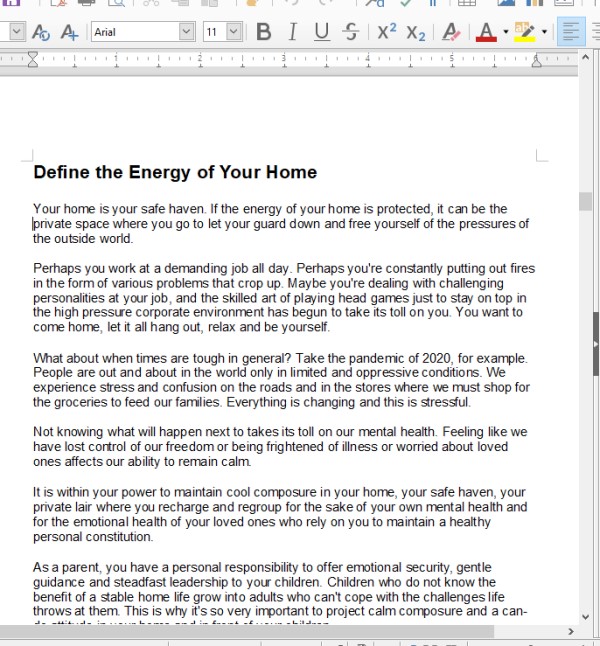 Here's how much you save:
| | | | |
| --- | --- | --- | --- |
| PLR PRODUCT | HOURS TO CREATE FROM SCRATCH | COST IF HIRING A PRO TO CUSTOM CREATE THIS | PRICE AS PLR |
| Protect the Energy of Your Home - 15 articles total | 25 hours to write from scratch | 25 hours at $70 per hour = $1,750.00 | This content is regularly priced at $47 so you get it for less thana tank of gas! |