PLR Articles with a Mindful Tech Theme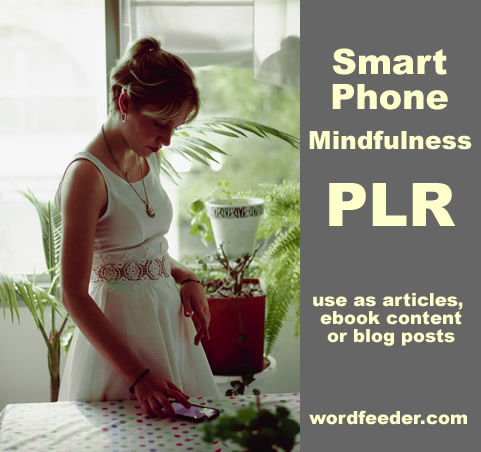 Smart Phone Addiction PLR
Smart Phone Anxiety PLR

Smart Phone Mindfulness PLR
(Call this whatever fits you best and gets you found!)
Done-for-You Coaching Content for Coaches, Authors, Speakers, Counselors, Experts of All Kinds
Lead Your Readers to Greater Productivity, Happier Relationships, Less Stress and More Joy With This Extremely High Quality Content.
This is Much Needed Advice on a Trending Hot Topic of Interest!
Hey, friend! Are you a smart blogger or internet publisher who knows that done-for-you content written by trusted experts is the way to keep new signups and sales coming in while helping people learn new things, solve their problems and live happier, healthier, more productive lives?
If you're on the hunt for great information, want to target specific niches like Home and Family, Health & Wellness, Business, Relationships, Life Coaching and more, then you've come to the right place.
I just completed research and writing work on a highly popular topic that works across multiple niches, including parenting, mental health, holistic lifestyles, life coaching, self-help, wellness, technology, and more.
The topic is Smart Phone Mindfulness. We all use smart phones, and we all know the stress and counter-productivity that occurs when we over-use smart phones. So this is what we'll be addressing for your readers who want to get better at managing their lives while NOT becoming a slave to the technology.
Smart Phone Mindfulness - 8,383 words total - Yours to Brand, Publish and Share or Sell!
Here's a list of article titles that are included in this thoughtfully-written content pack. This is organized perfectly to work as an ebook download that you can share or sell. You can also set this up as an autoresponder series of teaching lessons. Another option is to publish each article individually in a blog post, web page or social media post.
Whatever use you come up with for this content is sure to be profitable, not to mention providing needed guidance and improving the lives of others.
Here's what's included in this pack:
Intro
Smart Phones and Stress
Is Smart Phone Addiction Really a Thing?
Smart Phones and Your Health
Physical Side Effects of Technology Overdose
How to Streamline Your Smart Phone Use so You're Not Always On It
Thinking About Mindfulness and Your Smart Phone
Tips for Staying Present for Your Friends & Family When Smart Phones Are Near
Smart Phone Etiquette 101
Smart Phone Addiction and How to Stop It
How to Wean Yourself from Technology Addiction
Teaching Kids to be Present and Not Attached to Their Phones
How to Make Others Feel Important, Special and Loved While Using Your Smart Phone
The Importance of Technology Breaks
Relationship Troubles? 5 Tips for Changing Bad Technology Habits and Getting Along Better With the People Around You
Using Smart Phones to Show Love, Caring, Support and Kindness to Others
Conclusion
Here's a sample of the content in production, for you to start thinking of great ways to put this to use: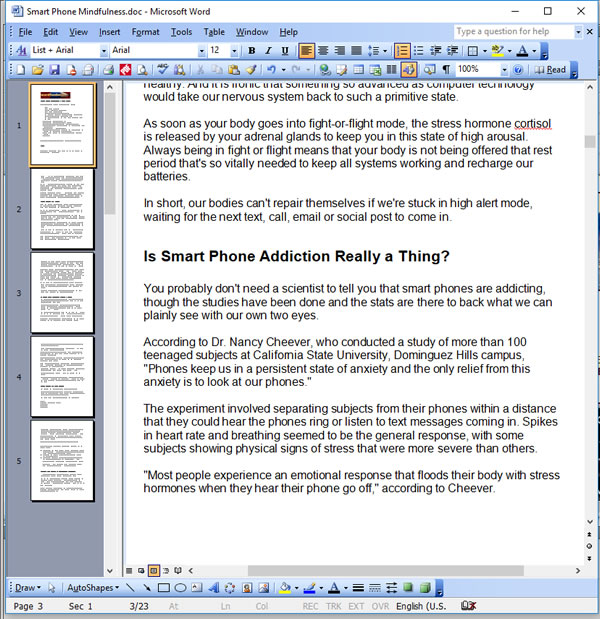 Another writing sample... from the "Assess Your Smart Phone Use" section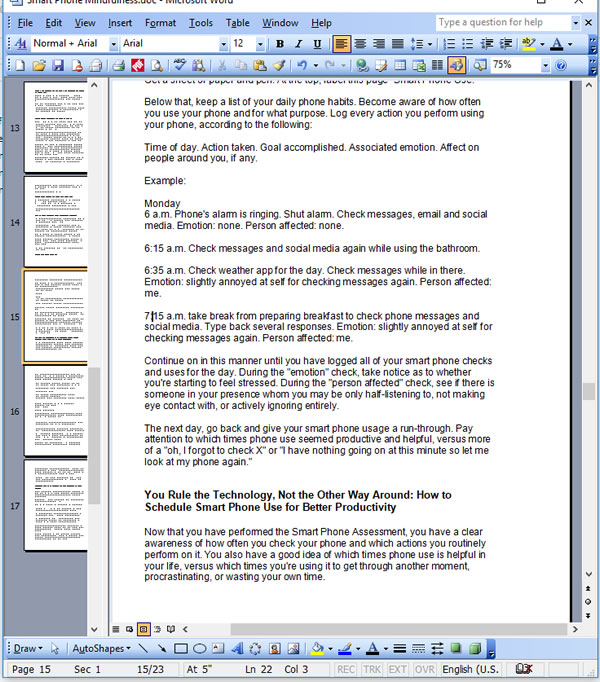 ADDED Bonus: 26 FREE Images Added for You to Make this Into an Ebook, Email Course, Blog Posts, & More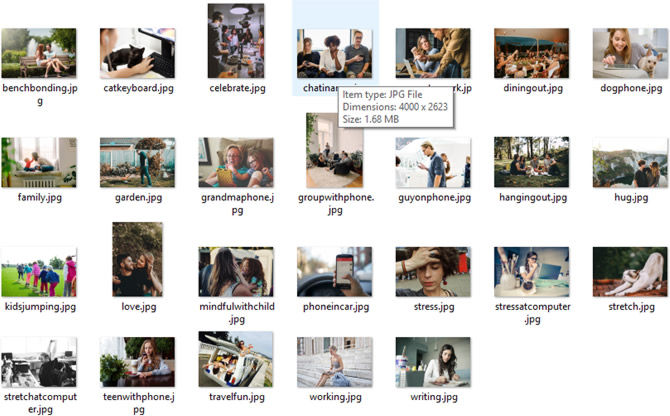 I have hand-selected stock photo images to emphasize the various ideas presented in this ebook. These are large .jpg files that can be reduced to fit into an ebook created in MS Word, Canva, or another program.
Some of the images include people with their phones, others not... because the whole purpose of this text is to help people strike a balance between using their phones for good, and staying off the phones to get things done and increase joy in their in-person relationships and activities.
How Much for This Done for you Content that Addresses a Timely and Concerning Topic?
I'm offering an intro deal on this to help you save money while offering your readers the very best information and advice that can help them manage their lives better while creating happiness and contentment in their relationships.
The original price of $37 for more than 8,000 words is now $10 off using coupon code SMARTPHONE
Smart Phone Mindfulness is about to become the "it" topic in the areas of time management, mental health, relationships, family, wellness and more. So you may as well take an early position on this as an advisor and authority on the matter. Be one of the first to publish this as your own.
Oh, and if you've never sampled the done-for-you content that we offer here at Wordfeeder, I encourage you to log into your member area, look in the top menu and download your favorite topics that are sure to be an instant hit with your audience of readers, coaching clients and more.
Your brand new articles with private label rights to edit, publish as your own, sell or give away, or use this however you like, are mere minutes away from arriving in your email inbox!
Psst! Want a Video Sneak Peek at the Written Part of This Content Package? Here's me scrolling through, reading parts of, and talking about what's inside this ebook-ready PLR package that addresses "how to be better at smart phone stuff." This link opens to a new page on YouTube, so you can come back to this sales page if you'd like to order.