"Window Air Conditioners 101" PLR | Home Articles for Your Blog, Ebooks, More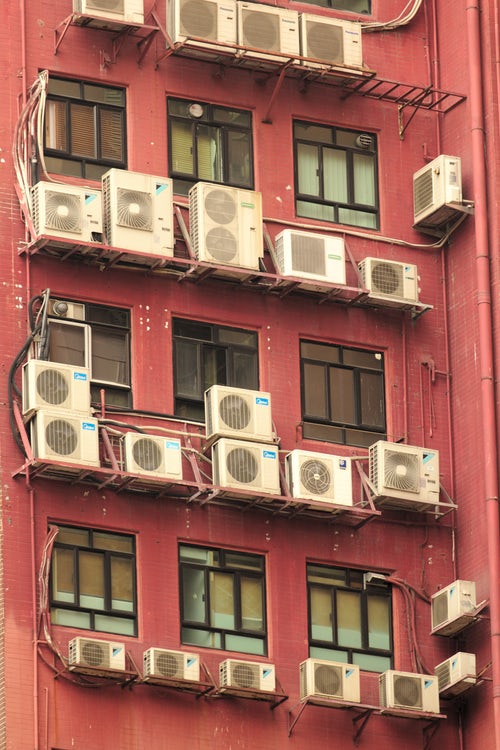 For your audience of home improvement, simple living, home & family, or seasonal readers
Hey, my busy blogger friend!
Did you know that the global heating, ventilation, and air conditioning (HVAC) market is projected to reach about 367.5 billion U.S. dollars by 2030?
YOU can serve yourself a hefty slice of this lucrative market. How? By publishing information about air conditioners that your audience wants and needs!
Be one of the first to publish this sought-after summertime content: window air conditioners 101... with Amazon product recommendations to match
Get instant access to this brand new private label rights content covering one of the HOTTEST topics of summer. These articles will be perfect to share with your home improvement, simple living, home and family and seasonal readers.
Lots of people all over the world are just now getting started on shopping for, installing, or repairing their existing air conditioner units. Use this done-for-you content to get more eyes on your blog, generate new signups to your mailing list, and monetize by setting up Amazon products related to this topic of interest - window air conditioners!
What's covered in this package of PLR articles on Window Air Conditioner Units?
This content contains 8500 words of extremely knowledgable and expertly crafted written content that addresses the many questions and problems facing people who use window air conditioners in their homes, offices and apartments.
The following titles are included:

1. Intro: Why window A/C units?
2. Other reasons window air conditioner units remain a popular choice for homeowners and renters alike
3. How do window air conditioners work?
4. How to install a window air conditioner
5. How to stabilize your air conditioner in the window
6. Q: What if your window air conditioner no longer has a plastic set of brackets to fit it into the window frame?
7. Tips for keeping outside air, rain and insects from entering your home after installing a window air conditioner
8. What size air window air conditioner is right for your home or office?
9. The remaining factors that determine the size of A/C window units you use in various rooms of your home are as follows:
10. What are BTUs and why should you care?
11. What can happen if you set up a window air conditioner that has too many or too few BTUs for the designated space?
12. Does size matter when it comes to air conditioners?
13. Optimum placement of A/C units for comfort and convenience
14. Are there any type of windows that can't accommodate window mount air conditioners?
15. Where to get a good deal on a window air conditioner
16. Window air conditioner - top brands
17. What is an Energy Star Rating?
18. Best Air Conditioners from Amazon
19. How to increase energy efficiency and save money when using a window A/C unit
20. Ways to lower the cost of running air conditioner units in summertime:
21. Window air conditioner - parts and accessories
22. Common air conditioner parts that may need replacing:
23. Window air conditioners and mold
24. More tricks for keeping your window air conditioner unit free from mold
25. Other solutions for reducing air conditioner mold in your home:
26. How to clean your window air conditioning units at the beginning and end of the season
What can you do with all this great PLR content?
Add images and tranform into a beautiful, branded ebook or special report.
Turn it into an informative e-course for people to sign up for.
Set up individual blog posts in advance so you can take the work out of summer website publishing.
Paste each article into an issue of your newsletter, then set up to schedule at regular intervals during the summer months.
Here's a writing sample for you to peruse...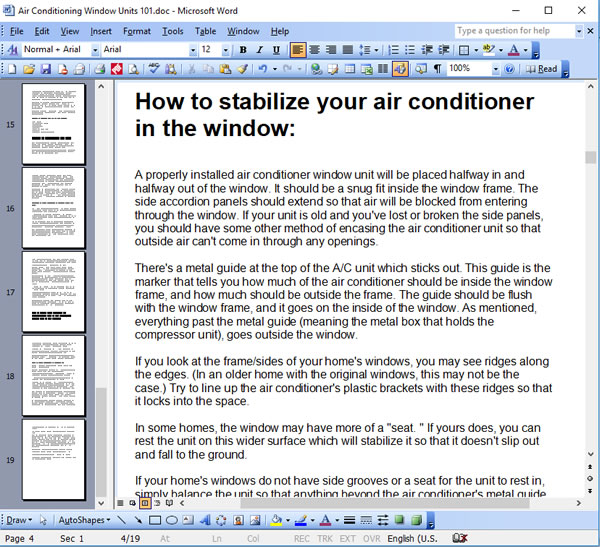 This information-rich content's chock full of insider tips on how to install, maintain, replace parts, and best utilize window air conditioners to keep your family and friends cool and comfortable all summer long.
This PLR content is awesome, AND affordable!
Your brand new articles with private label rights to edit, publish as your own, sell or give away, or use this however you like, are mere minutes away from arriving in your email inbox!

NO paying a writer to create this from scratch for hundreds of dollars

NO more slaving away at the computer for weeks and weeks to create this on your own

YES this can be branded with your name and business details. You can edit it, add to it, change it, and publish any way you like - give away, sell as an ebook, it's up to YOU.