Fit in Your 40s and 50s: Women's Edition - 16 PLR Articles or 8600 words
Middle-aged women want to know about healthy weight loss. Use this done-for-you health coaching content to teach them.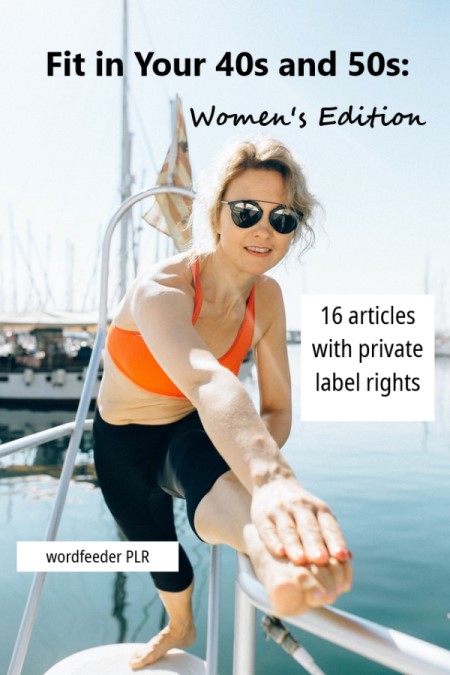 Content comes with private label rights to sell or share as your own. Make into an ebook, course, email series, blog posts, video course or anything else you can think of! Titles are...

1. Intro
2. Is it Possible for an Overweight Person to Lose Weight in Their 40s and 50s?
3. Fat Redistribution Can be a Problem for Middle-Aged Women
4. Hotter in Your Forties and Fifties? Yes, It's Quite Possible.
5. Fitness for Women Over Forty: Do it For Your Health
6. Steer Clear of Perfectionism When Trying to Lose Weight
7. Should a Middle-Aged Woman Go Low-Carb to Lose Weight?
8. Steps to Take if You'd Like to Try Low-Carb as a Middle-Aged Woman
9. Good Fats for Forty-Somethings: Eating Fat to Lose Weight at Middle Age
10. Perimenopause, Menopause, Weight Loss, and Hormone-Rich Foods
11. For Women in Your 40s and 50s: Signs that Your Weight Loss and Healthy Eating Plan is Working for You
12. How to Improve Your Digestion Naturally, for a Slimmer Middle at Middle Age
13. What's a Safe Amount for a Middle Aged Woman to Run for Exercise?
14. Best Forms of Exercise for Women in their 40s and 50s
15. Exercise and Bone Health at Middle Age
16. A Good Night's Sleep can Help You Lose Weight if You're a Woman in Your 40s or 50s

Here's a screen shot of the writing

Here's an overview of the pages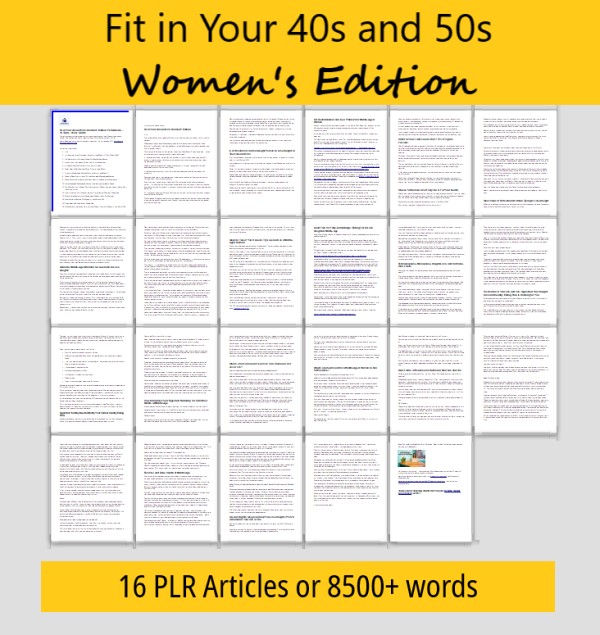 Who Can Use This Content?

Weight Loss Coaches and Experts

Nutritionists and Dieticians

Health and Wellness Coaches and Experts

Personal Trainers and Fitness Coaches
What to Do With This Content:

Make into a digital product such as an ebook or email challenge

Offer as a free opt-in gift to grow your list

Feature the topic in your email newsletter

Add to your member resource library

Publish in your blog

Turn into a topic for your next speaking engagement

Use it in your work with clients

Make into a group coaching program
Rules for Use:
You may edit, add to, cut and paste to use in your digital product creation and content publishing initiative. REMOVE our brand and replace with your own. DO NOT resell this as PLR.
| | | | |
| --- | --- | --- | --- |
| PLR PRODUCT | HOURS TO CREATE FROM SCRATCH | COST IF HIRING A PRO TO CUSTOM CREATE THIS | PRICE AS PLR |
| Fit in Your 40s and 50s: Women's Edition - 16 Articles Total | 20 hours to write from scratch | 20 hours at $50 per hour = $1000.00 | This content is regularly priced at $47 so you get it for less than the cost of a new yoga mat and blocks! |