Mindful Eating PLR Articles | 7300+ words total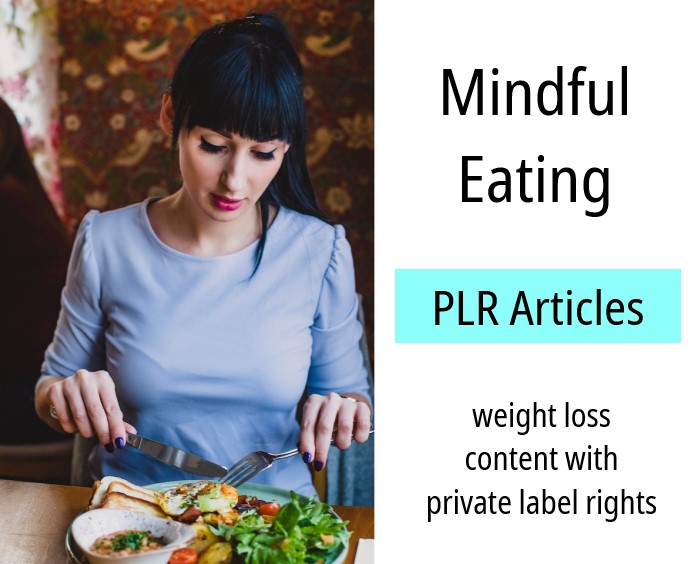 Need articles on mindful eating for weight loss? This pack of high quality content comes with private label rights to share or sell as your own. This content goes way beyond the standard mindful eating techniques and into incorporating mindfulness into other aspects of how you shop for, prepare, eat, and enjoy food socially - for a whole-picture of mindful eating that your readers will truly appreciate!
Use this to make and sell an ebook.
More than 7300 words at a great value! Want to use these to create legit cash flow? Add some images and branding to this document, turn into a PDF and sell it as an ebook. The more people on your list, the more you profit.
Or... give away the ebook as a way to get more people to join your Weight Loss and Healthy Lifestyle membership.
Mindful Eating PLR - 14 Articles or 7300 words
Total word count is 7300+ and the included titles are:
What is Mindful Eating? Understanding the Basics
How to Practice Mindful Eating Incorporating Mindful Eating into Your Daily Routine
Emotional Eating: Break the Cycle, Learn to Eat Mindfully
Breaking the Cycle of Emotional Eating with Mindful Eating
Mindful Eating and the Gut-Brain Connection
Mindful Eating for Athletes: Fueling Your Body and Mind
Mindful Eating and Mindful Cooking: Preparing Food with Awareness
Mindful Eating and Mindful Shopping: Making Conscious Food Choices
Mindful Eating and Social Gatherings: Staying Present and Mindful
The Connection Between Mindful Eating and Sleep
Mindful Eating and Mindful Technology Use: Avoiding Distractions
Mindful Eating and Sustainability: Choosing Foods That Are Good for You and the Planet
Here's a screen shot of the content so you can get an idea of the quality:
This exceptional quality content from Wordfeeder includes private label rights to publish this content as your own. Titles include:
| | | | |
| --- | --- | --- | --- |
| PLR PRODUCT | HOURS TO CREATE FROM SCRATCH | COST IF HIRING A PRO TO CUSTOM CREATE THIS | PRICE AS PLR |
| Mindful Eating Articles | 20 hours to write from scratch | 20 hours at $50 per hour = $1000.00 | This content is regularly priced at $27 so you get it for less than the cost of a new yoga mat! |