Weight Loss During the Holidays - 15 PLR Articles - 8,298 words total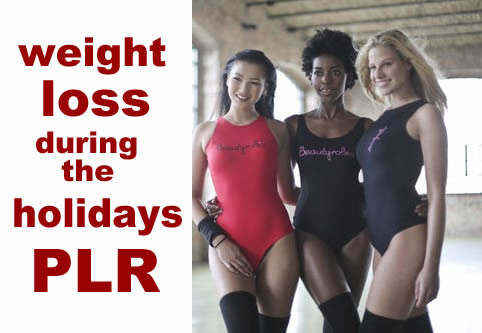 Hello from Dina at Wordfeeder PLR! Do you need some really good PLR weight loss articles to share with your audience of dieters and healthy lifestyle seekers during the Christmas season?
Everyone knows that people who are trying to lose weight really struggle at this festive and food-focused time of year. Your readers will really appreciate any support or advice you can offer them in the form of a Holiday Healthy Eating Challenge, ebook on how to maintain weight loss at Christmas time, or series of blog posts to attract more readers to your blog and get more signups to your list.
We have a terrific, high quality pack of PLR articles for you to download and begin using immediately, any way you like.
Will your Weight Loss blog be getting clicks, signups and sales this holiday season?
It definitely will with this holiday weight loss themed content on your side. These articles are perfect for sharing as blog posts and then posting the links on social media. Just pop in the intro, add a compelling image, and share the link to your blog post where people can read more and sign up for your list.
Use this to make and sell an ebook.
More than 8200 words at a great value! Want to use these to create a little Christmas cash flow? Add some images and branding to this document, turn into a PDF and sell it as an ebook for just a few dollars. The more people on your list, the more you profit.
Another option is for Health Coaches and Weight Loss experts to give away the ebook as a way to get more people to join your membership.
Weight Loss During the Holidays - 15 PLR Articles - 8,298 words total
Titles include:
1. Weight Loss During the Holidays
2. How to Fit in Exercise During the Busy Holiday Season
3. How to Stick to Your Weight Loss Plan When There's Holiday Food in Abundance
4. How to Survive the Holidays When You're on a Diet
5. Tips for Keeping it Low Carb This Holiday Season
6. Best Low Carb Appetizer Choices for Your Holiday Meal Plan
7. What to Eat When You're Dieting During the Holidays
8. Which Holiday Foods are the Absolute Worst for Your Diet?
9. Good Tips to Have in Your Back Pocket When Dieting for the Holidays
10. Tired of the Same Old Boring Veggies? Try These on For Size
11. Lip-Smacking Holiday Appetizers that That Won't Spoil Your Diet
12. Resisting Holiday Desserts When You're Trying to Lose Weight
13. Best Ideas for Getting Exercise When It's Cold Outside
14. Stretch Your Way to Stress Release, Curb Holiday Cravings
15. Why Kick off Your Yoga Practice at Holiday Time?
Here's a screen shot of the content so you can get an idea of the quality: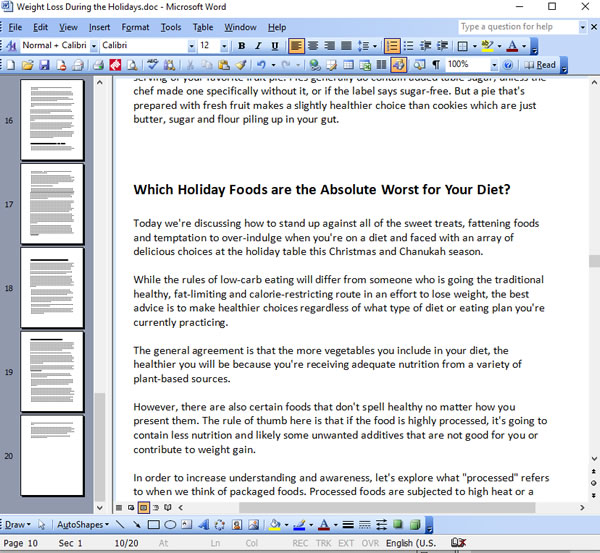 Add this entire pack of 15 "Weight Loss During the Holidays" PLR articles to your content collection or insider's membership right now.
Don't wait! If you do, you will miss your chance to turn this content into profit until next year.
| | | | |
| --- | --- | --- | --- |
| PLR PRODUCT | HOURS TO CREATE FROM SCRATCH | COST IF HIRING A PRO TO CUSTOM CREATE THIS | PRICE AS PLR |
| "Weight Loss During the Holidays" PLR Articles | 30 hours to write from scratch | 30 hours at $50 per hour = $1,500.00 | This content is regularly priced at $27 so you get it for less than the cost of a new designer sweater! |