"Weight Loss in the New Year" PLR Articles!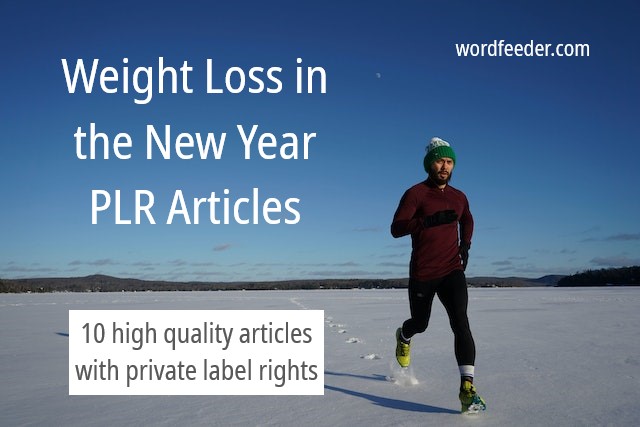 Do you publish weight loss tips and advice on the internet? Then you're probably aware that the most lucrative time of year for all things weight-loss related is the start of a new year.
With a New Year comes a fresh set of personal goals and resolutions. Most people, when questioned about their New Year's resolutions, would rank weight loss as being fairly high on the list of priorities. So when they head to Google to search for new information on how to lose weight, eat healther and become more fit, will they find your blog?
They will if you publish the high quality weight loss content provided by Wordfeeder.
We have a terrific, high quality pack of PLR articles for you to download and begin using immediately, any way you like.
Will your Weight Loss blog be getting clicks, signups and sales this January?
It definitely will with this holiday weight loss themed content on your side. These articles are perfect for sharing as blog posts and then posting the links on social media. Just pop in the intro, add a compelling image, and share the link to your blog post where people can read more and sign up for your list.
Use this to make and sell an ebook.
More than 7K words at a great value! Want to use these to create legit cash flow? Add some images and branding to this document, turn into a PDF and sell it as an ebook. The more people on your list, the more you profit.
Or... give away the ebook as a way to get more people to join your Weight Loss and Healthy LIfestyle membership.
Weight Loss Goals for the New Year - 10 PLR Articles - 7,044 words total
Titles include:
Weight Loss Resolutions in the New Year
Why Losing Weight is a New Year's Goal Worth Setting
What is a Healthy Weight
Overcoming Weight Loss Challenges in the New Year and Beyond
Body Shaming is Bad, But Obesity Harms Your Health
New Year, New You: Shifting into a Healthy Weight Loss Mindset
Reasons Your Tummy is Big That Have Nothing to Do With Abdominal Fat
6 Fitness Exercises to Try at Home this Winter
Need Support with Weight Loss Resolutions? Ideas for People Who Don't Like to Exercise
7 Motivating Thoughts to Get Fit and Fab Fast
Here's a screen shot of the content so you can get an idea of the quality: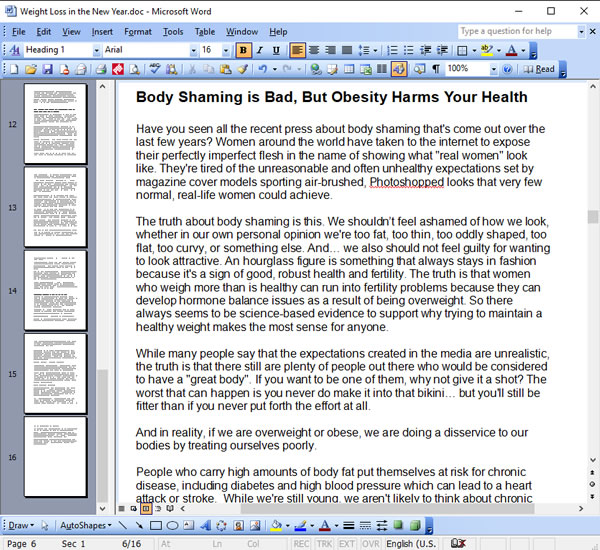 Now with Bonus Images added to Use in Your Publishing Tasks: 20 PLR Images total - small .JPG Files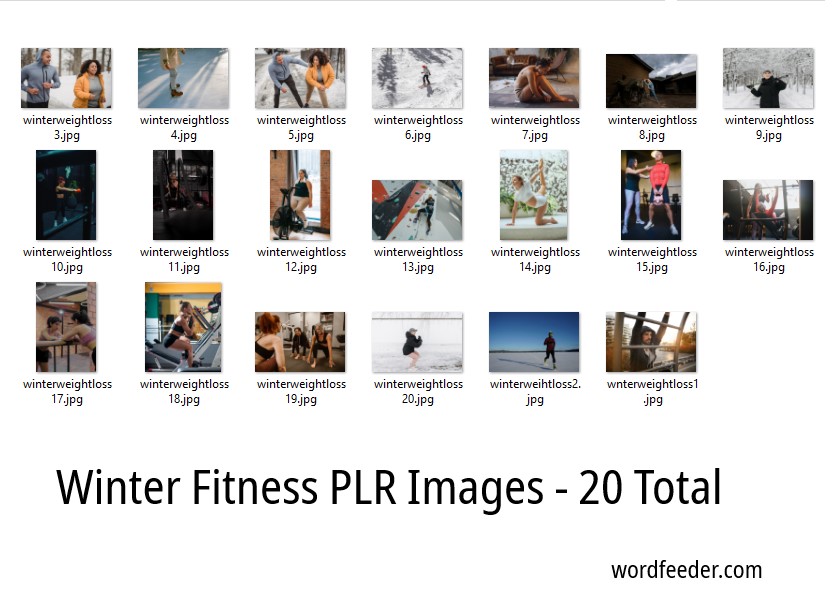 Add this entire pack of 10 "Weight Loss in the New Year" PLR articles to your content collection or insider's membership right now.
Don't wait! If you do, you will miss your chance to turn this content into profit until next year.
| | | | |
| --- | --- | --- | --- |
| PLR PRODUCT | HOURS TO CREATE FROM SCRATCH | COST IF HIRING A PRO TO CUSTOM CREATE THIS | PRICE AS PLR |
| "Weight Loss for the New Year" PLR Articles | 30 hours to write from scratch | 30 hours at $50 per hour = $1,500.00 | This content is regularly priced at $27 so you get it for less than the cost of a new designer sweater! |