Yoga PLR to Make an Ebook or Email Course
Health Coach, Guide Your Readers to a Better Yoga Practice...
"Transform Your Yoga" PLR Course or Ebook Content - Done-for-You Health Coaching Content, Private Label Rights Product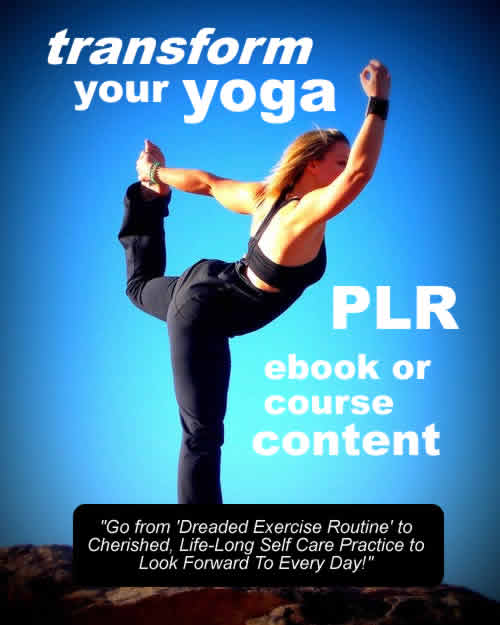 Includes more than 9,200 words in an ebook-ready MS Word document, with images throughout the text! Be one of the first to customize and launch this course under your brand name.
Health Coaches, Wellness Experts, Yoga Instructors, Holistic Healers, Yoga Studio Owners... are you in need of done-for-you content to connect with the people on your list, get more signups, and continue educating your readers?
Attract more health coaching clients... Establish yourself as the go-to yoga authority. Get more subscribers. Sell more products.
Here are just a few takeaways that your readers will experience with this information on their side...

Why they procrastinate doing yoga and make things MUCH harder than it has to be... and how to STOP doing that so they can finally START loving yoga and the amazing effects it has on their entire being

That yoga does NOT have to be a boring exercise routine that they dread... instead it can be a pleasurable activity that they flow into with ease, and look forward to each and every day...

That yoga is anything but repetitive... they just have to know where to look for inspiration, and open their minds to exciting new poses and even methods for doing the old poses they know...

Which yoga basics to nail so they can move past the beginner stage and embark on their transformation to a life-long self-care practice

That yoga fits right into their schedule, NOT the other way around... so they can STOP thinking of it an obligatory chore, and START to feel excited about their practice just like when they were first learning...

How to overcome their dependency on yoga teachers... so that instead of having to always wait until the next class, follow along with the next guided meditation, or tune into a video, they can spring into instant yoga whenever and wherever they like

That they get to decide, in their yoga practice, HOW to do yoga in a way that suits their personality, current needs, health goals, energy levels, and lifestyle...

How to flow from one yoga pose into the next without worrying that you're "doing it wrong" so that yoga is no longer based in fear, but instead becomes a delightfully free-flowing form of exercise that increases their confidence, reduces stress, helps them sleep better, and makes them look and feel years younger.

How to "find the yoga moment" in everyday activities... and what they must do if they REALLY want to transform their yoga ritual from a dreaded exercise routine into a cherished, lifelong self care practice

What's Included in "Transform Your Yoga" PLR Ebook or Online Course Content?
This beautifully written content arrives in your email inbox in a 38-page MS Word document containing 9,200+ words.
We've even included yoga pose images throughout the text, which will REALLY cut production hours for you. You will also be able to access your MS Word document each time you log into your Wordfeeder member area.
Here are a few ideas of how you can use this private label rights content:

Here's What's Included with this Package of Done-for-You Health Coaching Content
38 pages of high quality content, word count 9,200+, delivered in an MS Word document via email and also accessible from inside of your Wordfeeder PLR membership account.

This content is brand new, created over the past week, and ready to launch as a an ebook or email autoresponder course - with IMAGES ALREADY INCLUDED.

For a FULLY immersive learning experience that is just as good as if you offered one-on-one coaching on how to transform your yoga practice... in fact, it might just be better!

TRANSFORM YOUR YOGA: from Dreaded Exercise Routine to Cherished, Life-Long Self Care Practice that You Look Forward To Every Day Email Course or Ebook PLR Content - 9,283 words
Table of contents covers the following articles...
INTRO
How Does Yoga Increase Confidence in Your Body?
Consider the Basic Postures of Yoga and How these Fit into Your Daily Life
Seek and Find the Yoga in Everything
Yoga is Natural Movements and Postures, but Consciously Better
Yoga in the Garden
Yoga in the Car
Yoga at Your Computer Desk
Yoga with Your Morning Routine
Yoga with Your Kids at the Park
Why Do We Procrastinate Doing Yoga?
What to Do When Yoga Gets Boring
More Ways to Liven Up Your Yoga Practice
How to Make Yoga a Daily Habit that You Look Forward To
Make Room in Your Busy Schedule for Yoga
Yoga: Am I Doing This Right?

Get the Most from Yoga Class Without Becoming Dependent on the Teacher
The document contains ebook-sized images placed throughout the text - so you can cut your ebook production time considerably
At this price, this complete yoga course is a no-brainer... grab your copy to customize and launch ASAp!
Just think, if you had a copywriter create this for you from scratch, it would run you anywhere from several hundred to possibly a thousand, and that's on the low end depending on edits and other factors.
This is a complete, polished DRAFT that you get to customize any way you like and make into your own digital product.
Here's a Writing Sample Screenshot: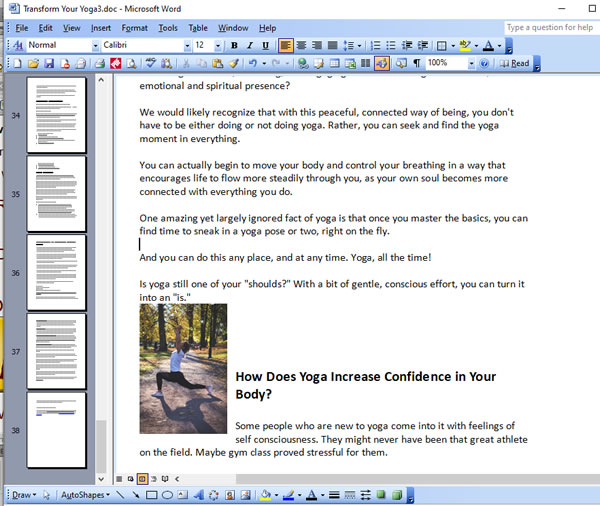 Another writing sample: