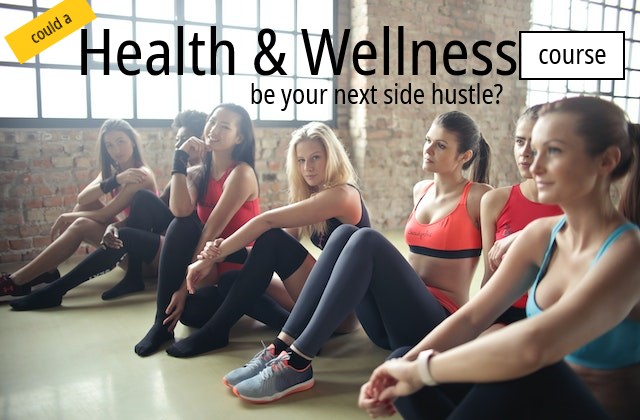 Health Coaches, Holistic Healers, Personal Trainers... Pass along your knowledge, skills and expertise in an expertly crafted, professional quality ecourse that helps you help others while making money on the internet
It doesn't matter what kind of health expert you are. You could be a holistic health coach, fitness guru, retired nurse, or reiki master. You might be a chiropractor, herbal healer, occupational therapist, or doula.
If you've got professional knowledge in a specialized health and wellness field, then YOU can create and sell an ecourse online.
What type of person might consider buying an ecourse from you?
Depends on who you are and what you can offer the world, of course!
A person who's looking to set and achieve healthy weight loss goals might look to you for expert guidance on low carb eating, exercise that doesn't involve a gym membership, or how to ditch unhealthy habits. They might warm to the idea of a private support group, motivational series of emails, or videos that share step by step exercises.


Someone who's embarking on a health and wellness journey might be intrigued by an ecourse that teaches healthy holistic living practices such as yoga, meditation, and mindful eating.


A natural mama might want to learn more about using essential oils to cure common ailments, prevent illness and impart aromatherapy benefits.
So, are you ready to create an ecourse? Take the next step in your online business. We've got some seriously good ideas to help you profit from your lifelong acquisition of knowledge and expertise
My name is Dina, and I hail from the world of corporate and web-based copywriting. These days, I sell content online here on Wordfeeder. My industry is known as "PLR" - that stands for Privatel Label Rights Content. It refers to prewritten articles that can serve as the rough draft of a professional-quality ecourse that you create and sell.
The people who purchase content from Wordfeeder know how to use this content to create ecourses to make money. Here are a few examples of how people use PLR content:
Create and publish blog posts
Connect with email subscribers
Make lead magnets, like ebooks, special reports and white papers to offer as a free opt-in gift
Develop video tutorials, slide shows and training series
Share social media tips
Launch courses on website such as Teachable
Create a private library of information on their website for paying members
But that isn't really why I'm here. It's just back-story about how I ended up talking to you from a sales page.
You may not be familiar with PLR, and that's okay. But if you've balked at the idea of shelling out thousands to pay pro writers and designers who create your online teaching materials... guess what? You don't have to do that anymore.
PLR content makes it possible to do it yourself, or with the help of a virtual assistant who can guide you through the steps or manage the project for you while you attend to more pressing matters of your life and career.
Download my FREE Ecourse Crash-Course: Could an Ecourse be Your Side Hustle?
Full disclosure: If you sign up to receive this ecourse crash-course, you're going to end up on my PLR Deals mailing list. So PLEASE pick an email address where my daily PLR emails won't disrupt your day.
You can always unsubscribe from the list. BUT if you do that, you won't learn how to publish web content for your business using private label rights content that's either low priced or totally free. You won't get the content deals. AND you won't get the tips you need to create ecourses that make you money online.
Hopefully, you have an email address all set up that you check regularly to ensure you're getting the best deals on ecourses like the one I'm giving away.
I put this page up in the hope of attracting people who ALREADY are interested in increasing their online income by selling an ecourse. You might be my perfect sign-up if you...
Feel ready to take the next step to increase your income online
Are well-versed in the art of blogging for money
Already have a thriving email list of happy customers and clients with whom you connect regularly
Want to hack your way to a side hustle using PLR content and the help of a friendly former copywriter to help you get it done!
Just think of all the things you could be enjoying while your automated ecourse sales go out to delighted recipients on your list...
Serving your clients without having to worry about falling behind on marketing
Spending time with your family
Taking time out for some much-needed self-care
Reading a great book, enjoying a delicious healthy meal
Working out, finding ways to move your body so you can look and feel great, and be happy
Ready to make money selling an ecourse that shares your hard earned knowledge with good folks who already want what you offer?
Sign up and learn how to launch a health and wellness course using PLR content (with actual examples of content packs you can include in your course) right now.