How to Make an Essential Oils Ebook or Recipe Book Using PLR Content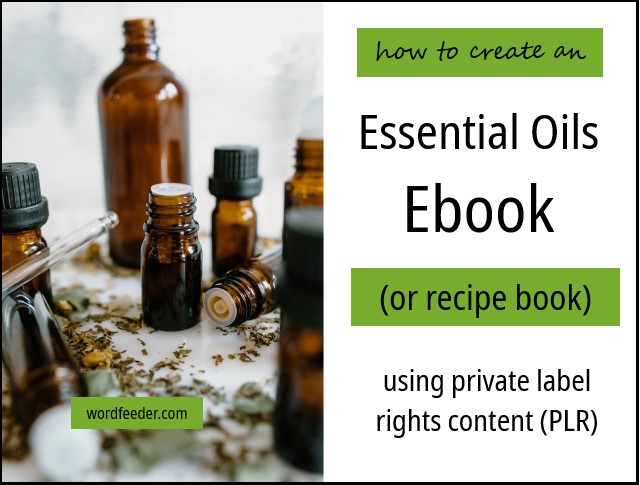 Do you want to make an ebook using PLR or private label rights content? This is a smart way to grow your list of followers who may later become customers of your health coaching services, classes, ebooks, and other items you offer on your website.
To make an essential oils ebook or recipe book, you'll need a few basic things:
Written content that contains the recipes and any other helpful info you might want to include
Images of essential oils that can be exact (taken by you), or more general but as close to the recipes as possible (for example, you can find an images of oranges and essential oils on one of the stock photography image websites).
Links to essential oils products that your readers might decide to purchase while reading your ebook. Preferably, these would be direct affiliate links of yours - such as if you're an Amazon or doTerra affiliate.
Other elements you should include to appear professional and enhance the overall presentation: cover art. your company logo. A bio section of a few paragraphs so people know who published the ebook. A page of upsells to your courses, classes, and anything else you might want to advertise.
What programs should you use to create and publish your essential oils ebook?
You can start to create the content in MS Word.
Once it's written, copy and paste the written content and recipes into Canva. You'll want to select a template for this that matches your brand and organizes the content into a cohesive presentation.
Save the images as smaller .JPG files (600px or less) and add them into a folder to stay organized
Upload the images to Canva.com and insert them into the ebook or recipe book template.
Add your back pages to the publication.
Make all links to products into live links that contain your affiliate ID.
Add a cover page if you haven't already. Select a great looking image, add a title, subtitle and your company name and URL.
How to set up your essential oils ebook as a lead magnet to get more people on your email list:
When everything in your essential oils ebook is to your satisfaction and you've proofread several times, save as a PDF. Download the PDF to your server. Save the link to the file.
This is what you'll share with your customers and followers! It will be a great resource for people who want to learn how to use essential oils for cleaning, skincare, and aromatherapy.
Set up your email list management service (such as Aweber) so that after a new subscriber joins your list, an automated email will go out that contains a welcome message, and a link to the free essential oils ebook or recipe book.
Next time you send out an email that offers a helpful tip and advertises your latest classes, coaching packages or services, anyone who signed up to receive your free essential oils ebook will receive your email and could decide to make a purchase from you or share your email with a freind.
---
At Wordfeeder, we offer prewritten essential oils content.
This content comes with private label rights to publish as your own. Make an ebook using the essential oils recipes we've already created for you to use.