Coaches, Experts: Searching for a Self Help or Life Coaching PLR Monthly Membership that is Both Affordable and Incredible?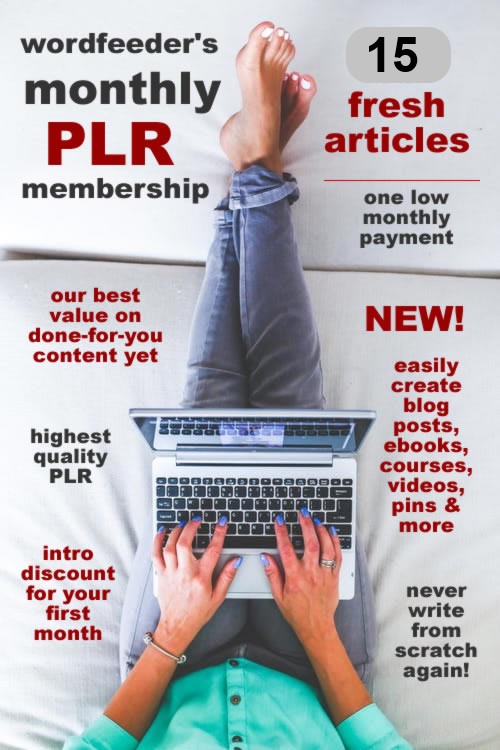 Introducing... Wordfeeder's Life Coach and Self Help PLR Monthly!
NEW DELIVERABLE IS 15 ARTICLES PER MONTH
NEW PRICE IS $11.97
PER MONTH
Our NEW Monthly Deliverable is 15 Articles or 7K words for $11.97!
No More Procrastination... No More Overwhelm. When it Comes to Content Creation, Wordfeeder Has Your Back.
One way to solve your content publishing backlog problem and start running your online business right, is to have done-for-you content drafts available. Just imagine if you had a personal helper, busily writing fresh articles each day that you could edit as you like, and use to help people learn new things, be happier, and live better.
Coaches, Wondering how to Profit by Sharing and Selling Prewritten Coaching Content? This Video Tutorial Covers the Basic Steps to Success!
Let Wordfeeder BE your personal content creator. Each month, we will HAND you 15 fresh articles. All you have to do is log in, download your content, change it however you like, and then USE IT by sharing it with the people on your list!
What kinds of articles will your audience go for?
Your readers are relying on you to provide information that…

Connects with their emotions

Teaches a skill

Solves a problem


Shares information

Infuses a perspective



Imparts wisdom

Tells true stories

Provides resources
Wordfeeder's done-for-you articles promise all of that and then some. Our customers routinely tell me that Wordfeeder PLR's some of the strongest writing they've come across in this industry.
When you sign up for our monthly PLR membership at a flat rate of $11.97 per month, here's what you get:
A total of 15 brand new, done-for-you articles - EACH and every month. That's two full weeks to drill down intensely into a topic of interest that your audience will love to learn more about.
(And search engines will love the fresh information, too!)
Here's how the monthly membership works:

ONE (1) MS Word document containing 15 articles will be added to your member account each month.

This membership also comes with 10 life coaching PLR packs from last year's full list of releases. Download these as soon as you log in! That's 150 articles just for signing up.
These articles are being sold as PLR - Private Label Rights Content.
That means that you get to edit, change, brand, and publish them under your own name in the following ways:

As blog posts or website articles. Posting a series on a single topic that you cover for a full month is a great way to get targeted readers. Share links to your blog on social as well!

As articles shared on social media. If you host a group online, it helps to post information your readers want and need. Post your articles there with a link back to your blog.

As ebooks that you share to grow your list. An opt-in gift is a common way to get more people interested in you and what you do.

As PDF ebooks that you sell under your own brand name.

As courses sent via email or hosted privately in an online conference room or private social media group such as Facebook

As email and social media challenges (think 30-day challenge, or 21-day challenge)

As email courses or an email series of tips. Autoresponders can be sent out every day for 5 days, every week for 4 weeks, or however you'd like to set yours up to go out automatically after people sign up.

As Pins. An eye-catching infographic and compelling lead-in brings them from Pinterest to your blog where they can learn more and sign up for your list!

As PowerPoint presentations - slide by slide, file delivered via link in an email.

As video slide shows. One short blurb or tip per slide, set to music, with images, works great.

As video tutorials - featuring you as the teacher, speaking about a topic. You can share the videos publicly to get known in your field. And you can also offer an upgrade option for people who may want a more in-depth learning experience.
Our Life Coaching and Mental Health PLR Monthly Membership will include a variety of articles in the following niches:

Positive Psychology


Marital Challenges


Family Dynamics


Motivation and Self Help


Positive Thinking


Relationship Help


Stress Management


Self Coaching
Here's what you can expect from the Life Coach/Self Help/Mental Health PLR Monthly in 2021:
July Articles Now Live. August articles are being written. Keep scrolling for more!
Power of Positivity PLR - 7800 words total
"Power of Positivity" PLR Articles - 7800 words total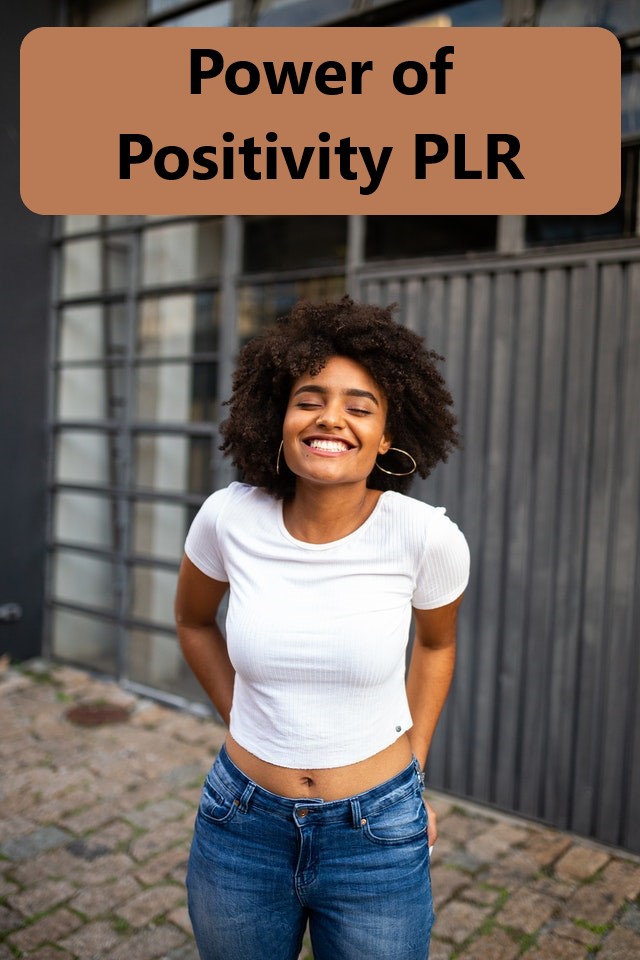 Titles include:
1. Intro
2. Why Would You Want to be a Positive Person?
3. Are You a Glass Half Empty or a Glass Half Full Person? Take the Quiz
4. Positivity Brings Big Payoffs. Here's How.
5. How Can You Turn a Negative Situation into a Positive One?
6. Want to Be More Positive? Commit to the Change
7. Morning Meditation to Start Your Day with a Smile
8. How to Stop Letting Negative People Take Your Good Mood Away
9. How a Positive Attitude Impacts Your Professional Life
10. Being More Positive Helps Heal Your Relationships
11. Parenting Positively: Quick Tips for Success
12. Short on Positive Role Models? Here's How to Spot One
13. Finding Support on the Road to Living a Positive Life
14. Gratitude Practice to Help You Become More Positive
15. Improve Your Mood First, and Positivity Will Soon Follow
"Buy now" opens up to a new checkout window so you won't lose this one.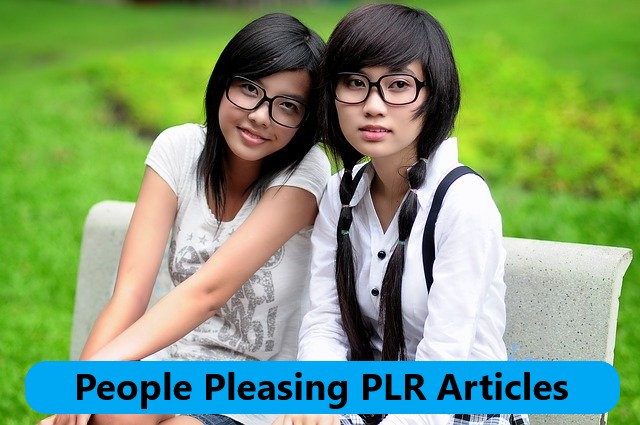 July 2021: "For People Pleasers Who Want Stronger Boundaries" PLR Articles - NOW LIVE
1. Stop Being a People Pleaser
2. Is it Bad to be a People Pleaser?
3. Are You a People Pleaser?
4. Do People Pleasers Hold Themselves to a Higher Standard of Perfection?
5. Tame Your People Pleasing Ways by Discovering What You Need
6. Daily Mantras for People Pleasers to Create Balance in Relationships
7. Do People Pleasers Think Differently Than Everyone Else?
8. Practices to Put in Place to Lessen Your People Pleasing Tendency
9. People Pleasers Should Not Give Up on the World and Here's Why
10. People Pleasers and Codependence
11. Exploring the Reasons People Pleasers Struggle with Self Worth
12. People Pleasers Should Seek the Company of Gentle, Forgiving and Supportive Souls
13. Boundaries Pose a Special Challenge for People Pleasers
14. Tips for People Pleasers Wanting to Strengthen Boundaries
15. Ways for People Pleasers to Tend Their Own Spirit and Deliver Care to Themselves
Screen shot of the content: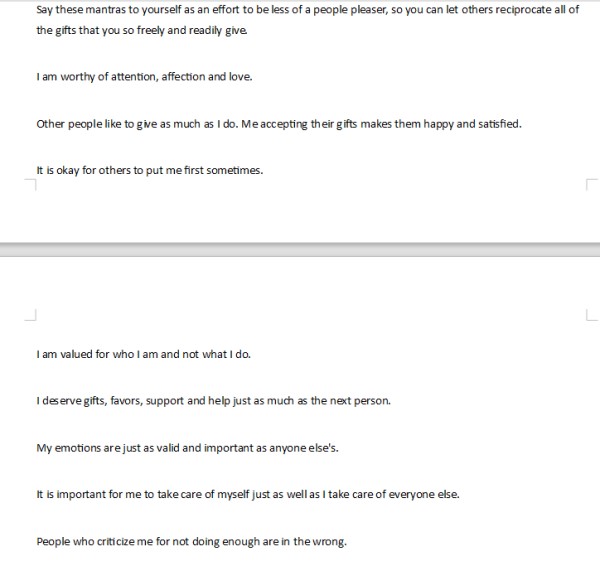 "Buy now" opens up to a new checkout window so you won't lose this one.
June 2021: Withholding Behavior and What to Do About It - 17 PLR Articles, 7K+ words - Live inside your paid member area!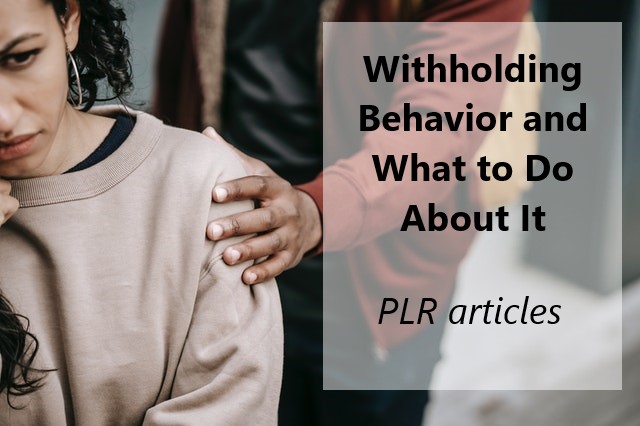 What is Withholding?
Examples of Withholding Behavior
What To Do When Someone Withholds Attention, Affection and Emotional Support
When a Withholder is Being Toxic Again, Should You Call Them Out?
Why Do Our Loved Ones Withhold?
Are You Surrounded by Withholders? What can You Do?
Withholding is Contagious Unless We Grow in Awareness
How to Get Your Partner or Family Member to Stop Withholding
Consequences of Withholding Behavior
Long-term Effects of Withholding Behavior
Identifying Withholders in Your Family
Why do People Withhold Physical Affection?
Why do People Withhold Emotional Support?
Becoming Aware of Our Own Tendency to Withhold
Withholding is Actually Fear Based Behavior
The Importance of Using Tech for Good and Not as a Way to Exclude or Withhold
Free Yourself from the Influence of Withholders
"Buy now" opens up to a new checkout window so you won't lose this one.
May 2021: Habits of Highly Effective People PLR - 19 Articles - now inside of your paid member account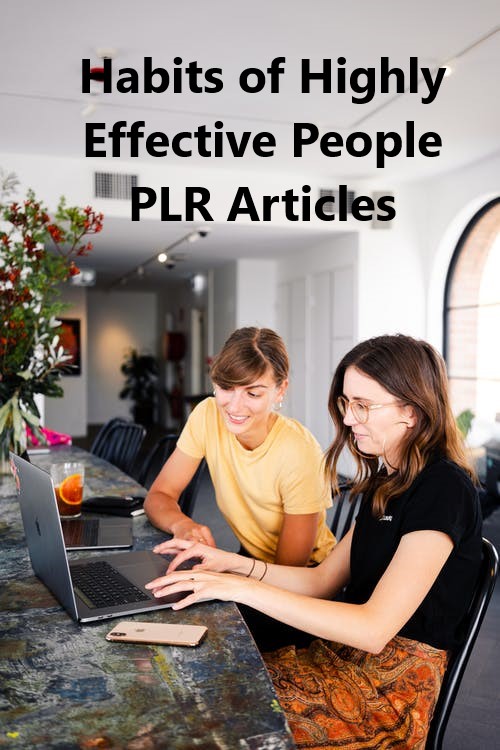 What is Personal Effectiveness and Why Do We Care?
Personal Effectiveness Means Taking Aim in Your Life to Hit That Target Again and Again
What Magical Things Occur When We Become More Effective?
Becoming More Effective is About Taking Your Time Back to Use However You Want
Highly Effective People Do This, and So Can You
The Key to Being Highly Effective: Become a Task Masker Extraordinaire
Embrace Habits of Highly Effective People: Search Out Role Models
Become Highly Effective in Your Career: Advance, Get Respect, Make More Money
Swap Out Bad Habits for Ones That Attract Wealth. Become More Effective in Your Work and Life
To Become More Effective, Do Your Best Impression of Success
Want to Have More Fun? Become Better at How You Work at Life
How Effective are You? Take the Quiz
Being Highly Effective is About Making the Best Use of Your Time
Are You Too Old to Go After the Life You Want? 3 Refuted Myths to Help You Bust Through to Excitement, Variety and New Experiences as You Age
Effectiveness 101: Aim Higher, Ditch the Habits that Don't Serve You
To Be More Effective, Know What You're After and Why – That Means Core Values
Effectiveness 101: Let's Work on Your Personal Goals
To Be Highly Effective, Say Goodbye to Relationships that Take You Away from Who You Want to Be
Serious About Becoming Highly Effective? Seek Out a Mentor
Here's a preview screen shot of one of the articles: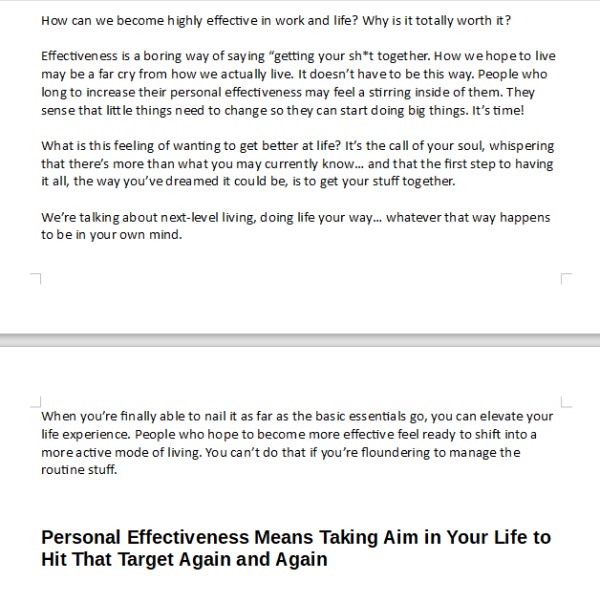 Buy now opens up to a new window so you won't lose this one.
April 2021 Articles: Ready to download!

Controlling Relationships: Warning Signs and What to Do – 9045 words total (that's a bonus gift of 2K extra words FREE)
Titles include:
1. Intro
2. Controlling Relationships Creep Up on You Slowly
3. Controlling Partners Put You Down
4. Controlling Partners Use Gifts to Manipulate You
5. Controlling People Keep it Vague
6. Controlling People Throw Epic Tantrums
7. What to Do When Your Controlling Partner or Family Member Throws an Epic Tantrum
8. Controlling People Have a Posse of Minions to Back Their BS
9. Controlling Partners and How They Misrepresent You
10. Should You Mess with a Controlling Person?
11. Fun Head Games to Play with a Controlling Person
12. Can a Controlling Partner Change?
13. Simple yet Significant Ways Controlling People Encroach on Your Boundaries
14. Leave a Controlling Relationship: First Resolve These Areas of Your Life
15. Leaving a Controlling Partner Can Make You Incredibly Strong and Resilient
Screen shot of the content: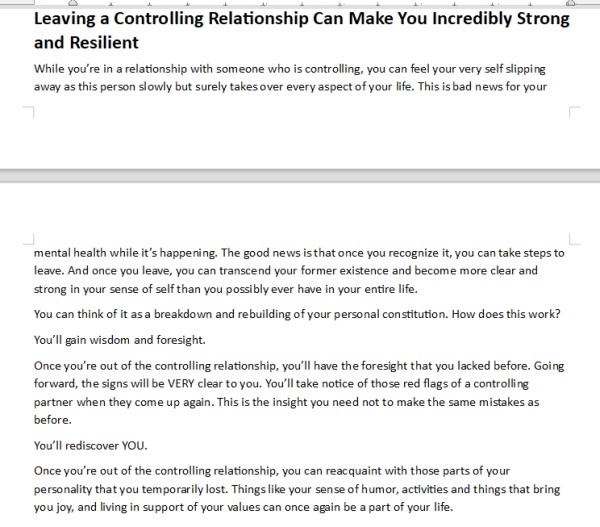 March 2021 Articles: Getting to Know Me All Over Again – PLR Articles - 8087 words total - RELEASED AND INSIDE OF YOUR PAID MEMBER ACCOUNT
(that's a bonus gift of 1K extra words FREE!)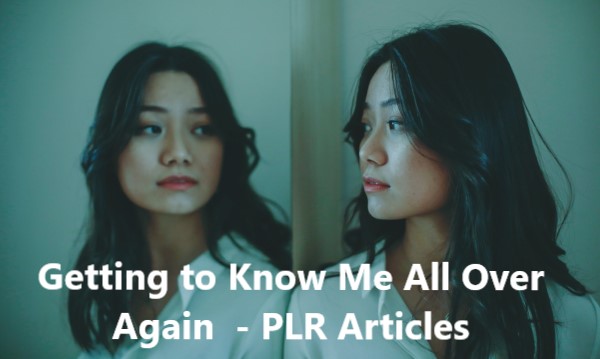 Articles and Exercises include:
Who Am I?
What Are My Best Qualities? Identify Your Core Values
What Am I Good At Doing? Identify What Comes Easy for You
What Do People Know Me Best For? My Uniqueness is Who I Am
What Have I Accomplished?
What Do I Like to Do in My Free Time?
What Am I Afraid Of? My Fears Are Not My Authentic Self
How Do I Develop My Unique Talents?
Who Lifts and Supports Me in My Life?
What Would I Like to Work On: Creating Habits that Change Your Life
My Professional Goals for the Upcoming Year
What Makes Me Proud to Be Me?
What Are My Weaknesses?
What Else Would I Like to Work On? 5 Steps to Figure Out What You Would Like to Do
Top Six Activities That Bring Me Joy
Screen shot of the content: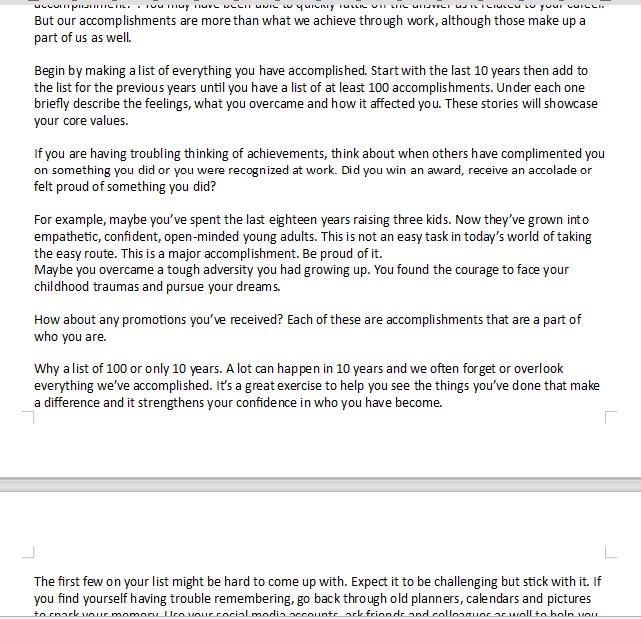 February 2021 Articles: How to Attract Good People into Your Life - 16 PLR Articles – 6140 words - download from your paid member area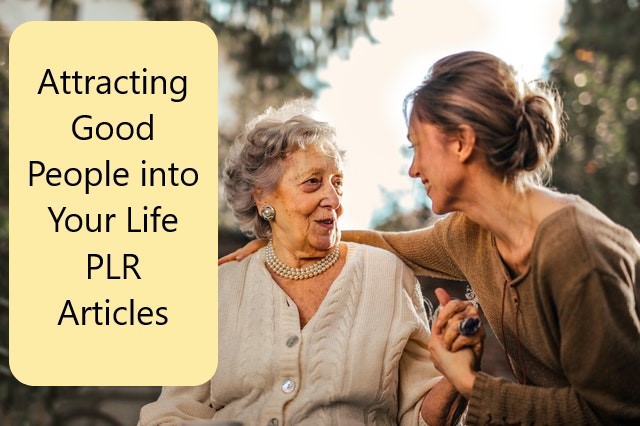 Intro
What is a Good Person?
Qualities of a Good Person
More Qualities of a Good Person
Why Surround Yourself with Good People?
Do You Feel Worthy of Being Around Good People? Take the Test
Where Are All the Good People?
How to Know if Someone is a Good Person?
Signs It May be Time to Find Better People
To Attract Good People, Do Good Things
Being Defensive Holds You Back from Meeting Good People
Good People Bring Positive Change: Here's How
Take Steps Toward Change, and Find Those Good People
Things Good People Say
Things Good People Do
What Can You Accomplish with Good People on Your Side?
Writing sample screen shot: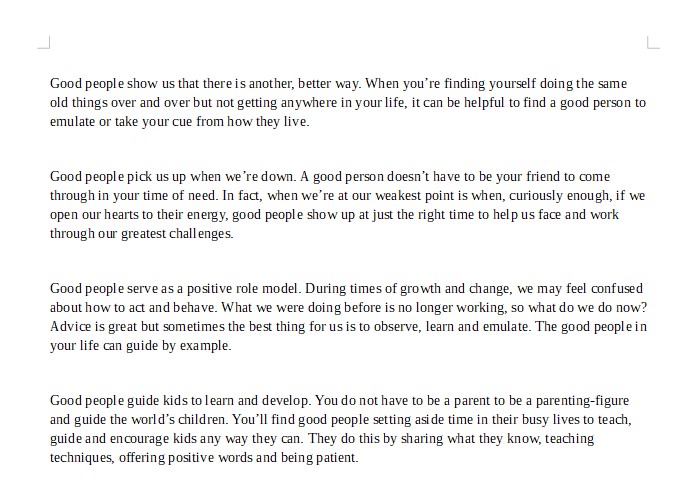 January 2021 Articles: Let's Get Rid of Stress - 15 Total - Bonus Gift of 3K extra words included Free! for a total of 10,500+ words - download now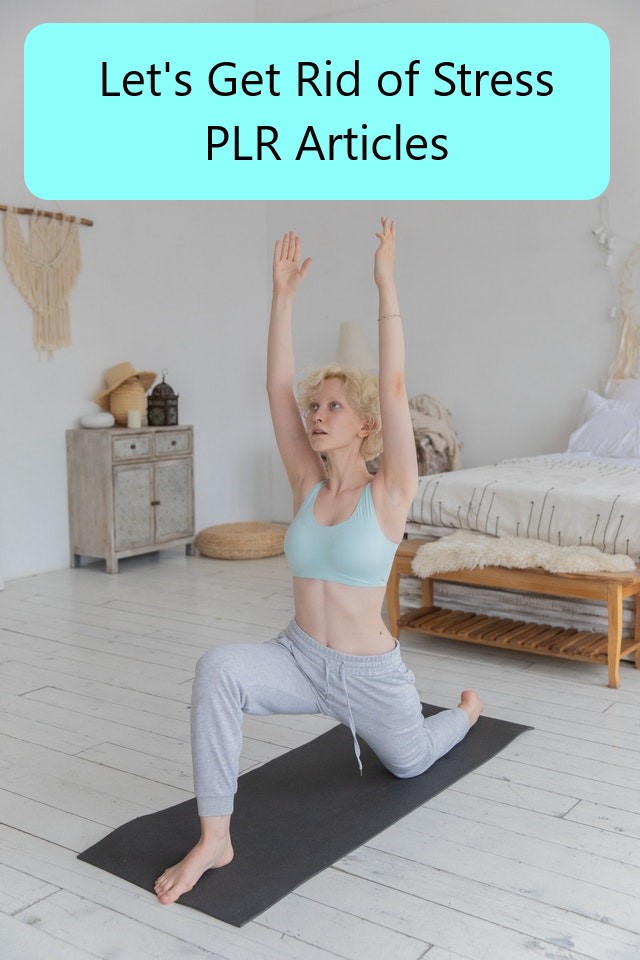 Titles include:
Intro
Smart Phone Stress? Yes. Take Control of the Tech for Less Stress
Physical Signs You May be Stressed
Emotional Signs of Being Stressed
What or Who is Stressing You? Let's Make a List
How Does Your Stress Affect the People Around You?
Put Self Care on Priority, Learn to Manage Stress
Too Much Stress? Get Good at Saying NO
Conflict Brings You Stress? Get Good at Managing It
Evening Stress Relief Wind-Down
Seek Out Friends Who Save You From Stress
Too Much Stress? Lower Your Expectations
Stress Eating Getting the Best of You? Choose Foods to Help You Feel Less Stressed
Stress Relieving Activities to Calm and Soothe You
Reduce Sensory Overload to Feel Less Stressed
Breathing Exercises to Ease Stress
Screen shot of the content:
More articles... coming soon.
How to Be More Effective in Your Work and Life
1. What Does It Mean to Increase Your Personal Effectiveness?
2. Steps Toward Becoming More Effective
3. Areas to Work on If You Want to Become More Effective
4. Where to Find a Role Model to Help You Increase Your Effectiveness
5. Becoming More Effective in Your Career
6. Increase Your Effectiveness to Increase Wealth
7. Find an Effectiveness Role Model to Emulate
8. Being Effective in Your Personal Life Means More Time for Fun
9. How Effective Are You? Take the Quiz
10. It's Never Too Late to Become More Effective
11. Being Effective is About Making the Best Use of Your Time
12. Effectiveness 101: Ditching the Habits that Don't Serve You
13. Effectiveness 101: Getting Clear on Your Values
14. Effectiveness 101: Setting Personal Goals
15. Effectiveness 101: Saying Goodbye to Relationships that Take You Away from Who You Want to Be

Boundaries Volume 2: Getting Better at Boundaries... coming soon!
1. Boundaries can be Tricky, Here's Why
2. Signs You're Letting People Cross into Your Boundaries
3. How to Draw a Line When You're a People Pleaser
4. Boundaries are About Comfort Level
5. Boundaries Change When Intimacy Increases
6. Boundaries Change with the Circumstances
7. Finding a Person Whose Boundaries "Match" Yours
8. How to Become More Aware of Boundaries
9. Getting Good at Respecting Boundaries
10. Red Flags of Boundary Crossers
11. Becoming More Assertive About Having Boundaries: Tips
12. Rude? Cold? Mean? Or Just Healthy Boundaries?
13. What Healthy Boundaries Look Like
14. Were Your Parents Boundary Oversteppers? Take the Quiz
15. Testing the Boundaries: Figure Out What Feels Right, Then Follow Through

Coming soon: Learning to Say No... Gracefully, and Gratefully
The Importance of Saying No
Are You a Yes Person?
Saying No Means Setting Healthy Boundaries
What Happens When We Never Say No?
It's Not Wrong to Say No, and Here's Why
Your Family Will Thank You if You Say No
Saying No is Good for Your Health
Steps to Saying No Without Guilt
Graceful Tips for When It's Time to Say No
How to Say No Without Offending People
No Doesn't Mean Never
What to Do About People Who Don't Respect Your No?
Figuring Out Your Yeses, Maybe's and Definite Nos
The Art of Saying No With Finesse
Saying No Actually Makes You Better at Life, Here's How
Coming soon: Finding Your Way Back to a Happy Marriage and Life
Where Did Your Love Go Astray?
Marital Problems? You're Far from Alone
What to Do When You Can't Talk to Your Partner
Pinpointing the Issues so You Can Get Back to Loving Each Other
Work On Yourself, Then Work on Your Marriage
4 Caveats of a Happy, Satisfying Married Life
How to Fight Fair When You're Married
Why Do Good Marriages Go Bad and What Can You Do?
Rules for Separation Under the Same Roof
Making Health and Fitness a Shared Goal
Wishlist for Your Marriage: An Exercise in Reconnection
Finding Your Way Back to Each Other
Exercise in Empathy: Do It for Your Marriage
Is There a "Right Way" to Do Marriage and Family Life?
How to Handle Parenting During a Bumpy Phase of Marriage
October: Thankful, Grateful, Blessed
Titles coming soon!
November: Are You Resilient?
Titles coming soon!
December: Bold, Fearless You
Gathering the Strength to Make BIG Changes in Your LIfe - Titles coming soon!
Also... this membership is exponentially awesome.
What that means is that my members receive new content each month PLUS they get 10 "back issues" of PLR that I had released under the same level of membership prior to their joining.
Here's a list of 10 article sets (from 2020) that you'll receive immediately once you sign up:
Increase Empathy, Fight Less, Love More - 15 PLR Articles
Kindness PLR: Defining & Creating Kindness in Your Life – PLR Articles – 15 Total -7500+ words
Self Coach Your Way to Happiness PLR Articles – 15 Total - 8,610 words
Channel Your Anger – PLR Articles – 15 Total - 8,497 words
Mind Games PLR – 15 Articles - 10,700 words total
RESPECT: What Does it Mean to You? PLR Articles - 15 Total
Boost Your Brain Power PLR Articles - 15 Total
Dealing with Difficult People PLR - 15 Articles total
Ending a Relationship PLR - 15 Articles Total
The Path to Emotional Healing - 15 PLR Articles
So if you opt to stick with Wordfeeder for the full year, you will be able to download a mind boggling amount of high quality content!
Ready to give us a whirl? Our monthly paid PLR membership is in a beta testing phase. If you find things along the way that can use improvement, please reach out to me. I'll likely need and appreciate your feedback!
Get inside and start downloading your Self Help PLR articles immediately.
Click "Buy Now" to make your selection of our monthly PLR memberships now

Price: $11.97 per month
Deliverable: 15 articles per month!
For any reason, you can cancel your membership through PayPal. You can also sign up again if you happen to need more content.
And feel free to write to me and let me know your thoughts on how the back end is functioning, what type of content you may need, and anything else I can help you with.
FREE PLR as an Added Bonus

Did You Know? You also get a TON of FREE PLR articles inside your Wordfeeder member area. Once you check out, be sure to log in and look in the top menu under FREE PLR.
How to Access Your PLR Articles:
File arrives via email upon receipt of online payment. Download again and again from your member account for the lifetime of your membership. THANKS for supporting my freelance business. CHEERS to you in yours!