About Page Copywriting Hacks: The Exact Questionnaire I Use with Clients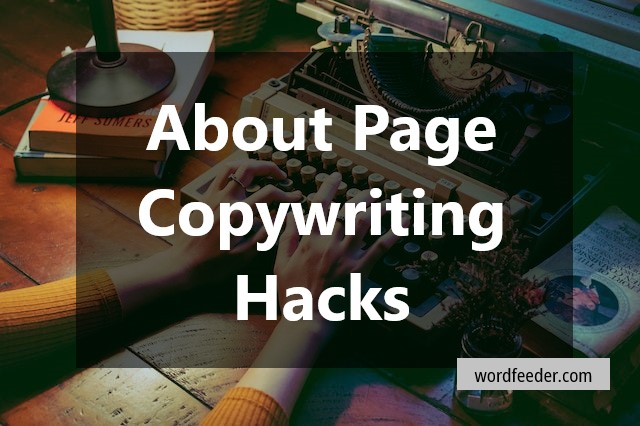 Hi there, online business owner... have you thought about how important the About page of your website is?
It's the first place folks show up to after spotting an interesting article or promotion of yours. People will visit your About page to take a peek at who you are, before typing their email address into the sign-up box on your site.

What type of About page copy is right for you?

Many website owners opt for the generic, boilerplate bio that we've all seen before. You know the kind, it's a jargon-infused laundry list of accomplishments. "X has been doing X for X years. She excels in X, Y, and Z, and has a proven track record of such-and-such." Others opt to ONLY speak to the reader's wants and needs. "If you need a reliable accountant on your side, count on Mr. Math to come through."

Then you have people who just go off the rails with their About page: "Jill Skittel is no ordinary entrepreneur. A thrill-seeker to the max, you'll always find Jill in the center of the action. She has never been someone to turn down a challenge, and her business is no exception." (Okay, that does inspire… but what are your credentials again?)

Some people have a different kind of About page which only mentions the company name or website, and not the individual. This requires a different approach in order to hold the reader's attention. An emphasis on values might be the best way to endear your readers in this case. "We're dedicated to finding unique, problem-solving approaches to reducing waste on our planet while protecting the health and safety of all."

The tone and content of your About page will depend on who you are, what your business is, and your goals for the website the content. What, ultimately, would you like your readers to do? Sign up for a membership? Email you for a project quote? What information will they need about you and your company which will convince them to take action?

If you've been thinking about giving your About page a facelift, give these questions a run-through before proceeding. Please note that if you'd like a revamp of your existing bio or About page content, I'm offering 2-hour blocks of editing time for $100. Limited time only through end of September, 2018.
Bio Writing Questions
About Your Company
Is this your own business? If so, please explain what you do in a few sentences.
What industry do you work in? Describe your professional role within this industry.
Describe the values that shape the work you do for clients.
List 5-7 benefits to working with your company.
In what ways would you say that your approach is different, innovative and/or better than other companies like yours?
Explain the types of services and/or products you offer (or would like to offer) future clients.

About You – Career Background
Briefly detail your work history. Do you have a "story" worth telling? If so, share it! How did you get where you are today?
Please list 4-6 personal strengths and how they benefit the people who you help in your daily work.
Please send a copy of your resume if you feel that it relates to the bio we're creating for you.
List your personal interests and any other details you'd like to share at the end of your bio.
Creative Inspiration (optional)

What's the thing that drives you out of bed each morning, ready to face a new day?
What's your signature color or color scheme?
You're attending a swanky dinner event for work. Describe what you're wearing.
You're a superhero! What's your special power?
List your five top traits, as they relate to what you do for a living.
List 5 of your core values, as they relate to your career.
If you could help anyone in the world, who would it be and why?
Love This Handy Writing Helper? Pick Up Your Copy of Our "Coach's Helper PLR: Done-for-You Client Project Templates" with Private Label Rights